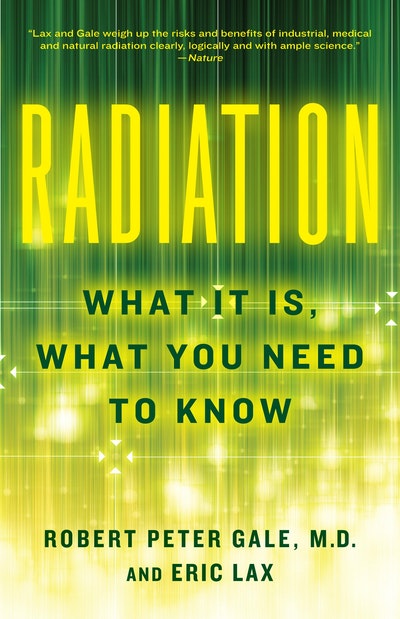 Published:

15 October 2013

ISBN:

9780307950208

Imprint:

Knopf US

Format:

Paperback

Pages:

304

RRP:

$27.99
Radiation
---
---
The essential guide to radiation: the good, the bad, and the utterly fascinating, explained with unprecedented clarity.
Earth, born in a nuclear explosion, is a radioactive planet; without radiation, life would not exist. And while radiation can be dangerous, it is also deeply misunderstood and often mistakenly feared. Now Robert Peter Gale, M.D,—the doctor to whom concerned governments turned in the wake of the Chernobyl and Fukushima disasters—in collaboration with medical writer Eric Lax draws on an exceptional depth of knowledge to correct myths and establish facts.
Exploring what have become trigger words for anxiety—nuclear energy and nuclear weapons, uranium, plutonium, iodine-131, mammogram, X-ray, CT scan, threats to the food chain—the authors demystify the science and dangers of radiation, and examine its myriad benefits, from safely sterilizing our food to the relatively low-risk fuel alternative of nuclear energy. This is the book for all readers who have asked themselves questions such as: What kinds of radiation, and what degree of exposure, cause cancer? What aftereffects have nuclear accidents and bombs had? Does radiation increase the likelihood of birth defects? And how does radiation work?
Hugely illuminating, Radiation is the definitive road map to our post-Chernobyl, post-Fukushima world.
Published:

15 October 2013

ISBN:

9780307950208

Imprint:

Knopf US

Format:

Paperback

Pages:

304

RRP:

$27.99
"Eric Lax [and Robert] Gale weigh up the risks and benefits of industrial, medical and natural radiation clearly, logically and with ample science. But it is Gale's phenomenal frontline experience that gives this book edge."
            —Nature

"[Lax and] Gale's is an invaluable guide for negotiating an increasingly radioactive world—for scientists, patients of radiation-related medical procedures, and environmentalists alike."
            -Publishers Weekly

"Gale and Lax objectively present the danger and value of radioactivity. In content and writing, Radiation absolutely glows."
            -Booklist

"A well-written extension of the reach of reason in an area fraught with phobia and hysteria."
            -Kirkus Reviews

"Gale and Lax aim to fill in the gaps in the public understanding of all things nuclear, and they are adept at doing so. Throughout the book they present a host of interesting facts and figures in humorous and accessible prose."
            -New Scientist

"Everyone needs to read this book; it's compact, easy to understand, rife with interesting revelations, and it cuts through a great deal of the noise surrounding the subject [of radiation]."
            —Jewish Journal


From the Hardcover edition.