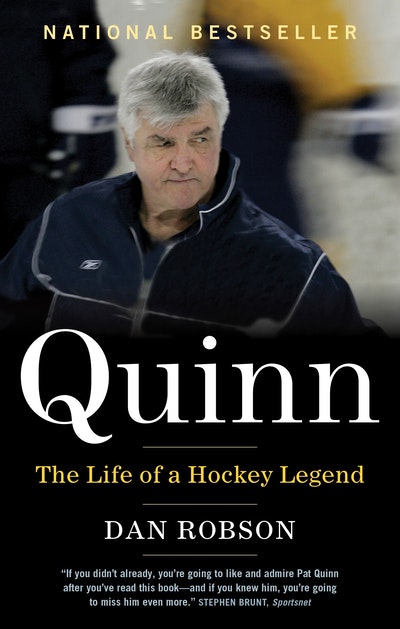 Published:

15 January 2017

ISBN:

9780143196020

Imprint:

Penguin

Format:

Trade Paperback

Pages:

400

RRP:

$26.99
Quinn
The Life of a Hockey Legend
---
---
A tribute to the larger than life story of a hockey icon and hero.
     The hockey world mourned when Pat Quinn died in November 2014.
     Tough guys sobbed. Networks carried montages of Quinn's rugged hits, his steely-eyed glare, and his famous victories. Quinn made a few enemies over the years, but there was no one who didn't respect the tough working-class kid who had fought his way to the very top of the hockey world.
     He had butted heads with superstars, with management, and with the league itself. And he had also succeeded at every level, finishing his journeyman's career as the captain of an NHL team, then quickly emerged as one of the best coaches in the league. He gathered executive titles like hockey cards, and done things his own way, picking up a law degree along the way.
     He was brash, dour, and abrasive--and people loved him for his alloy of pugnacity and flair, his three-piece suits and cigars, his Churchillian heft and his scowl.
     In the end, the player who would never even have dreamed of being inducted into the Hall of Fame was the chair of the Hall's selection committee. That is Quinn's story: an underdog who succeeded so completely that his legacy has become the standard by which others are judged.
     Told by bestselling author Dan Robson, and supported by the Quinn family and network of friends, Quinn is the definitive account of one of the game's biggest personalities and most storied lives.
Published:

15 January 2017

ISBN:

9780143196020

Imprint:

Penguin

Format:

Trade Paperback

Pages:

400

RRP:

$26.99
"In the new book Quinn: The Life of a Hockey Legend, journalist Dan Robson relies on clear, descriptive prose to paint a compelling portrait of the NHL legend, chronicling the highs and lows of his storied career, examining his relationships with his family, friends and colleagues – and delighting readers with tidbits of information that fall into the "Who knew?" category."—The Globe and Mail   "Robson has crafted a strong biography of the big Irishman whose heart was never as far from his hometown as his body often found itself."—The Hamilton Spectator   "In this gem of a biography, Robson (The Crazy Game) makes it clear that hockey player, coach, and executive Pat Quinn was a storyteller extraordinaire... The book is chock-full of fascinating, intimate details, from the razzing at the Quinn family table to the sparkly underwear—a gift from his grandchildren—that Quinn wore to the 2002 Olympics."—Publishers Weekly   From the Hardcover edition.