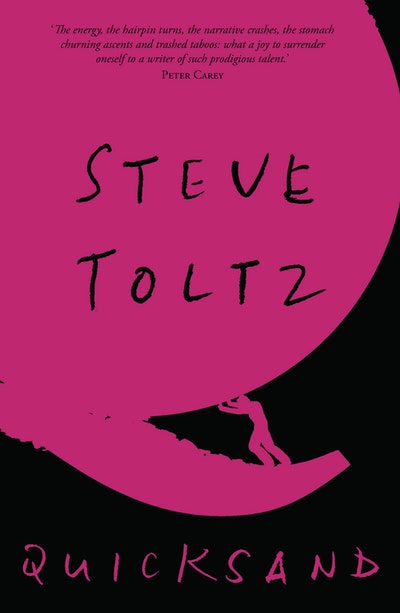 Published:

22 April 2015

ISBN:

9781760140588

Imprint:

Penguin eBooks

Format:

EBook

Pages:

448
Quicksand
---
---
---
From the author of the bestselling, Booker-shortlisted A Fraction of the Whole comes a daring, brilliant work by one of our most original and fearless novelists
'Why should I let you write about me?' 'Because you'll inspire people. To count their blessings.'
Aldo Benjamin, relentlessly unlucky in every aspect of life, has always faced the future with despair and optimism in equal measure. His latest misfortune, though, may finally have brought him undone. There's still hope, but not for Aldo.
His mate Liam hasn't been doing much better – a failed writer with a rocky marriage and a dangerous job he never wanted – until he finds inspiration in Aldo's exponential disaster. What begins as an attempt to document these improbable but inevitable experiences becomes a profound exploration of fate, fear and friendship.
Wildly entertaining and acutely insightful, Quicksand is a subversive portrait of 21st-century existence in all its hypocrisy and absurdity, an exquisite interpretation of suffering and resilience, and a compelling story about the taking of risks and the making of art.
'A wonderful achievement from a writer whose words serve as a scalpel to reveal the absurd beneath the veneer of serious existence.' Russell Prize for Humour Writing
'The energy, the hairpin turns, the narrative crashes, the stomach churning ascents and trashed taboos: what a joy to surrender oneself to a writer of such prodigious talent.' Peter Carey, Booker Prize-winning author
'The funniest novel of the past year . . . Genuinely moving.' The Saturday Times (UK)
'Quicksand proves to be the cherry on the cake – a beguiling novel that confounds and astonishes in equal measure, often on the same page . . . Part Chuck Palahniuk, part David Foster Wallace . . . Quicksand has a thousand dazzling throwaway moments of brilliance . . . A tour de force.' Australian Book Review
Published:

22 April 2015

ISBN:

9781760140588

Imprint:

Penguin eBooks

Format:

EBook

Pages:

448
The energy, the hairpin turns, the narrative crashes, the stomach churning ascents and trashed taboos: what a joy to surrender oneself to a writer of such prodigious talent

Peter Carey
The funniest novel of the past year . . . Genuinely moving

The Saturday Times (UK)
Quicksand proves to be the cherry on the cake – a beguiling novel that confounds and astonishes in equal measure, often on the same page . . . Part Chuck Palahniuk, part David Foster Wallace . . . Quicksand has a thousand dazzling throwaway moments of brilliance . . . A tour de force

Australian Book Review
A wonderful achievement from a writer whose words serve as a scalpel to reveal the absurd beneath the veneer of serious existence.

Russell Prize for Humour Writing
It is very rare for me to laugh on almost every page of a book; it is even rarer for that to be accompanied by exquisite melancholy. Toltz is writing like very few other authors; he seems like an Antipodean Thomas Bernhard in his unsparing, agonizing comedies. I hope it is not seven years before his next novel.

Scotland on Sunday (UK)
Brilliantly dark . . . It's counterintuitive to find Beckett in an Australian maximalist, but Toltz's black humour, keen eye for the absurdity of existence and intimate exploration of physical suffering can't help but bring him to mind . . . The entire novel is buzzing with the power of human connection – the jokes, accommodations and shared mythologies of love and friendship.

The Guardian
A narrative so brilliant, so fizzing with lucidity and comedy and horror and hard-nosed empathy . . . In these pages the old shopfront of Australian masculinity is white-anted with honesty and self-lacerating glee, while the deadpan nihilism of our national humour is elevated to cosmic schtick . . . [Aldo Benjamin] is one of those rare characters who will live on in our collective literary imagination.

The Saturday Paper
'Steve Toltz is incapable of turning out an uninteresting sentence. There is a comic force to his writing, a relentless accumulation of detail, absurdity and ruthless observation, that is unlike almost anything I have seen in contemporary Australian literature, with the possible exception of Peter Carey.

Sydney Review of Books
Steve Toltz writes with a singular, propulsive energy, with sentences and characters that rise off the page with a force that leaves you almost breathless. There is more heart, and joy and compassion and hard-earned wisdom in Quicksand than seems possible for a single novel; it is life, literature at its fullest.

Dinaw Mengestu, award-winning author of The Beautiful Things That Heaven Bears and All Our Names
'There are more lines of genius on one page of Quicksand than in the entirety of many very respectable novels.

Elif Batuman, author of The Possessed
What would happen if some genius were able to unite the high-wattage storytelling exuberance of Kurt Vonnegut, the combustive glee of Walt Whitman, and the reality-smashing despair of Franz Kafka? Impossibly, Steve Toltz has done just that, turning out a new masterpiece that is at once an old-fashioned page-turner, a tragicomic lament for the digital age, and an aching howl at the intractable existential dilemmas of our poor species. Quicksand is the sort of book that refuses to sleep between its covers on your nightstand; it is its own blazing, intricate, hysterically surreal universe, big and brilliant enough to swallow your own.

Stefan Merrill Block, author of The Story of Forgetting and The Storm at the Door
Those awaiting another dose of fierce iconoclasm and dark-peppered wit will not be disappointed. Toltz has given us something brilliant to marvel at again.

Readings Monthly
'An anti-bildungsroman . . . There are enough jokes here to supply several comic novels.

The Australian
Crammed with tragedies, pratfalls, grotesque characters, absurd set-pieces . . . Few writers can make feeling disoriented, annoyed and thirsty feel so damn exhilarating.

Sydney Morning Herald
Toltz channels a poet's delight in crafting the perfect phrase on every highly quotable page . . . By turns hilarious and hopeless, Toltz's novel is a tender portrait of a charming and talented loser.

Publishers Weekly
The novel tackles big themes – love, mortality, the purpose and role of art and artists – and bursts with ideas and humour. It challenges the idea held in some circles that serious fiction can't also be funny.

Newtown Review of Books
Even a random perusal of a few pages in this frenetically paced follow-up to . . . A Fraction of the Whole makes it clear why so many are singing the author's praises for originality and prodigious ability to turn a clever phrase . . . [With] darkly humorous observations on everything from human relationships and hero worship to creative inspiration and mortality . . . Toltz's considerable gifts as a wordsmith alone put him in the front ranks of contemporary literary fiction writers.

Booklist, Booklist (US, starred review)
Comic gold . . . Few novels as funny as Quicksand manage anything remotely approaching its gravity.

The New Criterion (US)
An ambitious, rowdy, and ultimately very moving portrait of an old friendship . . . Toltz's talent is obvious from the first page, which, added to his signature mixture of humor, fearlessness, and barbed social commentary, makes one appreciate the comparisons he's received to writers such as Jonathan Franzen, Gary Shteyngart, and John Irving . . . An important young writer to watch.

Library Journal, (US, starred review)
The pleasure of Quicksand is in Toltz's energetic prose, rich with one-liners, Beckettesque dialogue driven by gallows humor and misunderstanding.

St Louis Post Dispatch (US)
Delightful . . . very funny, literate, and character-driven. It's extraordinarily imaginative . . .This is a novel that combines the desirable quality of page-turnability with existential anguish, surreality, and absurdity. Toltz's strength is the way he has his characters deal with the hard reality of having rotten luck in a meaningless world. Make up your own god, he seems to say near the end—you can't do any worse than what others have concocted.

Psychology Today (US)
Quicksand is a clever novel about failure and friendship, told with brilliant irony and black humor, peppered with exuberant wordplay and one-liners . . . but it is ultimately a cri de coeur protesting the futility of suffering and celebrating the simple victory of being alive. An ambitious, energetic, darkly funny novel about the tragic futility of suffering and pain.

Shelf Awareness (US)
'A work of dark satire, [Quicksand] had critics comparing Toltz to writers such as Dave Eggers, David Foster Wallace and Joseph Heller. … The book's structure works beautifully to showcase the development of Aldo's character, looking at him through time from many vantage points. Toltz digs deep [and his] writing is clever and divinely word-conscious. … [He] is a talented writer and his use of various narrative techniques is thoughtful, creative and well worth examining for those who love literary fiction.

Fort Worth Star-Telegram (US)
[A] tightly-constructed comic masterpiece . . . [His] career is going to be something of a marvel.

Open Letters Monthly (US)
Swaggering, cerebral, capriciously inventive.

South China Morning Post
A rousing, hysterically funny but unapologetically dark satire about fate, faith, friendship and the artist's obligation to his muse. Sharp, witty, kinetic, and utterly engrossing

bookreporter.com
Indie Award
Longlisted • 2016 • Fiction
Prime Minister's Literary Awards
Shortlisted • 2016 • Prime Minister's Literary Award
Russell Prize for Humour Writing
Shortlisted • 2017 • Russell Prize for Humour Writing