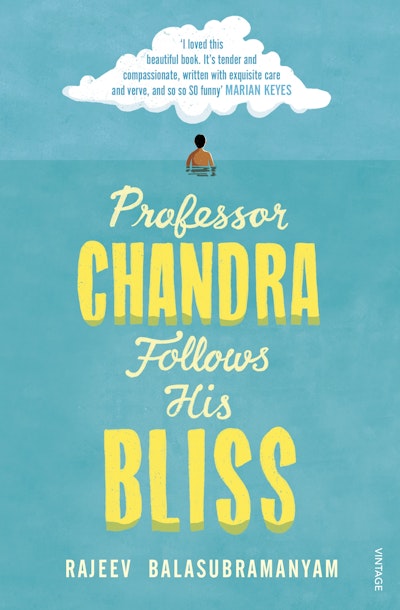 Published:

3 September 2019

ISBN:

9781784708818

Imprint:

Vintage

Format:

Paperback

Pages:

288

RRP:

$19.99
Professor Chandra Follows His Bliss
---
---
---
Uplifting and hugely entertaining, this novel introduces an irresistibly funny, cynical and unforgettable new anti-hero to sit alongside Eleanor Oliphant, The Rosie Project's Don Tillman and A Man Called Ove
'I loved this beautiful book. It's tender and compassionate, written with exquisite care and verve, and so so SO funny' MARIAN KEYESProfessor Chandra is about to embark on the trip of a lifetime. In the moments after the bicycle accident, Professor Chandra begins to reassess his life, his career and his relationship with his three children.
He's just missed out on the Nobel Prize (again). All this work. All this stress. It's killing him.
Professor Chandra needs to take a break, and reluctantly agrees to visit a Californian retreat, to follow his bliss.
And so he must try to crack the most complex problem of all: the secret to his own happiness
Published:

3 September 2019

ISBN:

9781784708818

Imprint:

Vintage

Format:

Paperback

Pages:

288

RRP:

$19.99
Praise for Professor Chandra Follows His Bliss
I loved this beautiful beautiful book. It's tender and compassionate, written with exquisite care and verve, and so so SO funny

Marian Keyes
Chandra is a delightful creation: peevish, intolerant, intellectually exacting, unwittingly eccentric, nerdy, needy let lovable. The book, like its picaresque hero, is a one-off

Patricia Nicol, Sunday Times
This brilliant and eloquent novel, which puts into words so many unutterable annoyances, is a sort of Zen satire in which tolerance and understanding mingle with hilarious criticism of contemporary mores. It's a wonderful read

Wendy Holden, Daily Mail
Rajeev Balasubramanyam gently pokes fun at the modern fondness for positivity, but tells a disarmingly positive story... The writing is elegant and witty and the comedy is always underpinned with humanity; a life without bliss is no life, and the gradual dawning of Chandra's self-awareness is genuinely uplifting

Kate Saunders, The Times
Balances satire and self-enlightenment... a surprisingly soulful family tale that echoes Jonathan Franzen's Corrections in its witty exploration of three children trying to free themselves from the influence of their parents

Ben East, Observer
Uplifting literature, or up-lit as it's called by publishers, is dominating the bestseller charts... One of the funniest is Professor Chandra Follows His Bliss by Rajeev Balasubramanyam... Beneath the comedy lie serious concerns. Wellness, capitalism, mollycoddled minds intolerant of political difference: Balasubramanyam's issues are current

Francesca Angelini, Sunday Times
By turns charming and witty, this is an effortless, uplifting read that has many pertinent observations to make about family relationships

Simon Humphreys, Mail on Sunday
His journey provides a genuine look at what happiness is or might be, as well as being properly, heart warningly funny. A joyful take on grasping second chances

Alexandra Heminsley, Grazia
After the brilliant, stressed, cynical economist Professor Chandra has a serious accident, he is told to take a break and 'follow his bliss' to California. Little does he know he'll discover a thing or two about happiness

Elle
A gentle ride of a book that tackles all of life's big questions and also manages to be very, very funny

Red
Balasubramanyam knows how to flex irony as if it were another bendable body part... Professor Chandra is a wonderful character — stodgy, flawed, contentious, contemptuous — yet vulnerable, insecure, lonely, repentent, and ridiculous enough to win our sympathy. In other words, as one of his children responds to his apologies, when they come, "You weren't pathetic, Dad. You were just human." In the end, Balasubramanyan's novel is a sort of Christmas Carol for a new age — in which uplifting sentiment comes drenched not in treacle but in potfuls of soothing organic herbal tea

Heller McAlpin, NPR
A warm and funny account of one man's attempt to be more chill

Francesca Carington, Tatler
Accompanying Chandra as he sets about untangling the knots in his personal life is both uplifting and entertaining. The language of spiritual healing comes naturally to Balasubramanyam, and he deploys it to great effect in this superbly relevant story for our times

Shahina Piyarali, Shelf-Awareness
A book that is as quirky and charming as its title... This is a tender, at times hilarious, look at life which is at once both funny and moving. If you loved The Rosie Project, then this book is definitely for you!

Kat O'Connor, SHEmazing!
Delightful...by turns witty and wise...almost Wodehouse-like

Donal O'Donoghue, RTE Guide
Professor Chandra is as acerbic and unbending a curmudgeon as one could wish to find scowling from the pages of a novel. Brilliant, pompous, and baffled by the world outside his Cambridge study, Chandra is forced on a reluctant quest to America to find himself and his family. Searingly funny, uplifting and wonderful

Helen Simonson, author of MAJOR PETTIGREW'S LAST STAND
One of the funniest novels to be released in some time

Sunday Times
Balasubramanyam demonstrates with insight and a dash of humor that it's possible to turn one's life around after everything goes wrong...makes a winning case for how meditation, restraint, self-reflection and owning one's character flaws can bring joy and satisfaction to life

Publishers Weekly
Balasubramanyam sets Chandra on a journey through his hardest feelings, working through the anger and emotional ineptitude that too often conceal his infinite love for his family. At first, Chandra's children take even his self-blame for selfishness, but subtle changes in his introspection make for a big outward shift. With humor and emotional agility, Balasubramanyam writes a feel-good story that leaves room for feeling bad

Booklist
Recovering fuddy-duddy Chandra is a droll creation, and his journey of self-realization feels like the real thing

Kirkus
There's a long tradition of trying to describe the spiritual search and the ineffable mystery without sounding like a pretentious snob or a sappy Pollyanna. Professor Chandra Follows His Bliss manages to pull it off. The book tackles perennially difficult and deep questions with humor and humanity, beautiful writing, and a page-turning storyline. I gave myself over to Professor Chandra's journey as he opens himself to self-examination, family healing, and a more courageous experience of being alive

Elizabeth Lesser, author of New York Times bestseller BROKEN OPEN and Cofounder, Omega Institute
Witty and uplifting, this is a must-read

Woman's Weekly
Heartrending, hilarious, and deeply wise, this novel about the clueless Professor Chandra – emotional blockhead, Cambridge don, and Nobel-wannabe – left me in tears when I wasn't laughing. His crash course in self-realization at 70 reveals how little he actually knows, about himself and the crazy family he loves, and that it's never too late to grow up or follow your bliss wherever it takes you. I could not put this novel down

Mark Matousek, author of Sex Death Enlightenment and When You're Falling, Dive
Rajeev Balasubramanyam wields considerable humor, the perfect antidote to our polarized and exhausting present, while crafting a tender and thoughtful tale. This is an absolute gem of a book

Shelf Awareness
I loved this beautiful beautiful book. It's tender and compassionate, it's written with exquisite care and verve and it's so so SO funny

Marian Keyes
A heartfelt, very funny story

Metro, *Summer reads of 2019*
[A] beautifully realised book… Very lovable

i
Video
Professor Chandra Follows His Bliss by Rajeev Balasubramanyam
Professor Chandra is an expert at complex problems. There's just one he can't crack: the secret of happiness. Order now: https://amzn.to/2VozmD2 In the moments after the bicycle accident, Professor Chandra doesn't see his life flash before his eyes, but his life's work. He's just narrowly missed out on the Nobel Prize (again) and even though he knows he should get straight back to his pie charts, his doctor has other ideas. All this work. All this success. All this stress. It's killing him. He needs to take a break, start enjoying himself. In short, says his doctor (who is from California), Professor Chandra should just follow his bliss. He doesn't know it yet, but Professor Chandra is about to embark on the trip of a lifetime. 'I loved this beautiful book. It's tender and compassionate, written with exquisite care and verve, and so so SO funny' MARIAN KEYES ------------------------------------------------------------------------- Subscribe to the Penguin channel: http://po.st/SubscribePenguinYouTube Follow us here: Twitter | http://www.twitter.com/penguinukbooks Website | http://www.penguin.co.uk Instagram | http://www.instagram.com/penguinukbooks Facebook | http://www.facebook.com/penguinbooks