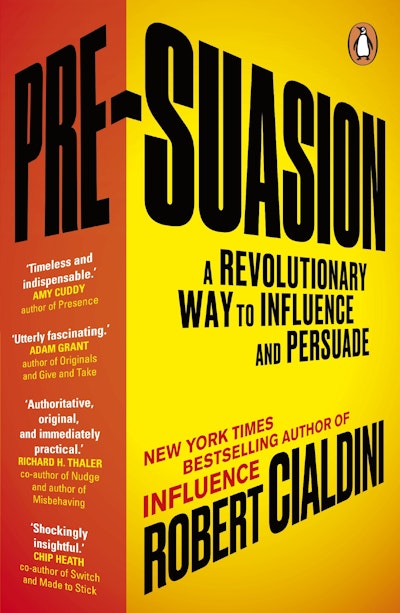 Published:

8 September 2016

ISBN:

9781473519343

Imprint:

Cornerstone Digital

Format:

EBook

Pages:

432
Pre-Suasion
A Revolutionary Way to Influence and Persuade
---
---
---
A revelatory exploration of the science of persuasion, from the author of the international bestseller, Influence.
When it comes to persuasion, success can begin before you say a word.
'An instant classic.' Forbes
'Utterly fascinating.' Adam Grant, author of Originals and Give and Take
'Shockingly insightful.' Chip Heath, co-author of Switch and Made to Stick
NEW YORK TIMES BESTSELLER
In his global bestseller Influence, Professor Robert Cialdini transformed the way we think about the craft of persuasion. Now he offers revelatory new insights into the art of winning people over: it isn't just what we say or how we say it that counts, but also what goes on in the moments before we speak.
This is the world of 'pre-suasion', where subtle turns of phrase, seemingly insignificant visual cues, and apparently unimportant details of location can prime people to say 'yes' even before they are asked. And as Cialdini reveals, it's a world you can master. If you understand the tools of pre-suasion, you will better placed to win a debate, get support for an idea or cause, promote a campaign - even persuade yourself to do something you find difficult.
Drawing on the latest research, and packed with fascinating case studies, Pre-Suasion is a masterclass in enhancing your powers of influence.

'Mind-blowing.' Management Today
'Accessible and intellectually rigorous.' Books of the Year, The Times
'Fascinating, fluent and original.' Tim Harford, author of The Undercover Economist Strikes Back
Published:

8 September 2016

ISBN:

9781473519343

Imprint:

Cornerstone Digital

Format:

EBook

Pages:

432
It's a book that is guaranteed to be a bestseller among marketeers, but it should also be a must-read for any professional or consumer - in other words, all of us.

David Halpern, CEO, the Behavioural Insights Team, author of Inside the Nudge Unit
The great social psychologist Robert Cialdini has written another timeless and indispensable book about the psychology of influence. I'll be recommending it for years and years.

Amy Cuddy, author of Presence
An utterly fascinating read on how the most important drivers of persuasion aren't the words we choose in the moment, but how we set the stage beforehand. Robert Cialdini is the world's foremost expert on influence, and you will never look at it the same way again.

Adam Grant, author of Originals and Give and Take
No social psychologist's research has been used more often or successfully than that of Robert Cialdini, who literally "wrote the book" on influence. Now, he's done it again, showing us the power of the moment before an attempt to persuade. This is classic Cialdini - authoritative, original, and immediately practical.

Richard H. Thaler, co-author of Nudge and author of Misbehaving
Robert Cialdini's Influence is, by a wide margin, the book that I recommend most often. Pre-Suasion may be even more shockingly insightful.

Chip Heath, co-author of Switch and Made to Stick
A fascinating, fluent and original book from one of the giants of behavioural science.

Tim Harford, author of The Undercover Economist Strikes Back
No stone is left unturned . Cialdini builds a convincing and lushly written case

People Management
His trove of findings and case studies covers how our focal points determine who we see as influential

Nature
[Cialdini] argues that the content of an advertisement or selling strategy is less important than the context. You can try to improve your core pitch as much as you like, but if you haven't paid attention to background circumstances (such as the film people were watching at the time), you won't get anywhere.

Matthew Syed, The Times
Cialdini is no foubt the godfather of persuasion, and I wouldn't be surprised if Pre-Suasion causes another revolution in the influence arena . it is mind-blowing

Management Today
Both accessible and intellectually rigorous

Books of the Year, The Times
Cialdini, author of the best-selling Influence, returns with a book that points out how setting the scene for your audience - "pre-suading" them - is as important as the message itself.

Best Books of 2016, Financial Times
Cialdini collates an impressive array of studies suitable for academic and general readers.

Books of the Year, Times Higher Education
Cialdini's classic work, Influence, added some real science to the art of sales and marketing. In this sequel, he extends his original work and reveals how the human mind works in buying situations. Essential stuff.

Best Sales and Marketing Book of the Year, Inc.
Builds on [Cialdini's] pioneering text Influence, which was released in 1984 and sold three million copies worldwide . . . Introduces the idea of timing to the ideas of Influence and pushes them into the digital age.

Independent
Pre-Suasion is packed with new research, tactics and insights . . . An instant classic.

Entrepreneur
An essential tool for anyone serious about science based business strategies. Pre-Suasion is well worth the long wait, and is destined to be an instant classic. The book belongs on the shelf of anyone in business, from the CEO to the newest salesperson.

Forbes
Exhaustively reviews the research not on how to influence others but on how to make people ready to be influenced . . . Compelling.

Wall Street Journal
Robert Cialdini is perhaps the foremost expert on effective persuasion . . . The book provides a vast catalogue of research and techniques, many of them marketing related.

Harvard Business Review
[Both a] work of cutting-edge scholarship and an insightful guide to the strange working of the human mind, Pre-Suasion packs a good punch for business leaders who want to understand their customers.

Belfast Book Review