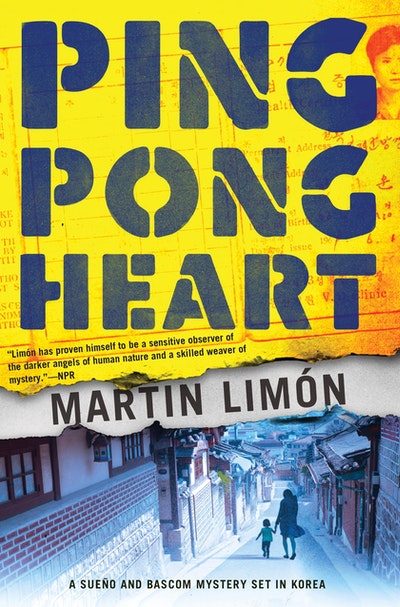 Published:

15 June 2017

ISBN:

9781616958091

Imprint:

Soho Press

Format:

Trade Paperback

Pages:

384

RRP:

$26.99
Ping-Pong Heart
---
---
South Korea, 1974. US Army CID Sergeants George Sueño and Ernie Bascom are assigned an underwhelming case of petty theft: Major Frederick M. Schulz has accused Miss Jo Kyong-ja, an Itaewon bar girl, of stealing twenty-five thousand won from him—a sum equaling less than fifty US dollars. After two very divergent accounts of what happened, Miss Jo is attacked, and Schulz is found hacked to death only days later. Did tensions simply escalate to the point of murder?
Looking into other motives for Schulz's death, George and Ernie discover that the major was investigating the 501st Military Intelligence Battalion: the Army's counterintelligence arm, solely dedicated to tracking North Korean spies. The division is rife with suspects, but it's dangerous to speak out against them in a period of Cold War finger-pointing. As George and Ernie go head-to-head with the battalion's powerful, intimidating commander, Lance Blood, they learn that messing with the 501st can have very personal consequences.

From the Hardcover edition.
Published:

15 June 2017

ISBN:

9781616958091

Imprint:

Soho Press

Format:

Trade Paperback

Pages:

384

RRP:

$26.99
Praise for Ping-Pong Heart
Praise for Ping-Pong Heart "Excellent . . . This is a highly atmospheric novel full of well-developed characters and strong emotional situations. The locales are so vividly described that you can almost breathe in the dust and touch the decaying buildings." —Lansing State Journal "Robbery, mayhem and murder are spiced by sardonic military humor in this lively thriller set in South Korea in 1974 when the Cold War was a good deal warmer." —The Washington Times "Compelling . . . Major developments in the lives of Limón's leads complement the intricate whodunit." —Publishers Weekly, Starred Review "Limón's insights into Korea's history and culture, and into U.S. Army culture, just keep getting richer." —Booklist "Limón's 11th Americans-in-Korea procedural has grit, pace, and an authentic feel." —Kirkus Reviews  "Series aficionados will welcome this 11th outing with its fast-moving convoluted crime and investigation. Newcomers don't have to read the previous volumes to enjoy it either. Mystery readers who appreciate exotic settings, both in time and space, and who like quality buddy procedurals will admire Limón's writing." —Library Journal  Praise for The Ville Rat "Action-filled." —The Wall Street Journal  "The Ville Rat, the [10th] in Limón's series, confirms the author's knack for creating sturdy plots, solid writing and well-rounded characters." —The Seattle Times "Pulse-pounding . . . This police procedural, with its unusual locale, admirable protagonists, and well-developed plot, stands as a superior entry in a consistently impressive series." —Publishers Weekly, Starred Review "Often praised for his knowledge of Korean society and culture and the massive footprint of the U.S. Army on Korea, Limón has an outstanding series going, and this one may be the best installment yet." —Booklist, Starred Review "Sueño and Bascom's [10th] appearance has vivid characters, and its searing portrait of the sins of our recent past bids fair to transcend the genre." —Kirkus Reviews From the Hardcover edition.