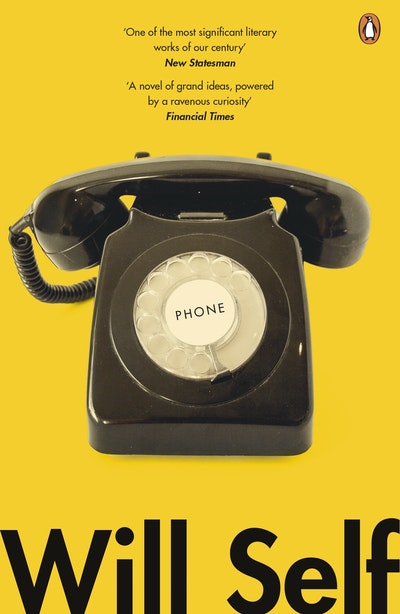 Published:

1 March 2018

ISBN:

9780141046396

Imprint:

Penguin General UK

Format:

Paperback

Pages:

624

RRP:

$22.99
Phone
---
---
---
A wildly entertaining new novel brilliantly skewering our contemporary world, from our fiercest writer
For the four characters at the heart of Will Self's brilliantly acute novel of our times the phone is both a blessing and a curse. For elderly Dr Zachary Busner it is a mysterious object, but also his life line to his autistic grandson Ben, whose own connection with technology is, in turn, a vital one.
For Jonathan De'Ath, aka 'the Butcher', MI6 agent, the phone may reveal his best kept secret of all: that Colonel Gawain Thomas, husband, father, and highly-trained tank commander - is Jonathan's long time lover.
And when technology, love and violence finally converge in the wreckage of postwar Iraq, the Colonel and the Spy's dalliance will determine the destiny of nations. Uniting our most urgent contemporary concerns: from the ubiquitous mobile phone to a family in chaos; from the horror of modern war, to the end of privacy, Phone is Will Self's most important and compelling novel to date.
Published:

1 March 2018

ISBN:

9780141046396

Imprint:

Penguin General UK

Format:

Paperback

Pages:

624

RRP:

$22.99
[A] hurricane of eloquence blows in terrific passages of satire, comedy, even suspense - not to mention Self's pitch-perfect ear for the jargons and lingoes of modernity

Boyd Tonkin, Financial Times
A brain-blitzing riff on war, technology and consciousness ... thrilling - who else is writing with this much freedom and verve right now?

Metro
A series of fast-paced, laugh-out-loud witty, disgusting and frequently well-observed scenes. He has a sharp ear for dialogue, and woven in and out of the surreal narrative are some of the wisest reflections on the folly of war (in this case the Gulf War) that you are likely to read outside the pages of Tolstoy

A.N. Wilson, Evening Standard
A triumph ... Phone is the final instalment in one of the most ambitious and important literary projects of the 21st century ... It'll take you a couple of weeks to read all three novels properly. But I can't think of a better way to spend your time. Self's message is a perennially important one, brilliantly expressed: only connect

Observer
Addictive and compelling. Not to be missed

Daily Mail
Brilliant ... a kind of epic anti-tweet ... what better riposte to a culture that thinks in fewer than 140 characters?

Daily Telegraph
Self has achieved the status of a true classic. He writes books that no one else could possibly write and which everyone admires ... he is in danger of becoming a national treasure... Self's books are radically funny raucous romps, understandable and enjoyable by just about anyone and everyone

Prospect
Self is the most daring and delightful novelist of his generation

Guardian
Teems with brilliance and originality

Attitude
There are marvels in store ... Self is profoundly interested in psychosis, paranoia, altered mental states, drug dependency , repetition compulsion and how our minds process time and memory

Times Literary Supplement
A stunner

Mail on Sunday
A tale of the insights of the limitations of technology, the insights of schizophrenia, the abuses of modern warfare, and of a clandestine love affair

The Scotsman
This trilogy will be seen in years to come as one of the most significant literary works of our century, books that reflect and refract the hideousness of our times ... over and above the intellectual sprezzatura of the work, there is, at its heart, an emotional core, a profound sense of grief

New Statesman