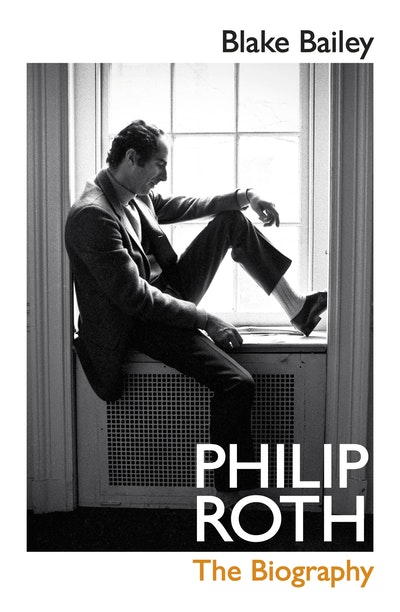 Published:

16 June 2021

ISBN:

9780224098175

Imprint:

Jonathan Cape

Format:

Hardback

Pages:

912

RRP:

$65.00
Philip Roth
The Biography
---
---
---
The renowned biographer's definitive portrait of a literary titan
'Superlative... definitive and genuinely gripping' SUNDAY TIMES
'Utterly engrossing' EVENING STANDARD
'Compulsively readable... Beautifully written... Definitive' OBSERVER
Appointed by Philip Roth and granted complete access and independence, Blake Bailey spent years poring over Roth's personal archive, interviewing his friends, lovers, and colleagues, and engaging Roth himself in breathtakingly candid conversations. The result is an indelible portrait of an American master and of the post-war literary scene.
Bailey shows how Roth emerged from a lower-middle-class Jewish milieu to achieve the heights of literary fame, how his career was nearly derailed by his catastrophic first marriage, and how he championed the work of dissident novelists behind the Iron Curtain. Bailey examines Roth's rivalrous friendships with Saul Bellow, John Updike and William Styron, and reveals the truths of his florid love life, culminating in his almost-twenty-year relationship with actress Claire Bloom, who pilloried Roth in her 1996 memoir, Leaving a Doll's House. Tracing Roth's path from realism to farce to metafiction to the tragic masterpieces of the American Trilogy, Bailey explores Roth's engagement with nearly every aspect of post-war American culture.
*A 'BOOKS OF 2021' PICK IN THE OBSERVER, GUARDIAN, FINANCIAL TIMES, SUNDAY TIMES, EVENING STANDARD, SPECTATOR AND NEW STATESMAN*
Published:

16 June 2021

ISBN:

9780224098175

Imprint:

Jonathan Cape

Format:

Hardback

Pages:

912

RRP:

$65.00
Everything you ever wanted to know about Philip Roth you can discover in his novels. Everything you ever wanted to know about what it took to become one of the greatest American writers of our time, you will find in Blake Bailey's breathtaking biography.

Nicole Krauss
Philip Roth, to go with his legendary talent, was a lucky man. That streak continues with Blake Bailey's charming, wise, and witty biography, which achieves a balance and comprehensiveness that shouldn't have been possible so soon after Roth's death.

Jonathan Lethem
A monumental gift... Not only does Blake Bailey bring his famously scrupulous research to bear on this life packed with equal parts honour and scandal, he does so with economy and narrative force - all while working in elegant, unforgettable prose... I wept and railed, marvelled and shook my fist at the sky. 'Just make me interesting,' Roth asked of Bailey, and this unputdownable page-turner does just that.

Mary Karr
In this excellent biography, Bailey offers an evenhanded portrait of [Roth]... Outstanding.

Kirkus Reviews (starred review)
Bailey brings his talents to bear in this remarkable portrait of lauded and divisive literary titan Philip Roth... In consistently luminous, humorous prose, Bailey vividly evokes Roth as a writer and a man... A stunning feat, this is as dynamic and gripping as any of Roth's own fictions.

Publishers Weekly (starred review)
Bailey is a very good writer and a very good literary biographer... What a story... Along with it comes the man in his wholeness.

James Parker, Atlantic
Superlative... Bailey's account is definitive and genuinely gripping to boot... He leads us lucidly through a dense palimpsest of overlapping drafts, fictional identities, literary feuds and women.

Claire Lowdon, Sunday Times
Unassailable as to fact... clear-eyed... quickly moving... Philip Roth seems as brightly peopled as a Victorian novel. ... What [Bailey] does superbly... is chart Roth's sexual and emotional life, and map its effects on his work.

Michael Gorra, New York Review of Books
[A] totemic and compulsively readable biography.

Christian Lorentzen, Bookforum
"Magisterial" and "definitive"... don't do justice to Blake Bailey's years-in-the-making opus. ... Bailey meticulously conjures the career of one of America's literary titans, the devils and angels that shaped his work.

O, The Oprah Magazine
It's a miracle that he has published so lucid a book just three years after Roth's death - and one so packed with good anecdotes and jokes... It's an achievement for Bailey to have gained as much distance as he has.

Blake Morrison, Guardian
Bailey's utterly engrossing biography ... shows Roth led a life just as strange and intense as his fictionalised alter egos.

Tomiwa Owolade, Evening Standard
Compulsively readable... Beautifully written... It is hard to imagine a book that will come up with a more definitive series of answers than this one.

Tim Adams, Observer
The 19th-century novel lives on. Its name today is Biography; its nature is that of Dostoyevskian magnitude. And Blake Bailey's comprehensive life of Philip Roth - to tell it outright - is a narrative masterwork.'

Cynthia Ozick, New York Times Book Review
Philip Roth, for all his flaws, for all that I know his legacy will continue to be judged in judgmental times and found wanting, deserves this riveting, serious and deeply intelligent biography.

David Baddiel, Spectator
Bailey has certainly done the legwork... in Rothian detail... recounting the story of a man who squatted over American literary culture for half a century.

Jon Day, Prospect
Exhaustively researched

Anthony Cummins, Daily Mail
Fascinating... Bailey's book is rewarding for those who want to see a diligent biographer illuminate connections between Roth's life and art.

Max Liu
[A] terrific new biography... Bailey handles...difficult passages with real skill.

Benjamin Markovits, Daily Telegraph
A thorough, balanced, and eminently restrained account... It is impossible to come to the end of this book not loving this man just a little.

Maureen Freely, Oldie
Supremely readable.

Boyd Tonkin, UnHerd
Exhaustive... Bailey...give[s] the reader a vivid sense of the richly varying modes in which Roth operated.

Jonathan Derbyshire, Financial Times
[A] monumental and engrossing book... Bailey brings new information and a fresh perspective... No other biographer will have known Roth so well.

Elaine Showalter, Times Literary Supplement
Magnificent.

Bryan Appleyard, Sunday Times
A colourful, confident and uncompromising biographical triumph.

Alexander C Kafka, Independent
Philip Roth: The Biography is diligently researched, clearly written, panoramic, sympathetic and lively.

Craig Brown, Mail on Sunday
Bailey's chronicling of Roth's intellectual life is fascinating.

Nick Major, Herald
Blake Bailey has produced a satisfyingly definitive work. Philip Roth is comprehensive, unflagging and attentive to detail, and written with an easy literary elegance that keeps the reader turning its 900-plus pages.

Fiona Sampson, Tablet
A book fit for a cultural heavyweight.

Kathryn Hughes, Standpoint
This ballsy, belligerent book puts subject and author on trail.

The Times, *Books of the Year*