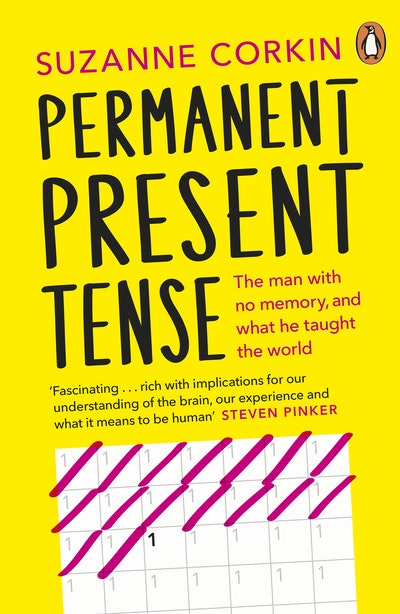 Published:

27 February 2013

ISBN:

9780141931562

Imprint:

Penguin eBooks

Format:

EBook

Pages:

384
Permanent Present Tense
The Man With No Memory, And What He Taught The World
---
---
---
In Permanent PresentTense Suzanne Corkin tells the incredible story of the amnesiac Henry Gustave Molaison - known only as H.M. until his death in 2008 - and what he taught medical science, neuroscience and the world.
In 1953, at the age of twenty-seven, Molaison underwent an experimental psychosurgical procedure intended to alleviate his debilitating epilepsy. The outcome was devastating - when Molaison awoke he was unable to form new memories and for the rest of his life would be trapped in the moment. But Molaison's tragedy would prove a gift to humanity, illuminating functions and structures of the brain and revolutionizing the neuroscience of memory. His amnesia became a touchstone for memory impairment in other patients.
For nearly five decades, distinguished neuroscientist Suzanne Corkin studied Molaison and oversaw his care. Her account of his life and legacy in Permanent PresentTense reveals an intelligent man who, despite his profound amnesia, was altruistic, friendly, open, and humorous. She explores how his case transformed an entire field, helping to address eternal questions. How do we store and retrieve memories? How do we know that there are different kinds of memory, controlled by different brain circuits? Is our identity bound up with remembering? If you can recall people or events for only a few seconds and cannot learn from the past or plan the future, can you still live a meaningful life?
Permanent Present explores the astonishing complexity of the human brain with great clarity, sensitivity, and grace, showing how one man's story challenged our very notions of who we are.
Suzanne Corkin is Professor of Behavioral Neuroscience and head of the Corkin Lab at MIT. The author of nine books, Corkin lives in Charlestown, Massachusetts.
'A fascinating account of perhaps the most important case study in the history of neuroscience, rich with implications for our understanding of the brain, our experience, and what it means to be human' Steven Pinker, author of 'How the Mind Works' and 'The Stuff of Thought'
'The best way to understand memory is to witness the ways it can disassemble. In this remarkable book, Suzanne Corkin gifts us with a rare insider's view, revealing how a man who could not remember his immediate past so profoundly influenced science's future' David Eagleman, neuroscientist and New York Times-bestselling author of 'Incognito: The Secret Lives of the Brain'
'Suzanne Corkin has written an enjoyable and sensitive story of H.M.'s life and what it has taught us about memory. Millions of patients have been the source of advances in science but few are celebrated as individuals. We learn through H.M. that 'Our brains are like hotels with eclectic arrays of guests-homes to different kinds of memory, each of which occupies its own suite of rooms' Philip A. Sharp, Institute Professor, Massachusetts Institute of Technology, and winner of the Nobel Prize in Physiology or Medicine
'Drawing on her unique investigations over more than four decades, neuroscientist Suzanne Corkin relates the fascinating story of how one severely amnesic man transformed our understanding of mind, brain, and memory' Howard Gardner, author of 'Multiple Intelligences'
%%%In Permanent PresentTense Suzanne Corkin tells the incredible story of the amnesiac Henry Gustave Molaison - known only as H.M. until his death in 2008 - and what he taught medical science, neuroscience and the world.
In 1953, at the age of twenty-seven, Molaison underwent an experimental psychosurgical procedure intended to alleviate his debilitating epilepsy. The outcome was devastating - when Molaison awoke he was unable to form new memories and for the rest of his life would be trapped in the moment. But Molaison's tragedy would prove a gift to humanity, illuminatin
Published:

27 February 2013

ISBN:

9780141931562

Imprint:

Penguin eBooks

Format:

EBook

Pages:

384