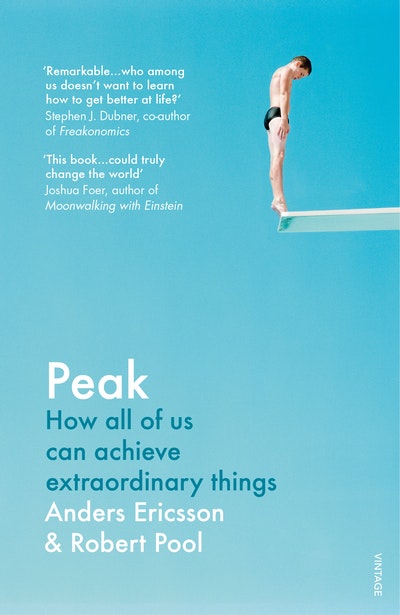 Published:

3 July 2017

ISBN:

9780099598473

Imprint:

Vintage

Format:

Paperback

Pages:

336

RRP:

$24.99
Peak
Secrets from the New Science of Expertise
---
---
---
Reveals that all of us can excel at our chosen activities and offers a guide to unlocking our potential

'Anyone who wants to get better at anything should read Peak.' Fortune

Do you want to stand out at work, improve your athletic or musical performance, or help your child achieve academic goals?
Anders Ericsson has made a career studying chess champions, violin virtuosos, star athletes, and memory mavens. Peak distils three decades of myth-shattering research into a powerful learning strategy that is fundamentally different from the way people traditionally think about acquiring new abilities. Ericsson's revolutionary methods will show you how to improve at almost any skill that matters to you, and that you don't have to be a genius to achieve extraordinary things.
'Remarkable...who among us doesn't want to learn how to get better at life?' Stephen J. Dubner, co-author of Freakonomics
'This book...could truly change the world' Joshua Foer, author of Moonwalking with Einstein
Published:

3 July 2017

ISBN:

9780099598473

Imprint:

Vintage

Format:

Paperback

Pages:

336

RRP:

$24.99
Most "important" books aren't much fun to read. Most fun books aren't very important. But with Peak, Anders Ericsson (with great work from Robert Pool) has hit the daily double. After all, who among us doesn't want to learn how to get better at life? A remarkable distillation of a remarkable lifetime of work

Stephen J. Dubner, bestselling author of FREAKONOMICS
The science of excellence can be divided into two eras: before Ericsson and after Ericsson. His groundbreaking work, captured in this brilliantly useful book, provides us with a blueprint for achieving the most important and life-changing work a person can achieve: to become a little bit better each day.

Daniel Coyle, bestselling author of THE TALENT CODE
Ericsson's research has revolutionized how we think about human achievement. He has found that what separates the best of us from the rest is not innate talent but simply the right kind of training and practice. If everyone would take the lessons of this book to heart, it could truly change the world.

Joshua Foer, bestselling author of MOONWALKING WITH EINSTEIN
This book is a breakthrough, a lyrical, powerful, science-based narrative that actually shows us how to get better (much better) at the things we care about.

Seth Godin, author of LINCHPIN
An invaluable exploration into the details of what makes the difference between simply going through the motions (for 10,000 hours!) and practising to reap significant improvement. A thought-provoking and extremely useful book.

Harriet Beveridge, author of WILL IT MAKE THE BOAT GO FASTER?
Offer[s] an optimistic anti-determinism that ought to influence how people educate children, manage employees and spend their time.

The Economist
His ultimate message is an uplifting, optimistic one and should be applauded.

Nick Rennison, Daily Mail
Invaluable.

David Didau, Learning Spy
The clear style helps cast new light on a subject I thought I understood. I found his discussion of mental representations and the distinction between purposeful and deliberate practice especially illuminating

Leaning Spy, Book of the Year
The work of the academic psychologist Anders Ericsson has inspired half a dozen popular accounts of the relationship between talent and effort. This year, with the science writer Robert Pool, he produced a book of his own, Peak: Secrets from the New Science of Expertise (Bodley Head), which may be the liveliest and clearest of the lot.

Leo Robson, Books of the Year, New Statesman