The much-loved garden designer discusses his unique landscape philosophy.
What is it about country gardens that continues to capture your imagination?
For me country gardens are all about scale: the expanse of large lawns, the depth and breadth of garden beds and the diversity of plants that space affords you. The softness that flows from all these elements completely captivates me.
How would you describe your gardening philosophy?
My philosophy involves time as a large component. I try to create gardens that are both timeless and contemporary – classic in their layout yet soft in their layering. Another important part of my philosophy is appropriateness: the garden should belong to the site and even more importantly to the style of architecture it surrounds. 
Is there a garden in the book that you think encapsulates your gardening philosophy?
My own garden at Stonefields certainly encapsulates all my design philosophies. Free from the constraints of clients and timelines, I can express exactly how I feel.
Can you tell us about a particularly challenging aspect of one (or more) of the gardens featured in the book, and how you overcame the challenge(s)?
Mt Algidus in New Zealand presented huge challenges due to its climatic conditions. This location high in the South Island alps of New Zealand, where it regularly snows and is subject to intense winds, presented a huge challenge in terms of the planting scheme. I protected the garden from the winds by planting hedges to protect the beds. The plants were then selected utilising my experience from Stonefields where it also snows and is subject to wind. 
What's a weapon in your gardening arsenal that Bangay fans may find surprising?
My love of roses and colour. As I mature I grow more and more in love with softer colourful planting schemes. 
Do you feel as if your style has changed over the years?
My style is always changing. As a designer it's important not to become complacent and staid in your style. As mentioned, I am softening with my planting schemes. This is major change to my previous, more formal style of planting. I am also exploring organic shapes and lines with my layout and architecture in the garden – the relationship between objects in the garden is becoming less rigid and more fluid. 
What, would you say, has gardening taught you about life?
I would like to say it's taught me patience, as it should, but sadly it hasn't. I can wait patiently for a tree to grow but I am always in a hurry to create new planting schemes or new areas in my own garden. My partner Barry is always telling me to slow down and take our time in the development of the house and garden, but I never listen. 
---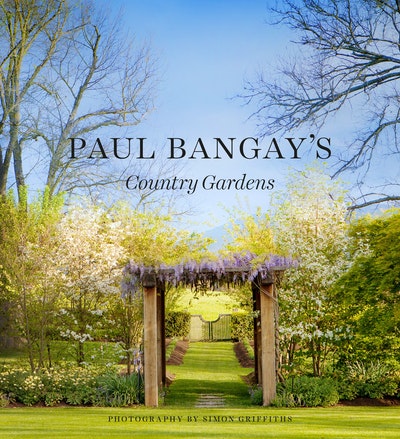 Feast your eyes on these to-die-for gardens, each of which features Paul's distinctive simplicity and elegance, as he writes passionately of his deeply personal relationship with each property and its owners.
Buy now
Buy now
---