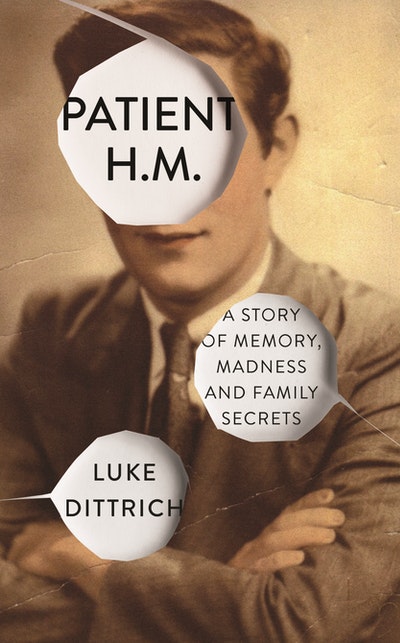 Published:

3 November 2016

ISBN:

9781448104680

Imprint:

Vintage Digital

Format:

EBook

Pages:

480
Patient H.M.
A Story of Memory, Madness and Family Secrets
---
---
---
Meet Patient H.M., he has a memory of just thirty seconds. Luke Dittrich uncovers the history of neuroscience, his own family's dark secrets and the story behind one of the most important operations in the history of medicine
In the summer of 1953, maverick neurosurgeon William Beecher Scoville performed a groundbreaking operation on an epileptic patient named Henry Molaison. But it was a catastrophic failure, leaving Henry unable to create long-term memories.
Scoville's grandson, Luke Dittrich, takes us on an astonishing journey through the history of neuroscience, from the first brain surgeries in ancient Egypt to the New England asylum where his grandfather developed a taste for human experimentation. Dittrich's investigation confronts unsettling family secrets and reveals the dark roots of modern neuroscience, raising troubling questions that echo into the present day.
Published:

3 November 2016

ISBN:

9781448104680

Imprint:

Vintage Digital

Format:

EBook

Pages:

480
A remarkable examination of how neuroscience works

Economist, Books of the Year
Luke Dittrich has achieved something remarkable in Patient H.M. This book succeeds on every level: as a fresh look at the most famous patient in medical history, as an expose of our dark history of psychiatry and neurosurgery, and, most powerfully, as a deeply personal investigation into the author's past. And yet, it's still a page-turner that reads like a thriller. It deserves a spot next to the great medical histories The Immortal Life of Henrietta Lacks, The Ghost Map, and The Emperor of All Maladies.

Susannah Calahan, author of Brain on Fire
In Patient H.M. Luke Dittrich explores the limits of science and the mind. In the process, he rescues an iconic life from oblivion... This is classic reporting and myth-making at the same time.

Colum McCann
It felt as if I read this book in one breath. Patient H.M. is a fascinating, powerful investigation, a matroyshka doll of nested stories about the past and present, remembering and forgetting. Luke Dittrich's quest to understand the amnesiac patient who taught the world so much about memory – and ourselves – leads him to the shoals of his own family tragedy, and an ending that will break your heart. But it's his beautiful unfolding of the story, the art of his sentences and reportage, that you'll never forget.

Michael Paterniti
Patient H.M. tells one of the most fascinating and disturbing stories in the annals of medicine, weaving in ethics, philosophy, a personal saga, the history of neurosurgery, the mysteries of human memory, and an exploration of human ego. Sweeping, meticulous, and seamless – with an ending that, like the best of scientific investigations, challenges everything that came before it. A monumental contribution to our understanding of medical research, and ourselves.

Dr Sheri Fink, Pulitzer prize winner
This book is an enthralling account of scientific endeavor and its sometimes tragic consequences.

Ian Critchley, Sunday Times
[A] riveting book… What starts as an account of one of neuroscience's most famous case histories ends as a moral enquiry into how far people are willing to go in pursuit of knowledge and professional advancement and whether the human cost can ever be justified.

Kathryn Hughes, Mail on Sunday
This book is not simply about H.M., but rather uses him as a springboard to explore the history of neuroscience, from the first records of brain surgery in Egyptian writings to 20th-century psychosurgery and beyond...H.M.'s fate is not the book's only shocking tale. The family secret referred to in the book's subtitle is foreshadowed early on, but its revelation is no less powerful when it comes.

Economist
Dittrich deftly mixes science with murky family memoir.

Helen Brown, Daily Telegraph
It's an extraordinary story.

Clive Davis, The Times
This satisfying account is reported with appropriate detachment by a writer with a deep personal connection. Beautifully told, Patient H.M. should remind us how close we are in time to gargantuan errors in the practice of medicine.

Carla Johnson, Yahoo
There is much memorable in Dittrich's book.

Jonathan Mirsky, Literary Review
Luke Dittrich's first book is impressively well written… He has woven family recollections of his grandfather… into one fascinating account.

Charlie Hegarty, Catholic Herald