Snapshots of the Tom Jones songs that started it all.
During the second half of the 1960s, Tom Jones laid the foundations for what's been to-date a 50-year career in the recording industry. There've been smash hits and near misses, dramas and challenges, and collaborations with almost every major recording artist under the sun, from Jerry Lee Lewis, Elvis and Sinatra, to Robbie Williams, Van Morrison and Jessie J. All the stories are brought to life in boisterous detail in his epic memoir Over the Top and Back.

It was in the late '60s that the wheels were set in motion. Here are six of the songs that helped start it all…

It's Not Unusual (1965)
'It happens every day/No matter what you say'
1965 was the breakout year for a 24-year-old Tom Jones, and It's Not Unusual was the catalyst. Writers Les Reed and Gordon Mills first offered the song to Sandie Shaw – she'd had a UK #1 hit with Burt Bacharach and Hal David's (There's) Always Something There to Remind Me the previous year. Jones recorded a demo for Shaw, but she was so impressed with his version that she recommended he release it himself. The single shot to #1.

What's New Pussycat? (1965)
'Pussycat, pussycat, you're delicious/And if my wishes can all come true
I'll soon be kissing your sweet little pussycat lips/Pussycat, pussycat, I love you yes I do'
Okay, so this one needs to be taken in context. The song was written by Burt Bacharach for the movie What's New Pussycat?, in which Peter O'Toole's character desperately wants to be faithful to his fiancée, but every woman he meets falls in love with him.
Actually, context does little to clarify the meaning of the lyrics. But it was another big song for Jones in 1965. Since then it has appeared on The Simpsons (twice), and has been covered by artists as diverse as Tony Bennett and Alvin & the Chipmunks.

Thunderball (1965)
'But he thinks that the fight is worth it all/So he strikes like Thunderbaaaaaaaaaaaaaall'
Legend has it that Tom Jones fainted in the recording booth after hitting and holding the final note of this song, the theme for the fourth film in the 007 franchise.
The original theme song for Thunderball was titled Mr. Kiss Kiss, Bang Bang and was recorded by Shirley Bassey, and again by Dionne Warwick, but it was deemed unsuitable because the lyrics didn't mention the film's title (both versions only saw the light of day in the 1990s). Instead, songwriters John Barry and Don Black wrote Thunderball (the song) just before the film's release, with Jones stepping behind the mic to save the day.

Green, Green Grass of Home (1966)
'Arm in arm, we'll walk at daybreak/Again I touch the green, green grass of home'
What first appears to be the reminiscence of a man returning to his hometown is revealed to be the ballad of a condemned man waking on the day of his execution. This song was recorded by several artists before Tom Jones (including Jerry Lee Lewis in 1965) and after him (including virtually everybody – Elvis Presley, Joan Baez, Kenny Rogers, et al). But it was Jones's 1966 version that transformed Green, Green Grass of Home into an international # 1  and an all-time classic.

Help Yourself (1968)
'Love is like candy on a shelf/You want to taste and help yourself'
Jones's version of the song, reworked by Jack Fishman from an Italian number Gli Occhi Miei, bore little resemblance to the original. It did, however, reach #1 in Australia, Ireland and Germany. In 1996 a cover version the song was released by comedian Steve Coogan, in character as Tony Ferrino.

Delilah (1968)
'I felt the knife in my hand and she laughed no more… Forgive me Delilah I just couldn't take any more.'
The story of a jealous man murdering his unfaithful partner, Delilah remains one of Tom Jones's most recognisable hits. It also became the unlikely unofficial anthem of Stoke City Football Club and the Welsh rugby team.
---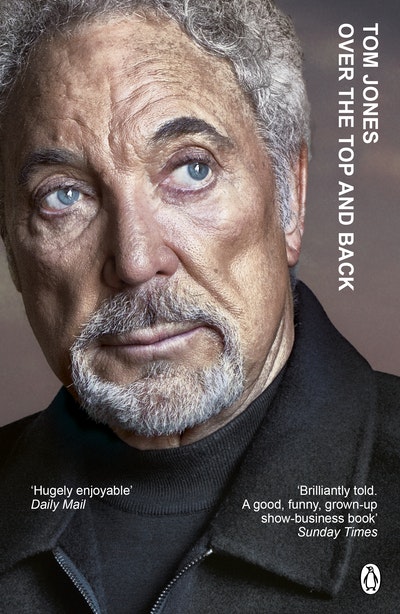 The critically-acclaimed first full memoir from one of the world's most famous singers
Buy now
Buy now
---