The job ad that changed Outback Cop Neale McShane's life forever.
Neale McShane describes Birdsville, central west Queensland as, 'The land of plenty – plenty of heat, dust, flies, snakes, camels and salt of the earth outback folk'. And he'd know: as the senior constable on the Birdsville beat for ten years, he's more qualified than most to offer a snapshot of one of the most remote and colourful regions on the continent. Through the pen of bestselling author and mate Evan McHugh, in Outback Cop McShane shares stories of desert dangers, dead bodies, droughts and floods, drinkers and dreamers – and, of course the infamous Birdsville Races – bringing into vivid focus the goings on of a town too far off the beaten track for most.
It all started with a job advertisement. Straight from the pages of Outback Cop, here's the ad that, after being posted for the third time, sent McShane down a decade of dusty roads:
Looking for a challenge both in your lifestyle and working environment?
Desirous of living/working in one of the remotest Western Queensland Police Divisions?
Looking for the opportunity to maybe set yourself and your family up financially?
Then seriously consider the following position that is now being readvertised.
Vacancy 334/06 in Qld Police Gazette dated 16 June 2006 advertises a position of Senior Constable, Officer In Charge, Birdsville Police Station. There are numerous career and financial advantages associated with this position. These include:
The position has a department residence and a fully equipped barracks.
$310.30 per fortnight family locality allowance = $8067.80 per year extra.
35% Operational Shift Allowance (OSA).
Potential for approved secondary employment in Division.
Potential employment for spouse/partner through Q-Gap at Police Station.
Five (5) days per year isolation leave.
Ability to accumulate paid days off.
Higher rate of accrual of recreation leave (250.8 hours per year).
Two (2) annual return air fares for Officer and family. Ability also to take cash in lieu of airfares.
Cross border (QLD/NT) policing opportunities.
This is a dedicated Officer In Charge position.
Work at major events, including Birdsville Races.
Too many other advantages to mention e.g. fishing, hunting, camping, remote-area policing and four wheel driving.
Birdsville Police Station is within the Mount Isa Police District and is located approximately 1592 kilometres west from Brisbane and 670 kilometres south from Mount Isa.
If you are up to a challenge and looking to gain an advantage in the promotional and financial stakes, then:
do your research;
speak with the current acting officer-in-charge;
consider your personal circumstances; and
submit your application.
And yes, be aware that living and working in Birdsville can be difficult, challenging and at times isolated.
---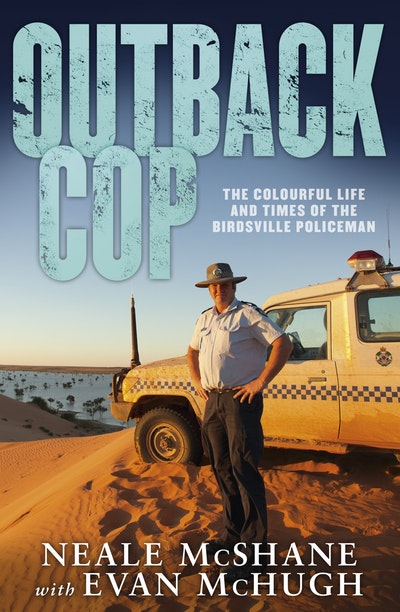 Outback Cop
Evan McHugh, Neale McShane
'Birdsville, the land of plenty – plenty of heat, dust, flies, snakes, camels and salt of the earth outback folk.' Neale McShane
Buy now
Buy now
---