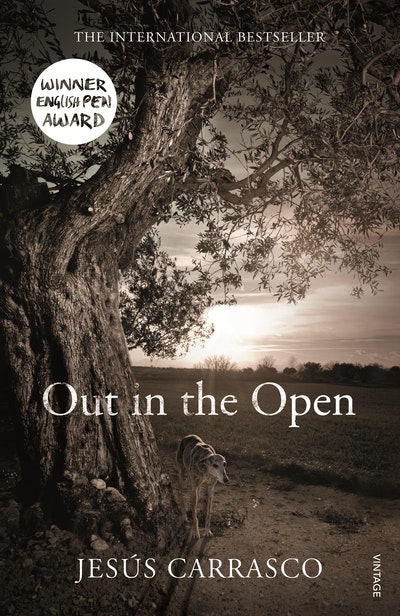 Published:

16 April 2015

ISBN:

9781448161188

Imprint:

Vintage Digital

Format:

EBook

Pages:

192
Out in the Open
---
---
---
An electrifying debut from a major new Spanish writer that has become an international bestseller.
'A...humane and very beautiful book'
Garth Greenwell, author of What Belongs to You
A young boy has fled his home. Crouched in his hiding place he hears the shouts of the men hunting him. When the search party has passed, what lies before him is an infinite, arid plain, one he must cross in order to escape those from whom he's fleeing. One night he crosses paths with an old goatherd and from that moment nothing will ever be the same for either of them.
Out in the Open tells the story of a boy in a drought-stricken country ruled by violence. A closed world where names and dates don't matter, where morals have drained away with the water. In this landscape the boy, not yet a lost cause, has the chance to learn the painful basics of judgement, or to live out forever the violence with which he grew up.
Winner of the European Union Prize for Literature 2016
Published:

16 April 2015

ISBN:

9781448161188

Imprint:

Vintage Digital

Format:

EBook

Pages:

192
Praise for Out in the Open
This novel's deep theme is a peculiar kind of heroism – that of claiming, in a world stripped to necessity, a human remainder of grace: the choice to bear witness to ideals that are more precious than survival and that exist only in our affirmation of them. Out in the Open is a harrowing, humane, and very beautiful book

Garth Greenwell, author of What Belongs to You
The writing is austere with flourishes of great beauty from an exceptional translator

Rosie Goldsmith, Independent
Its rural lexicon enriches a tale told with savage precision, and filled with memorable passages

Julius Purcell, The Times Literary Supplement
Undeniably impressive and compelling because everything is everywhere so thoroughly and keenly imagined and realised

Allan Massie, Scotsman
[A] searing, beautifully observed debut

Eithne Farry, Sunday Express
Carrasco provides a tense story of conflict, the tough but gratifying outcome of which remains unclear until the end. The harsh landscape, described in rich, slow prose, has moulded the characters and is the constant backdrop to human action

Michael Eaude, Literary Review
Fans of Cormac McCarthy and other novelists of the bleak but beautiful are going to love this book

Nic Bottomley, Bath Life
An intense, gripping, and emotional piece of work

Book Munch
What a novel! My goodness – I haven't read anything this powerful for years and years… It will grab you and leave you trembling for a long time

Kathleen, Bath Chronicle
Told in sparse, taut prose reminiscent of Cormac McCarthy... Passages of lovely writing coupled with the jaw-clenching tension and moments of hope make this a welcome introduction to a new voice

Publishers Weekly