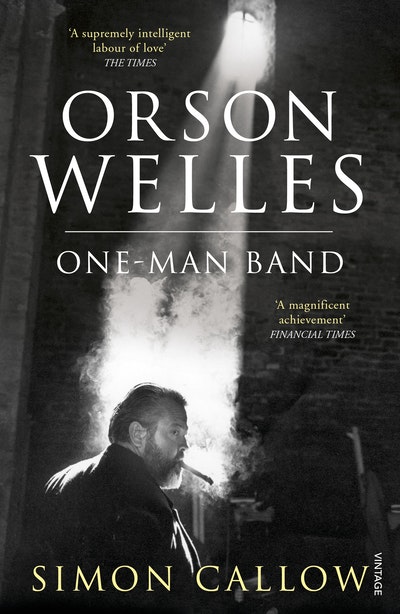 Published:

26 November 2015

ISBN:

9781473545762

Imprint:

Vintage Digital

Format:

EBook

Pages:

496
Orson Welles, Volume 3
One-Man Band
---
---
---
The latest volume in Simon Callow's masterful biography of Orson Welles
In One-Man Band, thethird volume in his epic survey of Orson Welles' life and work, Simon Callow again probes in comprehensive and penetrating detail into one of the most complex artists of the twentieth century, looking closely at the triumphs and failures of an ambitious one-man assault on one medium after another - theatre, radio, film, television, even, at one point, ballet - in each of which his radical and original approach opened up new directions and hitherto unglimpsed possibilities.
The book begins with Welles' self-exile from America, and his realisation that he could only function happily as an independent film-maker, a one-man band; by 1964, he had filmed Othello,which took three years to complete, Mr Arkadin, the biggest conundrum in his output,andhis masterpiece Chimes at Midnight, as well as Touch of Evil, his sole return to Hollywood and,like all too many of his films, wrested from his grasp and re-edited. Along the way he made inroads into the fledgling medium of television and a number of stage plays, including Moby-Dick,considered by theatre historians to be one of the seminal productions of the century. Meanwhile, his private life was as dramatic as his professional life.
The book shows what it was like to be around Welles, and, with a precision rarely attempted before, what it was like to be him, in which lies the answer to the old riddle: whatever happened to Orson Welles?
Published:

26 November 2015

ISBN:

9781473545762

Imprint:

Vintage Digital

Format:

EBook

Pages:

496
Praise for Orson Welles, Volume 3
One Man Band gathers strength page by page. This is by far the funniest volume of the three, and in some ways the most revelatory. The more vulnerable Welles becomes, the more vivid Callow's writing. The fear was always that a description of Welles' later years would be depressing. But this is that rare thing: a book about decline which is actually exhilarating

David Hare
A biography as huge as if it had been fed a Welles-style diet of roasted chicken and foie gras

Victoria Segal, Sunday Times
Callow continuously strikes to the quick and the essential in Welles

Michael Coveney, Independent
Impeccably detailed research peppered with anecdotes and [.] his witty conversational style

Kevin Maher, The Times
Compulsive reading.

Robert McCrum, Observer
The third volume has a tremendous panache, matching Welles's own bravura and extraordinary energy, giving a vivid account of his personality and his productions.

Robert Tanitch, Mature Times
A novel as exhaustive and exhilarating as it's subject.

Liverpool Echo
Simon Callow probes in comprehensive and penetrating detail into one of the most complex artists of the twentieth century.

Essential Surrey
A pretty epic survey about his [Welles'] stupendous life.

Western Mail
Callow probes in detail into one of the most complex artists of the twentieth century.

Daily Echo
Epic survey of Welles' life and work, Simon again probes in comprehensive and penetrating detail into one of the most complex artists of the twentieth century. The book shows what it was like to be around Welles, and, with a precision rarely attempted before, what it was like to be him.

Chris High, Purple Revolver
It's a great story in print and Callow's passion made it riveting on stage. Somehow conjuring up all the extravagance that flowed from Orson Welles's gifted imagination.

Darren Slade, Daily Echo
In every way, Callow has captured his subject as he wants him.

Victoria Segal, Sunday Times
Biographical subject and author have found their perfect match.

Simon Shaw, Mail on Sunday
One Man Band rumbles along. Welles in his middle years is a more engaging prospect than most artists at a similar point. He has been lucky to have Callow as a biographer, balancing warmth with skepticism, fondness with reproof.

Anthony Quinn, Guardian