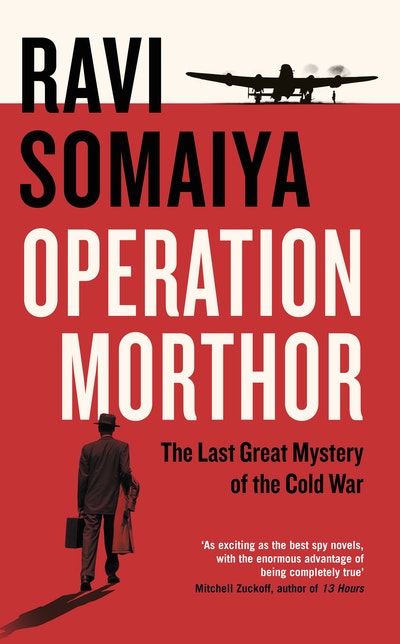 Published:

6 August 2020

ISBN:

9780241240649

Imprint:

Viking

Format:

Hardback

Pages:

304

RRP:

$38.99
Operation Morthor
The Last Great Mystery of the Cold War
---
---
---
'One of the mysteries I've long been fascinated by, and I am so grateful that Ravi Somaiya has cracked it open so brilliantly' David Grann, author of Killers of the Flower Moon
A PLANE CRASH IN THE JUNGLE.
A LEGENDARY STATESMAN DEAD.
A TRAGIC ACCIDENT... OR THE ULTIMATE CONSPIRACY?
For nearly sixty years, the circumstances surrounding the death of renowned diplomat Dag Hammarskjöld have remained one of the Cold War's most tightly guarded secrets. Now, with exclusive evidence, investigative journalist Ravi Somaiya finally uncovers the truth.
In 1961 the Congo was in crisis, fragmented and at war with itself. The streets of Leopoldville, the capital, were crawling with CIA operatives, MI6 agents and Soviet infiltrators. Belgian colonialists, Rhodesian white supremacists and corporate mercenaries massed in the south of the country. The chaos conspired to make it one of the most dangerous places on earth.
UN Secretary General Dag Hammarskjöld, the man John F. Kennedy called 'the greatest statesman of our century' flew into the maelstrom. He was an idealist. The Congo's best hope for peace and independence. But en route to a diplomatic summit to reunite the country, Hammarskjöld's plane mysteriously disappeared. Soon afterward he was discovered dead in the smoking wreckage, an Ace of Spades playing card placed on his body.
A riveting work of investigative journalism based on new evidence, recently revealed first-hand accounts, and groundbreaking interviews, Operation Morthor reveals the plot behind one of the longest-standing murder mysteries of the Cold War, with dark implications for governments and corporations alike.
Published:

6 August 2020

ISBN:

9780241240649

Imprint:

Viking

Format:

Hardback

Pages:

304

RRP:

$38.99
Praise for Operation Morthor
'Operation Morthor is one of the most gripping nonfiction books I've read in a very long time. Somaiya does a masterful job sifting the evidence and building a case of murder. This is a fabulous page turner. I highly recommend it'

Douglas Preston, author of <i>The Monster of Florence</i>
'Ravi Somaiya's brilliant unwrapping of the mystery surrounding Hammarskjold's death will convert the reader into an avid investigator the moment they pick up this book! Operation Morthor also raises key questions before governments who still act suspiciously: why? What are you hiding exactly?'

Zeid Ra'ad Al Hussein, UN Human Rights Chief (2014-2018)
'Operation Morthor is as exciting as the best spy novels, with the enormous advantage of being completely true. Ravi Somaiya masterfully teases out the tangled strands of a Cold War mystery ... The result is a gripping book by a gifted writer and a dogged investigator'

Mitchell Zuckoff, author of <i>13 Hours</i>
'What caused the 1961 plane crash that killed UN Secretary-General Hammarskjöld, who was attempting at the time to end a war in the Congo? Investigative journalist Somaiya lays out the evidence suggesting foul play in his impressive debut. An eye-opening account'

<i>Publisher's Weekly</i>, Starred Review
'One of the mysteries I've long been fascinated by, and I am so grateful that Ravi Somaiya has cracked it open so brilliantly'

David Grann, author of <i>Killers of the Flower Moon</i>