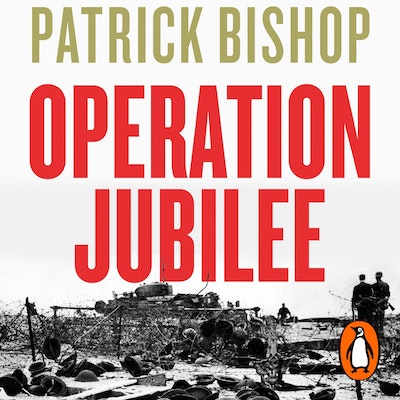 Published:

7 October 2021

ISBN:

9780241993118

Imprint:

Penguin Audio

Format:

Audio Download

RRP:

$26.00
Operation Jubilee
Dieppe, 1942: The Folly and The Sacrifice
---
---
---
A grand tale of heroic failure during the Dieppe raid of 1942, grippingly told by the bestselling author of Bomber Boys
On the moonless night of 18 August 1942 a flotilla pushes out into the flat water of the Channel. They are to seize the German-held port of Dieppe and hold it for at least twenty-four hours, showing the Soviets the Allies were serious about a second front and to get experience ahead of a full-scale invasion.
But confidence turned to carnage with nearly two thirds of the attackers dead, wounded or captured. The raid - the Royal Air Force's biggest battle since 1940 - was both a disaster and a milestone in the narrative of the war. It was cited as essential to D-Day, but the tragedy was all too predictable.
Using first-hand testimony and recently declassified source material from archives across several countries, bestselling author Patrick Bishop's account of this doomed endeavour reveals the big picture and unearths telling details that fully bring Operation Jubilee to life for the first time.
Published:

7 October 2021

ISBN:

9780241993118

Imprint:

Penguin Audio

Format:

Audio Download

RRP:

$26.00
Praise for Operation Jubilee
Patrick Bishop's well-researched, crisply written and utterly absorbing account of the Dieppe Raid tells a story of heroism and futility that will live for the reader long afterwards. Operation Jubilee was all the more tragic for having been entirely avoidable, in ways reasons that Bishop sets out powerfully, unflinchingly and unanswerably

Andrew Roberts, author of 'Churchill: Walking with Destiny'
Riveting and powerfully written. Patrick Bishop has turned this tragic cautionary tale into a fascinating, shrewd and timely reflection on leadership in a time of crisis, and what can happen to personal ambition in the fevered atmosphere of war

Henry Hemming, author of 'Our Man in New York'
Operation Jubilee is written with verve and knowledge, and with the author's trademark style of integrating eyewitness accounts with insight into the human condition in battle. It draws upon new evidence and provides a new perspective on the French civilians. Recommended reading

Tim Cook, author of 'The Fight for History'
Patrick Bishop's account of the preparation, the battle itself, and its aftermath is forensic, detailed, yet highly readable and written with his great understanding of war. I would be surprised if this book did not become the authoritative history of the disaster that was the Dieppe raid

General Sir Mike Jackson