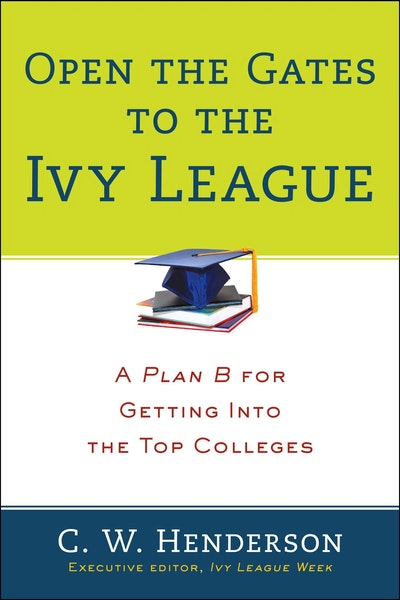 Published:

6 August 2013

ISBN:

9780399164309

Imprint:

Penguin

Format:

Paperback

Pages:

304

RRP:

$29.99
Open the Gates to the Ivy League
A Plan B for Getting into the Top Colleges
---
---
Ivy League schools on average reject some 90 percent of applicants. But there is another way to get into the top colleges in the United States—the back gate—that will still see motivated students come out the front gate with an Ivy League diploma.
This book is the plan B that offers you an alternative set of keys to seven of the Ivy League universities: Harvard, Yale, Columbia, Cornell, Dartmouth, Pennsylvania (Penn), and Brown. Also covered are the so-called second tier of elite universities, including Massachusetts Institute of Technology (MIT), Duke, Northwestern, and University of Virginia, among others, which have highly selective admission requirements and confer social and economic benefits on par with the traditional Ivy Leagues.
From extension schools to special programs for working students to online studies, the range of back gateways is remarkable for leveling the field for students of all stripes. This book provides the little-known strategies to help you succeed in enrolling in the school of your dreams.
Published:

6 August 2013

ISBN:

9780399164309

Imprint:

Penguin

Format:

Paperback

Pages:

304

RRP:

$29.99
Praise for Open the Gates to the Ivy League
Praise for Open the Gates to the Ivy League: "In Open the Gates to the Ivy League: A Plan B for Getting into the Top Colleges, author C.W. Henderson exposes 'back gateways' for getting into 25 prestigious schools, seven of which are hallowed-hall Ivies. Henderson also cites back entrances to elite universities through transfer programs with less-elite universities, such as transferring to the University of Virginia from any one of the state's community colleges.—University of Virginia UVA Today "A few days ago I picked up an interesting book, Open the Gates to the Ivy League, A Plan B for Getting into the Top Colleges. It provides alternative entries, aka 'Back Doors' for entering Ivy League or similar schools…One of the most intriguing back doors, legitimate for a traditional student, is at Emory University's Oxford College."—Educated Quest "Henderson's audience is Jager-Hyman's 'brand-name shoppers,' who would find stock in Henderson's assertion that the name recognition and well-connected alumni networks of elite universities give students 'a significant, sometimes even a dramatic, edge over everyone who earns a diploma elsewhere.' So, if students fail to get into a top 40 school, Henderson says try and try again—and shows applicants how to do so, sometimes for less than they would pay otherwise."—Education Week BookMarks