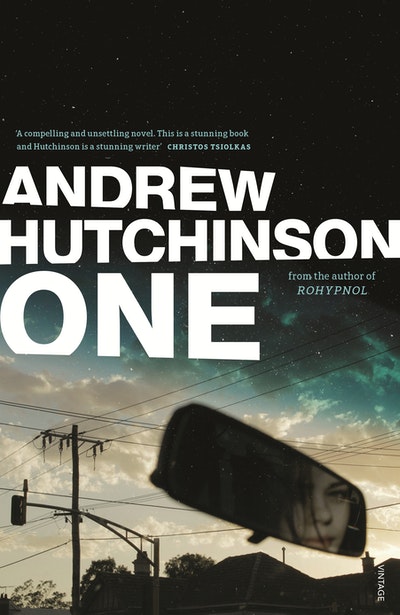 Published:

2 April 2018

ISBN:

9781741667882

Imprint:

Vintage Australia

Format:

Trade Paperback

Pages:

272

RRP:

$32.99
One
---
---
---
Why do we do such crazy things when we're in love?
Love can rule your life. Change your personality. Your everyday existence can be shaped by the opinion of one person. It seems crazy – so why do we do it? Why do we let the thoughts of someone else govern our decisions and actions?
He had his heart broken by his one true love, and cannot see a way forward in life. Having alienated himself from his family and friends, he works nights and shuns normal society. But not even disrupted sleep and depression can explain the strange behaviours that will suddenly take over him. It all escalates on an unassuming night, when he returns home to find a woman asleep in his driveway. Waiting.
One probes the extremes we go to for love; the extent of emotional influence; the scars we leave on each other. The novel asks, who do you become when you're driven to obsession?
Fast-paced, immediate and perceptive, One is the highly original second novel from a young Australian writer establishing himself as a major talent.
Published:

2 April 2018

ISBN:

9781741667882

Imprint:

Vintage Australia

Format:

Trade Paperback

Pages:

272

RRP:

$32.99
The urgent pace points towards this being a classic crime novel. But then Hutchinson's story takes a sharp left turn. And then another. The pace never slackens, but it is soon clear this is no ordinary story - crime or otherwise. Hints are dropped as to the solution to this unfolding mystery, enough to keep this sometimes hallucinogenic story grounded and with a clear trajectory. It was almost impossible to put down.

Corinna Hente, The Herald Sun
How often do we imagine what it's like to be in someone else's shoes? Perhaps we think about it at a time of disaster, but One asks us to consider what it's like being one of the people closest to us, and how it feels to be treated the way that we treat people. In contemporary Western society, we're ­encouraged to be forever chasing something, to be in pursuit of betterment. For a book so fast paced, One is deeply concerned with the notion of slowing down. "It was amazing, the details, the things you remember. The beauty of them. Even the simplest element framed in my mind. I'd ­remembered this. For a reason." What matters in the end? In thought-provoking and unusual ways, Hutchinson is trying to figure it out.

Louise Swinn, The Australian
Andrew Hutchinson's One is a compelling and unsettling novel. The control and the lucidity of the writing are formidable, and Hutchinson never once lets the narrative force lessen: the directness of the prose keeps us riveted and keeps us frightened. And we are always aware that beyond the engrossing story that the novel is opening up crucial and complex questions about memory, obsession, grief and love. This is a stunning book and Hutchinson is a stunning writer.

Christos Tsiolkas
A wild fever-dream of a novel, Andrew Hutchinson's One is a symphony of memory, love, grief and obsession; a riveting, pulsating read, supercharged with feeling, fuelled by a mystery that unspools at an electrifying pace.

Simon McDonald, Potts Point Bookshop
Andrew Hutchinson's second novel has a suspenseful edge. We're never quite sure what is going on because the main characters aren't either. the answers are always concealed just over the horizon. One explores the tricks that memory can play, how love, grief and obsession can fuse and how good it feels to finally let it go.

Paul Robinson, Qantas magazine
As with Rohypnol, the language in One is as sharp as a blade and Hutchinson's universe is just so immediate. One is the work of a truly creative mind, and the distinctiveness of the work resists comparison – a fascinating, unusual beast of a novel, it unravels like a film.

Louise Swinn
Andrew is proving to be one of the most interesting voices in Australian literature.

James Phelan
It is both beautifully and brutally written

Samantha Bond, Glam Adelaide