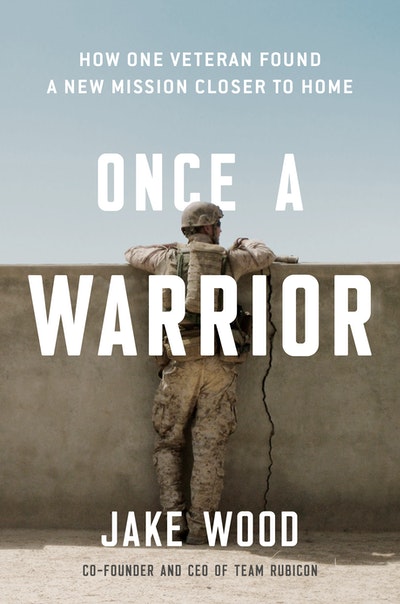 Published:

19 January 2021

ISBN:

9780593189351

Imprint:

Sentinel

Format:

Hardback

Pages:

320

RRP:

$46.99
Once a Warrior
How One Veteran Found a New Mission Closer to Home
---
---
The powerful story of one Marine who found healing and renewed purpose after returning from combat, for himself and tens of thousands of fellow veterans.
When Marine sniper Jake Wood came home in 2009 from grueling tours in Iraq and Afghanistan, his country asked yet more of him: to compartmentalize his traumatic memories, put his elite military training on a shelf, and adjust to living outside high-stakes situations. Jake feared he would join the huge population of veterans struggling to reintegrate. Since 2001, more service members have died by suicide than have been killed in Afghanistan.
One activity helped Jake and his friend and fellow Marine Clay Hunt find a measure of hope: helping communities after disasters, where their training rendered them unusually effective in high-stakes situations. But as their new organization struggled to get off the ground and the VA tied up Clay's meds in red tape, Clay committed suicide. Reeling, Jake resolved to help as many disaster-affected communities and provide a mission to as many veterans as possible.
Over the past 10 years, with no money or experience, he and his team have recruited over 100,000 volunteers to his organization Team Rubicon. It's established a reputation for delivering desperately needed aid faster and better than other organizations hindered by bureaucracy. Racing against the clock, veteran volunteers utilize their military training to untangle complex problems quickly and keep calm under pressure in catastrophic scenarios.
What's more, Team Rubicon gives meaningful direction to men and women who need the disaster response work as much as the work needs them. Having a continued purpose--a mission that matters--can be the key to a veteran's successful transition from war to peace.
Once a Warrior provides a harrowing look at the true cost of military service as the Forever War drags on--and most important, the path to healing.
Published:

19 January 2021

ISBN:

9780593189351

Imprint:

Sentinel

Format:

Hardback

Pages:

320

RRP:

$46.99