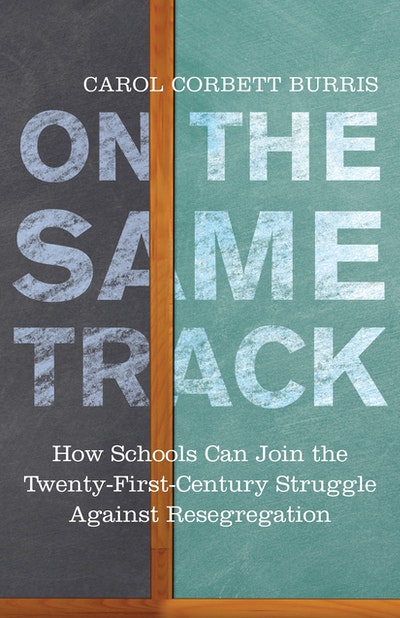 Published:

1 September 2018

ISBN:

9780807032978

Imprint:

Beacon Press

Format:

Hardback

Pages:

208

RRP:

$39.99
On The Same Track
---
---
---
A public school principal's account of the courageous leaders who have dismantled the tracking systems in their schools in order to desegregate classrooms
What would happen if a school eliminated the "tracks" that rank students based on their perceived intellectual abilities? Would low-achieving students fall behind and become frustrated? Would their higher-achieving peers suffer from a "watered-down" curriculum? Or is tracking itself the problem? A growing body of research shows that tracking doesn't increase learning for the minority and low-income students who are overrepresented in low-track classrooms. This de facto segregation has led many civil rights advocates to argue that tracking is turning back the clock on equal education.
As a principal at a New York high school, Carol Corbett Burris believed that the curriculum for the best students was the best curriculum for all. She helped lead a bold plan to eliminate tracking from her school, and the results couldn't have been further from the doom-and-gloom scenarios of tracking proponents. Instead, there was a dramatic improvement in the achievement of all students, across racial and socioeconomic divisions, and a near elimination of the achievement gap. Today, due to those efforts, International Baccalaureate English is the twelfth-grade curriculum for South Side students, and all students take the same challenging courses, together, to prepare them for college.
In On the Same Track, Burris draws on her own experience, on the experiences of other schools, and on the latest research to make an impassioned case for detracking. Not only does the practice of tracking fail to benefit lower-tracked students, as Burris shows, but it also results in the resegregation of classrooms. Furthermore, she argues that many of today's popular reforms emanate from the same "sort and select" mentality that reinforces social stratification based on race and class.
On the Same Track is a rousing, controversial, and yet optimistic account of how we need to change our assumptions and policies if we are to live up to the promise of democratic public education. Only by holding all students to the same high standards can we ensure that all have the same opportunity to live up to their full potential.
Published:

1 September 2018

ISBN:

9780807032978

Imprint:

Beacon Press

Format:

Hardback

Pages:

208

RRP:

$39.99