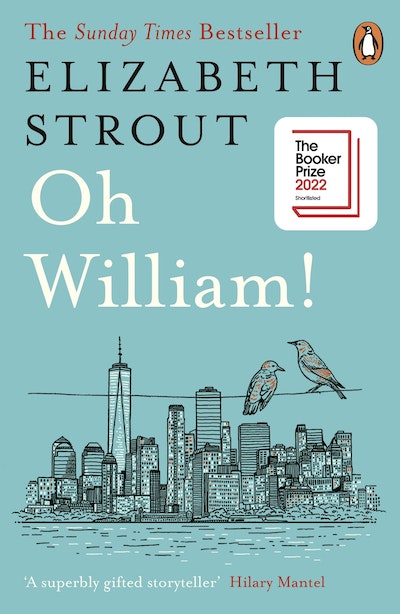 Published:

17 May 2022

ISBN:

9780241992210

Imprint:

Penguin General UK

Format:

Paperback

Pages:

256

RRP:

$22.99
Oh William!
From the author of My Name is Lucy Barton
---
---
---
The top ten Sunday Times bestselling portrait of a marriage
Lucy Barton is a successful writer living in New York, navigating the second half of her life as a recent widow and parent to two adult daughters. A surprise encounter leads her to reconnect with William, her first husband - and longtime, on-again-off-again friend and confidante. Recalling their college years, the birth of their daughters, the painful dissolution of their marriage, and the lives they built with other people, Strout weaves a portrait, stunning in its subtlety, of a decades-long partnership.
Oh William! is a luminous novel about the myriad mysteries that make up a marriage, about discovering family secrets, late in life, that rearrange everything we think we know about those closest to us, and the way people continue to live and love, against all odds. At the heart of this story is the unforgettable, indomitable voice of Lucy Barton, who once again offers a profound, lasting reflection on the mystery of existence. 'This is the way of life,' Lucy says. 'The many things we do not know until it is too late.'
Published:

17 May 2022

ISBN:

9780241992210

Imprint:

Penguin General UK

Format:

Paperback

Pages:

256

RRP:

$22.99
Elizabeth Strout is one of my very favorite writers, so the fact that Oh William! may well be my favorite of her books is a mathematical equation for joy. The depth, complexity, and love contained in these pages is a miraculous achievement

Ann Patchett, author of The Dutch House
The end lines of this novel from the staggeringly gifted Elizabeth Strout are a revelation - a profound understanding of our relationships, ourselves . . . A luminous novel about love, loss and family secrets; hard to believe a writer can fathom us so well

Sainsbury's Magazine
What sets Strout's work apart is her characterisation . . . Long on empathy while steering clear of sentimentality, her prose bears the minerality of a crisp white wine, with a seeming simplicity that belies its profound power

FT
Strout is very good at parsing the contradictory elements that make up our relationship with ourselves and the lives we lead, and the extent to which these elements exist in a state of flux. Such a pleasure to read. And so very wise

Daily Mail
[Strout] is a novelist of the inner sensibility, and what makes her so compellingly readable is her rendering of the ebb and flow of emotion and impression, of the stream of consciousness between past and present that makes Lucy cousin to Virginia Woolf's Mrs Dalloway

Daily Telegraph
A very good novel, deft when it needs to be and ambivalent where certainty would be facile. Its celebration of the ungraspable riddles and sudden judgments of real life becomes compulsive. . . . I cannot get Lucy Barton out of my head

The Times
One proof of Elizabeth Strout's greatness is the sleight of hand with which she injects sneaky subterranean power into seemingly transparent prose. Strout works in the realm of everyday speech, conjuring repetitions, gaps and awkwardness with plain language and forthright diction, yet at the same time unleashing a tidal urgency that seems to come out of nowhere even as it operates in plain sight

Jennifer Egan, New York Times
Strout is not only mercilessly funny on the page, she's also unerringly precise about the long-term effects of loneliness, parental neglect and betrayal . . . The final scene between William and Lucy has been carouselling in my mind for days now . . . devastating and vital, bleak and tender

Sunday Times
Strout gets you to reassess every relationship you've ever had while you can still do something about it

Spectator