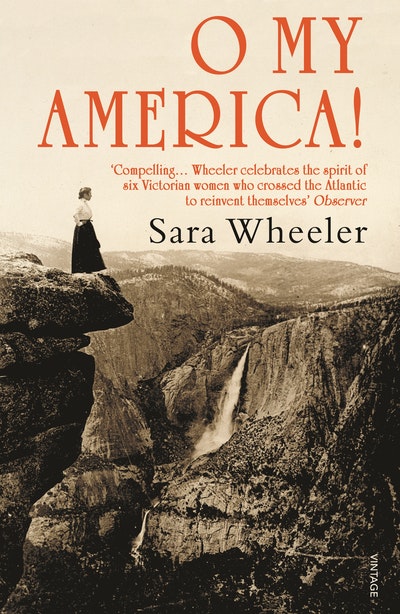 Published:

15 March 2014

ISBN:

9780099541349

Imprint:

Vintage

Format:

Paperback

Pages:

288

RRP:

$19.99
O My America!
Second Acts in a New World
---
---
---
Six extraordinary women, their renaissance in America, and the most dynamic period in US history.
After reckoning with the ends of the earth in acclaimed books such as Terra Incognita and The Magnetic North,Sara Wheeler rediscovered America thirty-five years after her first Greyhound trip across the country. She returns in turbulent midlife to trace the steps of six women who fled various sorts of trouble in nineteenth-century England and went to the United States to reinvent themselves.
Her travel companions include Fanny Trollope, mother of Anthony and author of the biting Domestic Manners of the Americans; the actress Fanny Kemble, who shocked the nation with her passionate first-hand indictment of slavery; the prolifically pamphleteering economist Harriet Martineau; the homesteader Rebecca Burlend, who had never been more than twelve miles from her Yorkshire village before she sailed to the New World; the traveller Isabella Bird, whose many ailments remained in check as long as she was scaling the Rockies; and the novelist Catherine Hubback, niece of Jane Austen, who deposited her husband in a madhouse and rode the brand-new rails to San Francisco.
Published:

15 March 2014

ISBN:

9780099541349

Imprint:

Vintage

Format:

Paperback

Pages:

288

RRP:

$19.99
One secret of first-person travel writing is the presence of the narrator as a good companion. It probably cannot be taught – a writer either is or is not sympathetic, amusing, insightful and informative. Sara Wheeler has had it from the off. You want to travel with her, and you want to travel blind.

Roger Hutchinson, Scotsman
A true celebration.

Ruth Scurr, Daily Telegraph
Bracing and ebullient... This is a fresh and unforgettable picture of the country we have been steadily falling out of love with; a second act indeed.

Frances Wilson, Sunday Telegraph
Her latest work, published just ahead of International Women's Day on Friday, is perfect for women who want to shake a fist at the fading light.

Ginny Dougary, Guardian
A curious and teasing book... Wheeler is a writer of great composure and energy, and out of these American adventures she fashions something unexpected and compelling, and that is a portrait of a nation under construction.

Anthony Sattin, Spectator
She [Wheeler] is terrific company, with a great eye for detail and a feisty voice... This deeply enjoyable book makes you see that the frontier is not what it once was, whether for women or America.

Bee Wilson, Sunday Times
Sara Wheeler has always produced books that have proved game-changers, and she has done it again with O My America!

Giles Foden, Conde Nast Traveller
A book that is not quite biography or history or memoir of the kind of travelogue for which this writer is justly praised but an oddly successful hybrid of them all… Carefully observed and finely written.

Kate Colquhoun, Sunday Express
Wheeler's is a revealing, inspiring travel book that looks at the past and the present – and ends with a hopeful gaze on the future.

Tina Jackson, Metro
Wheeler declares that she had more fun writing this book that all the previous ones, and her pleasure at being in such a place, and in such fascinating company, is contagious.

Anthony Sattin, Sunday Times Travel
Wheeler weaves her own experiences in with those of her subjects, writing, as in all her earlier travel books and biographies, in a sharp, smart, enjoyable style that combines objectivity with candour.

Jessica Mann, BookOxygen
Wheeler writes with humour and knowledge in another fine book.

Rebecca Hay, Burnley Express
Terrific.

The Lady
An emotional yet defiant account… One becomes a willing, silent companion to these women, as Wheeler moves back and forth across centuries, to present a most amenable and worthy document.

Denise Bailey, Press Association
Hugely pleasurable.

Christopher Hirst, Independent
The six historical portraits are as precise as clocks and each as compelling as the last… Wheeler is consistently deft at conveying both atmosphere and character.

Talitha Stevenson, Observer
A clarion call to life and action.

Rose Baring, Country Life
Meticulously researched, hugely entertaining.

Jennifer Cox, Wanderlust
Sara Wheeler's entertaining account of women who left these shores for the United States in the 19th Century.

Ben Shepard, Guardian Online
A fresh, unforgettable portrait of a country with which we have been falling out of love

Sunday Telegraph
[A] spirited account of six very spirited individuals

Independent on Sunday
Like her subjects, on horses and steamers, in petticoats and boots, [Wheeler] is wonderfully carried away

Victoria Segal, Guardian
A necessary read

Lesley McDowell, 5 stars, Independent On Sunday