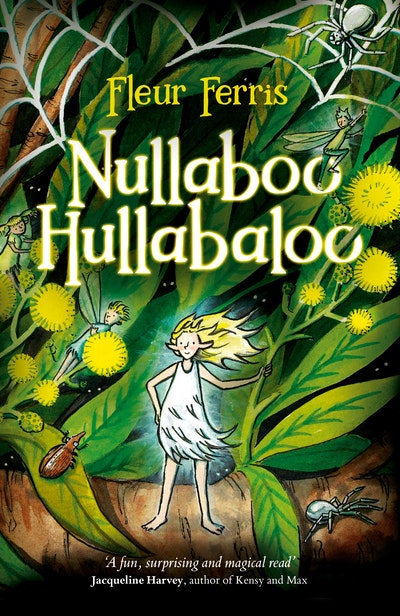 Published:

7 May 2019

ISBN:

9780143787150

Imprint:

Penguin eBooks

Format:

EBook

Pages:

256
Nullaboo Hullabaloo
---
---
---
A spark of magical fairy dust causes a hullabaloo in one Australian country town!
In faraway Nullaboo, Gemma Hart's day isn't going well. Her family might be evicted from their farm, and her science competition topic is march flies. How can she possibly win against perfect Nina, who gets to study butterflies?
But wait, that's not a feather in Gemma's special bug catcher . . . it's a fairy!
Janomi the fairy isn't supposed to talk to humans, but desperately needs help. Her grandfather has been captured by the silver spiders. Gemma agrees to help Janomi, and to keep the fairies' existence a secret. But her bug catcher has recorded their conversation - and Nina finds it.
With a media frenzy taking over Nullaboo, a secret government agency barges in to take control, and suddenly the fairy colony is under an even bigger threat. Gemma and her kooky family, school and resourceful neighbours must take matters into their own hands in an against-all-odds bid to save the last fairy colony on Earth.
Published:

7 May 2019

ISBN:

9780143787150

Imprint:

Penguin eBooks

Format:

EBook

Pages:

256
Praise for Nullaboo Hullabaloo
A fun, surprising and magical read that puts a great twist on the traditional fairies at the bottom of the garden.

Jacqueline Harvey, author of KENSY AND MAX
Fleur Ferris has demonstrated so superbly her ability to write gripping YA fiction and has now turned her hand to fiction for younger readers with the same ease and expertise . . . This seemingly effortless and straightforward narrative has much scope for discussion with current global topics such as environmental damage, conservation, tolerance, acceptance and embracing differences all able to correlate to the unfolding of events. And aside from that it's a jolly fun read!

Sue Warren, losangzopa.wordpress.com
This action filled story about the magical world of fairies is also a story about community, working together to preserve living creatures and the environment. Along the way it is about friendship and being able to see past differences of opinion when lives are at stake. The story focusses on families and friends and a small community working together to achieve its aims.

Fran Knight, ReadPlus
This fast-paced story is about the magic of fairies but more importantly it's a story about community, working together to do the right thing and preserve living creatures and the environment. It's also about friendship and rising above rivalries when others need help. Primary school readers will thoroughly enjoy this new book by Australian author Fleur Ferris, her first for young readers.

betterreading.com.au
This is Fleur Ferris's first book for younger readers, and what a wonderful read it is! There is mystery and intrigue in this rural setting . . . This will make a great read aloud and should be in every primary and public library. It is a joy to read and with Briony Stewart's gorgeous illustrations, will be a firm favourite of many readers for years to come.

lizderouet.wordpress.com
An exciting and action-packed read that kids 7+ will enjoy. Stewart's black and white sketches definitely add an extra charm to the story. I loved the way Ferris takes us through the scenario of what would happen if someone really DID discover fairies were true. There's strong dramatic tension, lots of details to bring the world to life, and plenty of characters we can relate to.

Susan Stephenson, thebookchook.com
The story was so engaging, the characters were adorable and the adventure was just so much fun. It's lovely to see magical fairy stores set on farms in Australia and to see rural Australia represented here. So cleverly written. Highly recommended to young readers from 9-12 years old.

read3rzrevublog.wordpress.com
Article
Teachers' notes