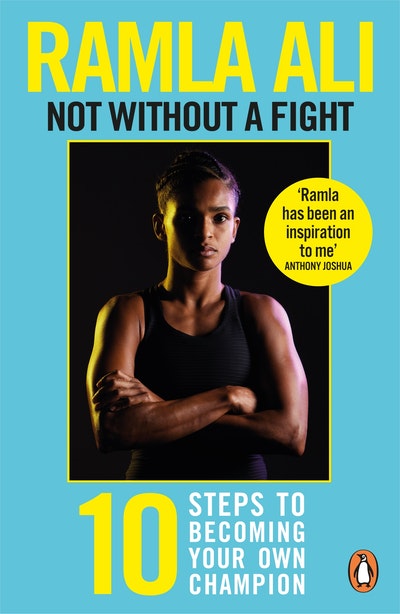 Published:

5 June 2022

ISBN:

9781529118773

Imprint:

Merky Books

Format:

Paperback

Pages:

400

RRP:

$26.99
Not Without a Fight: Ten Steps to Becoming Your Own Champion
---
---
---
A powerful memoir from one of boxing's most promising stars. Taking ten monumental fights in her career to date and detailing the lesson about life it taught her regardless of whether the fight resulted in a win, draw or loss. The book will be a touching exploration of motivation, belief and self told through the lens of a promising star, in the the toughest sport in the world.
Ramla Ali is a quiet storm, and boxing phenom on the rise. Her first true bout was with home, fleeing war torn Somalia as a young child, she tragically lost her younger brother in her displacement, as well as any official record of her birth. Her fight then continued in her new home of East London, where she was bullied for her weight at school, she turned to the local boxing club for solace and strength.
She had to hide her pugilism from her family whom she knew would automatically disapprove. However, hooked on a sport that she loved, Ali continued to train and eventually compete in secret, winning numerous local and national competitions, without her family cheering her on from the stands. Now she competes with their blessing, and will represent her family and nation as the first ever boxer to compete for Somalia in the Olympics later this year.
Ali, has grown to be her own role model, and possibility model for others too. Her rising fame has been an opportunity for her to share her life story and larger message of determination, and how despite your circumstances you can be your own champion. As such she has been heralded by Meghan Markle as a hero in Forces for Change Vogue takeover. Selected as a Time Magazine, Next Generation Leader and is a global ambassador for UNICEF and Nike.
Through boxing Ramla has learned invaluable life lessons as: strength, resilience, self-belief and perseverance and its these lessons that the book will amplify, looking at ten significant fights in her career to date and detailing the value it has taught her.
Published:

5 June 2022

ISBN:

9781529118773

Imprint:

Merky Books

Format:

Paperback

Pages:

400

RRP:

$26.99