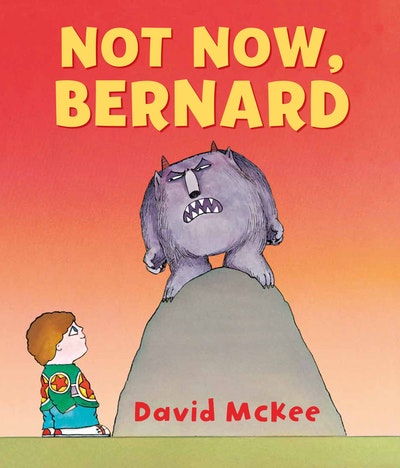 Published:

2 August 2012

ISBN:

9781849399968

Imprint:

Andersen Digital

Format:

App

RRP:

$14.99
Not Now, Bernard
---
---
---
The classic picture book story by David McKee, now available in miniature hardback edition.
The perennial and well-loved classic picture book story about parents too preoccupied to notice their own child. Bernard's parents are so busy doing their own thing, that the monster can eat Bernard's dinner, break his toys, and even eat Bernard, without being noticed!
Published:

2 August 2012

ISBN:

9781849399968

Imprint:

Andersen Digital

Format:

App

RRP:

$14.99
Praise for Not Now, Bernard
My favourite books for very young children are Where the Wild Things Are by Maurice Sendak and Not Now Bernard by David McKee.

Michael Rosen
Not Now Bernard is THE book of our times

Frank Cottrell-Boyce
It's so good!

Adam Buxton
Possibly my favourite picture book of all time. It's so powerful, it's so funny, dark - it's everything. That to me is the number one kids book of all time... It's funny to a four year old and meaningful to a 36 year old

Ben Bailey Smith aka Doc Brown
Even very young children see the joke.

T.E.S.
Shows David McKee's droll, deadpan humour at its very best.

Books for Keeps
Well-loved classic... Little ones will love (and recognise all too soon!) the oft-repeated 'Not now, Bernard', leaving older children and their parents to appreciate the black humour and static, expressive illustrations

Guardian, The Best New Children's Books supplement
I adore this book, it's one of my favourite picture books, now out in mini version. . . With one sentence per page this hilarious book with wonderfully expressive illustrations is great for beginner readers, but I would recommend it to all ages and abilities. I've lost count the number of times I have read it, but it still makes me laugh out loud. The last but one picture in particular is a classic!

Debbie Williams, Primary Times
A brilliant image of parent-child relationships . . . that brings matching ear-to-ear grins to every grown-up and child-in-the-lap'

Books for Keeps
A brilliant fable

Tony Bradman, The Ultimate First Book Guide
Very funny, written very dryly and is a sobering lesson to all us busy parents who sometimes get distracted!

Lucy Owen, Western Mail Cardiff
Opened my eyes to what was possible with children's writing. Helped me realise that nothing needs to be taboo - its all in how you treat the material.

Sophie Mckenzie, Lovereading Guest Editor
An Andersen classic. Hilarious cautionary tale.

Michael Rosen, Lovereading Guest Editor
This is a true classic!

The Good Book Guide
This will always have a special place in my heart, being the first book I ever remember reading. Future generations can revel in its simple and macabre story.

Absolutely Fulham
Even very young children see the joke.

T.E.S.
Shows David McKee's droll, deadpan humour at its very best.

Books for Keeps
I adore this book, it's one of my favourite picture books, now out in mini version. . . With one sentence per page this hilarious book with wonderfully expressive illustrations is great for beginner readers, but I would recommend it to all ages and abilities. I've lost count the number of times I have read it, but it still makes me laugh out loud. The last but one picture in particular is a classic!

Debbie Williams, Primary Times
A brilliant image of parent-child relationships . . . that brings matching ear-to-ear grins to every grown-up and child-in-the-lap'

Books for Keeps