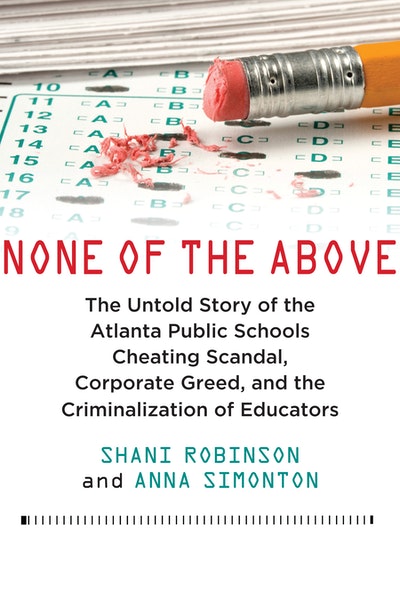 Published:

15 January 2019

ISBN:

9780807022207

Imprint:

Beacon Press

Format:

Hardback

Pages:

256

RRP:

$44.99
None Of The Above
---
---
An insider's account of the infamous Atlanta Public Schools cheating scandal which scapegoated black employees for problems caused by an education reform movement that is increasingly a proxy for corporate greed.
In March of 2013, thirty-five black educators in Atlanta Public Schools were charged with racketeering and conspiracy--the same charges used to bring down the American mafia--for allegedly changing students' answers on standardized tests. At the time of her arrest, the youngest of the accused, Shani Robinson was just 28-years-old. She was unjustly convicted under the RICO Act, a felony punishable by up to 20 years in prison. As Robinson and her co-defendants appeal their case, the corporate-led education reform movement runs rampant, policing of black and brown communities becomes increasingly brutal, and racial and economic disparities gape even wider.
In None of the Above, Robinson and her co-author, journalist Anna Simonton, go back through the history of education, racial oppression, and the criminal justice system to show that black children in Atlanta were being deprived long before some teachers changed the answers on their students' tests.
Published:

15 January 2019

ISBN:

9780807022207

Imprint:

Beacon Press

Format:

Hardback

Pages:

256

RRP:

$44.99