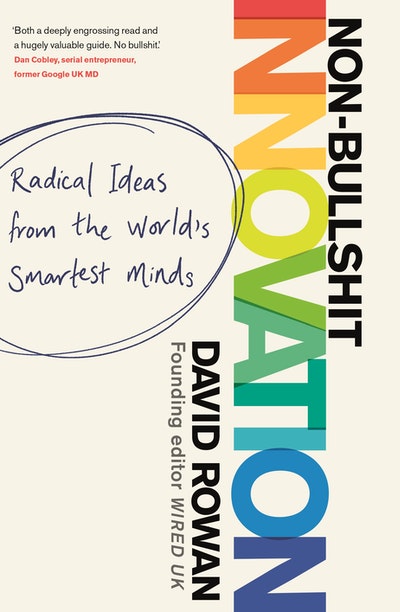 Published:

16 May 2019

ISBN:

9781473563308

Imprint:

Transworld Digital

Format:

EBook

Pages:

400
Non-Bullshit Innovation
Radical Ideas from the World's Smartest Minds
---
---
---
An entertaining and thought-provoking series of case studies on how to future-proof your business in a digital age, from the founding editor of WIRED.
*updated with revised introduction and new chapter*
'Digital transformation' and 'disruptive innovation' used to be empty buzzwords serving to justify pointless box-ticking and absurd corporate posturing. And then a global pandemic suddenly forced every kind of organization to embrace genuine, urgent innovation as a matter of survival. But how can we ensure that the non-bullshit version of innovation delivers economic recovery at this crucial moment? Are there strategies we can all adapt from the world's most creative leaders to innovate effectively in our own lives?
David Rowan, founding editor-in-chief of WIRED UK, embarked on a twenty country quest to find out. Packed full of tips for anyone looking for radical ways to adapt and thrive in the digital age, this carefully curated selection of stories will prepare you for whatever the future may bring - because the world will never move this slowly again.
___________________________
'In this remarkable book, David Rowan tells a story of transformation: how an organisation has found a new way of doing things through innovation driven by ruthless entrepreneurial imagination. What is especially useful is that he does not just stick with small startups, let alone dreamy "inventors". He finds innovation in big companies and even within governments.' - Matt Ridley, The Times
Published:

16 May 2019

ISBN:

9781473563308

Imprint:

Transworld Digital

Format:

EBook

Pages:

400
Praise for Non-Bullshit Innovation
In Non-Bullshit Innovation, Rowan combines the deeply researched narrative of a great investigative journalist with the practical punch of a top keynote speaker and delivers a book that is both a deeply engrossing read and a hugely valuable guide. No bullshit.

</i>Dan Cobley, serial entrepreneur, former Google UK MD
In Non-Bullshit Innovation, Rowan combines the deeply researched narrative of a great investigative journalist with the practical punch of a top keynote speaker and delivers a book that is both a deeply engrossing read and a hugely valuable guide. No bullshit.

</i>Dan Cobley, serial entrepreneur, former Google UK MD
In Non-Bullshit Innovation, Rowan combines the deeply researched narrative of a great investigative journalist with the practical punch of a top keynote speaker and delivers a book that is both a deeply engrossing read and a hugely valuable guide. No bullshit.

</i>Dan Cobley, serial entrepreneur, former Google UK MD
In Non-Bullshit Innovation, Rowan combines the deeply researched narrative of a great investigative journalist with the practical punch of a top keynote speaker and delivers a book that is both a deeply engrossing read and a hugely valuable guide. No bullshit.

</i>Dan Cobley, serial entrepreneur, former Google UK MD
In Non-Bullshit Innovation, Rowan combines the deeply researched narrative of a great investigative journalist with the practical punch of a top keynote speaker and delivers a book that is both a deeply engrossing read and a hugely valuable guide. No bullshit.

</i>Dan Cobley, serial entrepreneur, former Google UK MD
Perfectly observed, painfully funny and brutally honest, David Rowan has written a book which goes where no one dared to go. Its wisdom will save you a decade of heartache, confusion and self deception. It is the front line in the fight back towards sanity and the Innovation conversation can never be the same again.

</i>Mark Adams, Chief Innovation Officer, <i>VICE
Perfectly observed, painfully funny and brutally honest, David Rowan has written a book which goes where no one dared to go. Its wisdom will save you a decade of heartache, confusion and self deception. It is the front line in the fight back towards sanity and the Innovation conversation can never be the same again.

</i>Mark Adams, Chief Innovation Officer, <i>VICE
Perfectly observed, painfully funny and brutally honest, David Rowan has written a book which goes where no one dared to go. Its wisdom will save you a decade of heartache, confusion and self deception. It is the front line in the fight back towards sanity and the Innovation conversation can never be the same again.

</i>Mark Adams, Chief Innovation Officer, <i>VICE
Perfectly observed, painfully funny and brutally honest, David Rowan has written a book which goes where no one dared to go. Its wisdom will save you a decade of heartache, confusion and self deception. It is the front line in the fight back towards sanity and the Innovation conversation can never be the same again.

</i>Mark Adams, Chief Innovation Officer, <i>VICE
Perfectly observed, painfully funny and brutally honest, David Rowan has written a book which goes where no one dared to go. Its wisdom will save you a decade of heartache, confusion and self deception. It is the front line in the fight back towards sanity and the Innovation conversation can never be the same again.

</i>Mark Adams, Chief Innovation Officer, <i>VICE
In his meticulously researched and persuasive book, David Rowan makes a compelling case for what innovation really looks like. It's jam packed with tangible tips on how to create the right environment for good ideas to flourish and concrete examples of how the best in the world manage to make things that make a difference.

Hannah Fry, author of <i>Hello World: How to Be Human in the Digital Age
In his meticulously researched and persuasive book, David Rowan makes a compelling case for what innovation really looks like. It's jam packed with tangible tips on how to create the right environment for good ideas to flourish and concrete examples of how the best in the world manage to make things that make a difference.

Hannah Fry, author of <i>Hello World: How to Be Human in the Digital Age
In his meticulously researched and persuasive book, David Rowan makes a compelling case for what innovation really looks like. It's jam packed with tangible tips on how to create the right environment for good ideas to flourish and concrete examples of how the best in the world manage to make things that make a difference.

Hannah Fry, author of <i>Hello World: How to Be Human in the Digital Age
In his meticulously researched and persuasive book, David Rowan makes a compelling case for what innovation really looks like. It's jam packed with tangible tips on how to create the right environment for good ideas to flourish and concrete examples of how the best in the world manage to make things that make a difference.

Hannah Fry, author of <i>Hello World: How to Be Human in the Digital Age
In his meticulously researched and persuasive book, David Rowan makes a compelling case for what innovation really looks like. It's jam packed with tangible tips on how to create the right environment for good ideas to flourish and concrete examples of how the best in the world manage to make things that make a difference.

Hannah Fry, author of <i>Hello World: How to Be Human in the Digital Age
A truly important book that all founders-CEOs should read. David Rowan's reporting on how people and companies across the world approach building the future has been enlightening and will help me building my company going forward.

</i>Dr. Kris Naudts, CEO-Founder, Culture Trip
A truly important book that all founders-CEOs should read. David Rowan's reporting on how people and companies across the world approach building the future has been enlightening and will help me building my company going forward.

</i>Dr. Kris Naudts, CEO-Founder, Culture Trip
A truly important book that all founders-CEOs should read. David Rowan's reporting on how people and companies across the world approach building the future has been enlightening and will help me building my company going forward.

</i>Dr. Kris Naudts, CEO-Founder, Culture Trip
A truly important book that all founders-CEOs should read. David Rowan's reporting on how people and companies across the world approach building the future has been enlightening and will help me building my company going forward.

</i>Dr. Kris Naudts, CEO-Founder, Culture Trip
A truly important book that all founders-CEOs should read. David Rowan's reporting on how people and companies across the world approach building the future has been enlightening and will help me building my company going forward.

</i>Dr. Kris Naudts, CEO-Founder, Culture Trip
Non-Bullshit Innovation, by the guru David Rowan, [is] a must-read for anyone looking for radical ways to adapt and thrive in the digital age, with tips from some of the world's top leaders on how to create genuine innovation and deliver real change.

Brent Hoberman, serial entrepreneur and founder of Made.com, Lastminute.com and Founders Forum
Non-Bullshit Innovation, by the guru David Rowan, [is] a must-read for anyone looking for radical ways to adapt and thrive in the digital age, with tips from some of the world's top leaders on how to create genuine innovation and deliver real change.

Brent Hoberman, serial entrepreneur and founder of Made.com, Lastminute.com and Founders Forum
Non-Bullshit Innovation, by the guru David Rowan, [is] a must-read for anyone looking for radical ways to adapt and thrive in the digital age, with tips from some of the world's top leaders on how to create genuine innovation and deliver real change.

Brent Hoberman, serial entrepreneur and founder of Made.com, Lastminute.com and Founders Forum
Non-Bullshit Innovation, by the guru David Rowan, [is] a must-read for anyone looking for radical ways to adapt and thrive in the digital age, with tips from some of the world's top leaders on how to create genuine innovation and deliver real change.

Brent Hoberman, serial entrepreneur and founder of Made.com, Lastminute.com and Founders Forum
Non-Bullshit Innovation, by the guru David Rowan, [is] a must-read for anyone looking for radical ways to adapt and thrive in the digital age, with tips from some of the world's top leaders on how to create genuine innovation and deliver real change.

Brent Hoberman, serial entrepreneur and founder of Made.com, Lastminute.com and Founders Forum
Highly recommend David Rowan new book Non-Bullshit Innovation for anyone who wants to understand how the future will be made. He travelled from Peru to China to find the best stories of transformation.

Tommy Stadlen, founder Swing Technologies and co-author of Connect: How Companies Succeed by Engaging Radically With Society
Highly recommend David Rowan new book Non-Bullshit Innovation for anyone who wants to understand how the future will be made. He travelled from Peru to China to find the best stories of transformation.

Tommy Stadlen, founder Swing Technologies and co-author of Connect: How Companies Succeed by Engaging Radically With Society
Highly recommend David Rowan new book Non-Bullshit Innovation for anyone who wants to understand how the future will be made. He travelled from Peru to China to find the best stories of transformation.

Tommy Stadlen, founder Swing Technologies and co-author of Connect: How Companies Succeed by Engaging Radically With Society
Highly recommend David Rowan new book Non-Bullshit Innovation for anyone who wants to understand how the future will be made. He travelled from Peru to China to find the best stories of transformation.

Tommy Stadlen, founder Swing Technologies and co-author of Connect: How Companies Succeed by Engaging Radically With Society
Highly recommend David Rowan new book Non-Bullshit Innovation for anyone who wants to understand how the future will be made. He travelled from Peru to China to find the best stories of transformation.

Tommy Stadlen, founder Swing Technologies and co-author of Connect: How Companies Succeed by Engaging Radically With Society
Massively recommend 'David Rowan's new book 'Non-Bullshit Innovation' - it does exactly what the title promises, showing the best examples of real business innovation, with no guff at all.

</i>Rohan Silver, Co-Founder of Second Home
Massively recommend 'David Rowan's new book 'Non-Bullshit Innovation' - it does exactly what the title promises, showing the best examples of real business innovation, with no guff at all.

</i>Rohan Silver, Co-Founder of Second Home
Massively recommend 'David Rowan's new book 'Non-Bullshit Innovation' - it does exactly what the title promises, showing the best examples of real business innovation, with no guff at all.

</i>Rohan Silver, Co-Founder of Second Home
Massively recommend 'David Rowan's new book 'Non-Bullshit Innovation' - it does exactly what the title promises, showing the best examples of real business innovation, with no guff at all.

</i>Rohan Silver, Co-Founder of Second Home
Massively recommend 'David Rowan's new book 'Non-Bullshit Innovation' - it does exactly what the title promises, showing the best examples of real business innovation, with no guff at all.

</i>Rohan Silver, Co-Founder of Second Home
Wired UK seems to have provided Rowan, who was its founding editor, with an enviable launch pad from which he blasts off to talk to the world's most innovative people and companies. He does not squander the opportunity... Rowan's quest for "non-bullshit strategies that can really deliver" takes him from Tallinn to Hangzhou. It is an entertaining quest, well told, and illustrated with plenty of fresh examples from beyond the usual well-worn Silicon Valley legends.

FT Business Books of the Month
Wired UK seems to have provided Rowan, who was its founding editor, with an enviable launch pad from which he blasts off to talk to the world's most innovative people and companies. He does not squander the opportunity... Rowan's quest for "non-bullshit strategies that can really deliver" takes him from Tallinn to Hangzhou. It is an entertaining quest, well told, and illustrated with plenty of fresh examples from beyond the usual well-worn Silicon Valley legends.

FT Business Books of the Month
Wired UK seems to have provided Rowan, who was its founding editor, with an enviable launch pad from which he blasts off to talk to the world's most innovative people and companies. He does not squander the opportunity... Rowan's quest for "non-bullshit strategies that can really deliver" takes him from Tallinn to Hangzhou. It is an entertaining quest, well told, and illustrated with plenty of fresh examples from beyond the usual well-worn Silicon Valley legends.

FT Business Books of the Month
Wired UK seems to have provided Rowan, who was its founding editor, with an enviable launch pad from which he blasts off to talk to the world's most innovative people and companies. He does not squander the opportunity... Rowan's quest for "non-bullshit strategies that can really deliver" takes him from Tallinn to Hangzhou. It is an entertaining quest, well told, and illustrated with plenty of fresh examples from beyond the usual well-worn Silicon Valley legends.

FT Business Books of the Month
Wired UK seems to have provided Rowan, who was its founding editor, with an enviable launch pad from which he blasts off to talk to the world's most innovative people and companies. He does not squander the opportunity... Rowan's quest for "non-bullshit strategies that can really deliver" takes him from Tallinn to Hangzhou. It is an entertaining quest, well told, and illustrated with plenty of fresh examples from beyond the usual well-worn Silicon Valley legends.

FT Business Books of the Month
In this remarkable book, David Rowan has gone all around the world chronicling what is happening inside businesses as they invent the future. In each case he tells a story of transformation: how an organisation has found a new way of doing things through innovation driven by ruthless entrepreneurial imagination. What is especially useful about Rowan's journey is that he sticks to real examples of things that are actually happening, eschewing the vague abstractions so popular with innovation gurus — hence "non-bullshit" in the title. He does not just stick with small startups, let alone dreamy "inventors". He finds innovation in big companies and even within governments. And he focuses on the creation of markets, not just the invention of machines and gadgets: that is to say, innovation rather than invention.

Matt Ridley, The Times
In this remarkable book, David Rowan has gone all around the world chronicling what is happening inside businesses as they invent the future. In each case he tells a story of transformation: how an organisation has found a new way of doing things through innovation driven by ruthless entrepreneurial imagination. What is especially useful about Rowan's journey is that he sticks to real examples of things that are actually happening, eschewing the vague abstractions so popular with innovation gurus — hence "non-bullshit" in the title. He does not just stick with small startups, let alone dreamy "inventors". He finds innovation in big companies and even within governments. And he focuses on the creation of markets, not just the invention of machines and gadgets: that is to say, innovation rather than invention.

Matt Ridley, The Times
In this remarkable book, David Rowan has gone all around the world chronicling what is happening inside businesses as they invent the future. In each case he tells a story of transformation: how an organisation has found a new way of doing things through innovation driven by ruthless entrepreneurial imagination. What is especially useful about Rowan's journey is that he sticks to real examples of things that are actually happening, eschewing the vague abstractions so popular with innovation gurus — hence "non-bullshit" in the title. He does not just stick with small startups, let alone dreamy "inventors". He finds innovation in big companies and even within governments. And he focuses on the creation of markets, not just the invention of machines and gadgets: that is to say, innovation rather than invention.

Matt Ridley, The Times
In this remarkable book, David Rowan has gone all around the world chronicling what is happening inside businesses as they invent the future. In each case he tells a story of transformation: how an organisation has found a new way of doing things through innovation driven by ruthless entrepreneurial imagination. What is especially useful about Rowan's journey is that he sticks to real examples of things that are actually happening, eschewing the vague abstractions so popular with innovation gurus — hence "non-bullshit" in the title. He does not just stick with small startups, let alone dreamy "inventors". He finds innovation in big companies and even within governments. And he focuses on the creation of markets, not just the invention of machines and gadgets: that is to say, innovation rather than invention.

Matt Ridley, The Times
In this remarkable book, David Rowan has gone all around the world chronicling what is happening inside businesses as they invent the future. In each case he tells a story of transformation: how an organisation has found a new way of doing things through innovation driven by ruthless entrepreneurial imagination. What is especially useful about Rowan's journey is that he sticks to real examples of things that are actually happening, eschewing the vague abstractions so popular with innovation gurus — hence "non-bullshit" in the title. He does not just stick with small startups, let alone dreamy "inventors". He finds innovation in big companies and even within governments. And he focuses on the creation of markets, not just the invention of machines and gadgets: that is to say, innovation rather than invention.

Matt Ridley, The Times
This witty, timely book reminds us that every industry is human-made and for all our faults -- the ability to bullshit being one of them -- we are an incredibly innovative, diverse, collaborative and sociable species, capable of amazing things when we work together. This is a reassuringly optimistic message and a counterpoint to the fear that machine intelligence will dehumanise business.

Grow Magazine, </i>Facebook
This witty, timely book reminds us that every industry is human-made and for all our faults -- the ability to bullshit being one of them -- we are an incredibly innovative, diverse, collaborative and sociable species, capable of amazing things when we work together. This is a reassuringly optimistic message and a counterpoint to the fear that machine intelligence will dehumanise business.

Grow Magazine, </i>Facebook
This witty, timely book reminds us that every industry is human-made and for all our faults -- the ability to bullshit being one of them -- we are an incredibly innovative, diverse, collaborative and sociable species, capable of amazing things when we work together. This is a reassuringly optimistic message and a counterpoint to the fear that machine intelligence will dehumanise business.

Grow Magazine, </i>Facebook
This witty, timely book reminds us that every industry is human-made and for all our faults -- the ability to bullshit being one of them -- we are an incredibly innovative, diverse, collaborative and sociable species, capable of amazing things when we work together. This is a reassuringly optimistic message and a counterpoint to the fear that machine intelligence will dehumanise business.

Grow Magazine, </i>Facebook
This witty, timely book reminds us that every industry is human-made and for all our faults -- the ability to bullshit being one of them -- we are an incredibly innovative, diverse, collaborative and sociable species, capable of amazing things when we work together. This is a reassuringly optimistic message and a counterpoint to the fear that machine intelligence will dehumanise business.

Grow Magazine, </i>Facebook