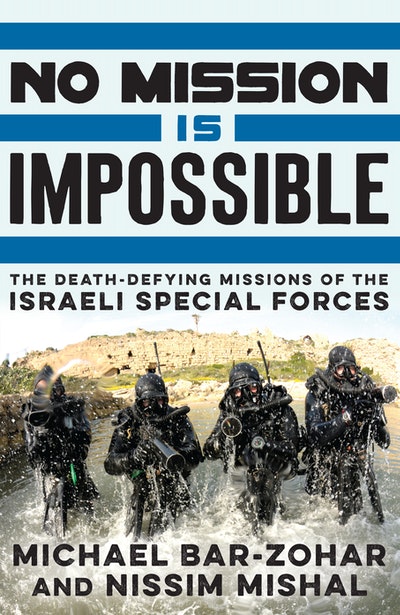 Published:

2 November 2015

ISBN:

9780857987150

Imprint:

Random House Australia

Format:

EBook

Pages:

384
No Mission Is Impossible
The death-defying missions of the Israeli Special Forces
---
---
---
The 30 boldest missions of the Israeli Special Forces since the inception of Israel.
The 30 boldest missions of the Israeli Special Forces since the inception of Israel.
No Mission is Impossible is an episodic treatment of the greatest missions of the Israeli Special Forces, characterized by its lead piece, an intriguing story of the rescue of 200 hijacked airline passengers at Entebbe, Uganda. This book is something of a sequel to Bar-Zohar's previous work, Mossad which investigated the world's most enigmatic intelligence service. A good number of the major characters in No Mission is Impossible have ended up in significant high offices in Israel, becoming Presidents and Prime Ministers.
It depicts major battles, raids in enemy territory, and death-defying commando missions; it shares the personal stories of simple soldiers and top commanders, and reveals the fears and hopes of young Israeli recruits. It tells mostly of victories, but also some awful failures. Spotlighted too are the lives and accomplishments of Israel's heroes, Moshe Dayan, Ariel Sharon, the brothers Netanyahu, Ehud Barak, Avigdor Kahalani, as well as the tough and fearsome decisions of its Defense ministers – Ben-Gurion, Shimon Peres, and Yitzhak Rabin.

These missions cohere into a gripping narrative, as their key participants develop and grow older and wiser. We follow Sharon, from his near death at the battle of Latrun in 1948 – to his crossing Suez in 1973; we are with Ehud Barak, dressed in a woman's clothes, when he commands a daring raid in Beirut in 1973, and cheer him as he is elected Prime Minister in 1999; we cringe as Motta Gur bleeds after the Elkayam operation in Gaza, 1955 – and then celebrate at his speech on the Temple Mount after the conquest of Jerusalem in 1967.

Every chapter includes an interview with a major figure who took part in each mission. Among them: Presidents Shimon Peres and Yitzhak Navon; Prime Ministers Benyamin Netanyahu and Ehud Barak; Defense Ministers Benyamin Ben-Eliezer, Shaul Mofaz and Moshe Yaalon; Head of the Mossad Tamir Pardo, Generals Gantz, Kahalani, Galant, Lipkin-Shahak, Gershon Yitzhak, Amy Ayalon, Amir Eshel, Avihu Bin Nun, and others. The book also includes great photographs, many published for the first time.
Published:

2 November 2015

ISBN:

9780857987150

Imprint:

Random House Australia

Format:

EBook

Pages:

384