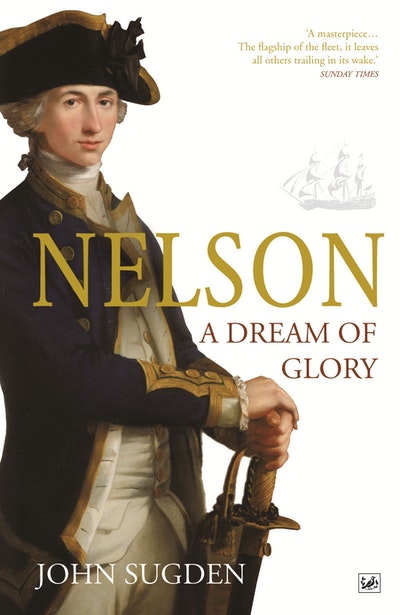 Published:

18 October 2012

ISBN:

9781845951917

Imprint:

Pimlico

Format:

Trade Paperback

Pages:

976

RRP:

$49.99
Nelson: A Dream of Glory
---
---
---
The most comprehensive and thoroughly researched account ever written of Horatio Nelson's early career and rise to prominence.
There have been numerous biographies of Nelson, but most fail to penetrate the mythology encrusting Britain's greatest naval hero. John Sugden has examined thousands of naval, military, diplomatic and personal documents. He has ruthlessly stripped away the legends and brilliantly reconstructed Nelson's private and public life.
Nelson: A Dream of Glory charts the period of Nelson's career most neglected by earlier writers - from childhood to his debut as a public hero after the breathtaking victory against the Spanish fleet at Cape St Vincent, when he became an admiral and stood on the verge of international fame. Dealing with every facet of Nelson's life - the man, the naval officer and the Georgian - John Sugden offers the only full account of Nelson's early voyages and the first complete analysis of the formative incidents in his career, including his conflict with civil and naval superiors in the West Indies, his campaigns in Corsica and his service as a commodore in the Mediterranean. Throughout there are revealing discoveries about his relationships with his family, patrons, officers and also, with his women.
Nelson: A Dream of Glory combines ground-breaking scholarship with a vivid and compelling style. This magisterial biography will immediately become the benchmark against which all subsequent books about Nelson will have to be judged.
Published:

18 October 2012

ISBN:

9781845951917

Imprint:

Pimlico

Format:

Trade Paperback

Pages:

976

RRP:

$49.99
Praise for Nelson: A Dream of Glory
A masterpiece... The flagship of the fleet, it leaves all others trailing in its wake

Neil Hanson, Sunday Times
A magnificently-researched and thoughtful work which locates Nelson in a global context

Linda Colley
This work is massively authoritative

Max Hastings, Sunday Telegraph
One can say with confidence that this momumental tome is the finest yet written on England's great naval hero. Sugden's brilliant book is chock-full of fascinating details. And if the second volume turns out as well as this, his life of Nelson will be one of the historical masterpieces of our time

Frank McLynn, Daily Express
Sugden's epic work is a masterpiece of the biographer's art. Sugden has written a book that will be the yardstick by which all other Nelson biographies will be judged for decades to come. The flagship of the fleet, it leaves all others trailing in its wake.

Sunday Times
A massive, first-rate battleship of a book

Colin White, Observer
Nelson's early life has been neglected by biographers, but Sugden has patiently reconstructed the early years. Sugden's account of Nelson's battles is richly absorbing, and his fluent, buoyant prose scuds along, carrying the reader with it. This must surely become a standard life

Jane Ridley, Spectator
This is an enthralling book. Sugden's research took in no fewer than thirty-two archives in four countries. Yet he never lets his mastery of the sources slow down the narrative. So good is Sugden's writing, so fascinating his material, so judicious his comments, that you long for the concluding volume

Daily Telegraph
Sugden's passion for his subject and astonishing research reveal the blossoming hero in a new light

Lucy Moore, Daily Mail
The most detailed study of Nelson ever published

F. J. M. Scott, History Today
Detailed naval history, a wealth of previously ignored primary sources and an intriguing new take on a complex hero come together in John Sugden's must-read

Rachel Holmes, BBC History Magazine
The definitive life of the complex man who became Britain's greatest hero.

Sunday Times