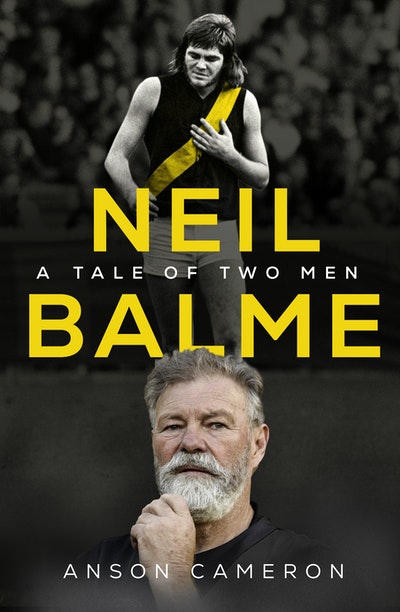 Published:

16 August 2022

ISBN:

9781761042102

Imprint:

Viking

Format:

Trade Paperback

Pages:

336

RRP:

$34.99
Neil Balme
A Tale of Two Men
---
---
---
The long-awaited memoir of one of AFL's hardest players and most respected coaches.
'You've got to have that madness in your mind to win, win, win. You've got to have that somewhere, but it can't consume you.'
The singular story of football's hardest man and sharpest mind.
This story begins in infamy. Everyone's first glimpse of the man is of ferocious blows struck in grand finals, his name splashed in headlines across the back pages of the tabloids. It's the 1970s, it's Richmond: kill or be killed.
There was a time when almost every football watcher who heard Neil Balme's name would react with disapproval. My God, what a bruiser . . . A dangerous fellow . . . And those who knew him would quickly deny these accusations. He's not a brute, you know, he's a thinker . . . A mild-mannered bloke, easygoing. The great paradox of Balme is the violence and the pacifism, the mayhem and the calm, the rough justice and the gentleness. He's a cold-blooded thug; he's a soft-hearted healer; he's a villain and a hero.
Balme is unique in having spent longer than anyone else in clubland. Richmond, Norwood, Melbourne, Collingwood, Geelong and Richmond again – over fifty years. He's seen and created limitless change in those decades. So how did Neil Balme go from being the infamous on-field enforcer of the 1970s to the avuncular guru the football world knows and loves today?
After eleven premierships, an aura surrounds the man. Get Balme to your club and success will follow. What has he to tell us of football, of the high times and the low, of the champs and the egos? Of Royce and GR, of Diamond Joe, of Eddie and Mick, of Bomber, of Dimma? And of life and the human heart?
Balme's tale is, unsurprisingly, a mix of hard truth and unerring compassion.

Published:

16 August 2022

ISBN:

9781761042102

Imprint:

Viking

Format:

Trade Paperback

Pages:

336

RRP:

$34.99