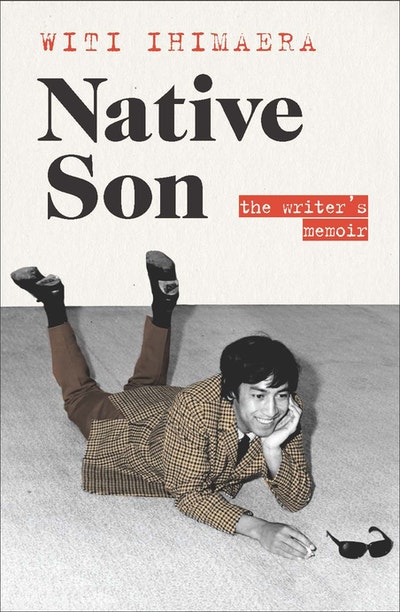 Published:

3 September 2019

ISBN:

9780143773030

Imprint:

RHNZ Vintage

Format:

Trade Paperback

Pages:

448

RRP:

$34.99
Native Son
The Writer's Memoir
---
---
---
The revealing sequel to the award-winning memoir Maori Boy.
This is the second volume of memoir by this remarkable Maori writer and of the living myths that inspired him at the beginning of his career.
Look at him, the young man on the cover. The year is 1972, he is 28, his first book is about to be published, and he has every reason to kick up his heels.
But behind that joyful smile, and the image of a writer footing it in the Pakeha world, there is another narrative, one that Witi has not told before. The story of a native son, struggling to find a place, a voice and an identity, and to put a secret past to rest. This sequel to his award-winning memoir picks up where Maori Boy stopped, following Witi through his triumphs and failures at school and university, to experimenting sexually, searching for love and purpose and to becoming our first Maori novelist. It continues in the same vein as the first volume, which was described by a reviewer as 'a rich, powerful, multi-layered and totally unique story . . . something every New Zealander should read'.
Published:

3 September 2019

ISBN:

9780143773030

Imprint:

RHNZ Vintage

Format:

Trade Paperback

Pages:

448

RRP:

$34.99
. . . it's super of course, and as you can imagine it's a book of beautiful writing and humour . . . this is a cocktail of Maori mythology, short stories and one man's memories, and like any good cocktail it should be taken slowly and savoured . . . it's a book that you just want to keep reading, and the tone of his memoir is conversational and we're brought right alongside him as he tells his story . . . because of the style and tone you feel that you're part of the whakapapa . . .

Rae McGregor, Radio New Zealand
At its basis, Native Son is a memory-theatre, interweaving the reconstructed past with selections from Ihimaera's novels and complete short stories. His recent retellings of Maori myth are also worked into the narrative, providing a commentary and adding another dimension to this multi-layered book. . . . The memoir's real focus, however, is on Ihimaera's writing career and his early growth as an author. He satisfyingly recounts the genesis of several novels - and how these origins intersect with his own present view of himself. Ihimaera has always written as an oral story-teller rather than a literary stylist but his works have become some of New Zealand's most popular and culturally influential books. . . . When Ihimaera writes of family, attraction and romance, he is at his most appealing. His Wellington world seems palpable. Native Son is grounded in such moments. Friends, people and the world of the 1960s and 1970s all live again. The accumulation of detail reaches an effective critical mass.

David Herkt, Weekend Herald
Five years on from Maori Boy comes this next memoir. Ihimaera called his previous volume "creative non-fiction", one of the decade's more over-exploited labels but apposite in his case. . . . Emblematic, mythological stuff, too, and that continues in Native Son, both in its presentation of the author and in the legends of Hinenuitepo, Mahuika and Tawhaki that are threaded through his narrative. . . . A ll the way through, he explores, examines and adjusts himself as a Maori, a writer and a sexual being. . . . It's big. Ihimaera isn't inclined to leave things out: "In at least one of your books, you should shoot for something epochal." It loops around the decades "in a tangential Maori way, rather than in the accustomed Pakeha linear way". Roads taken or not taken are a recurring motif. Substantial passages from his fiction provide literary landmarks and show more facets of their writer. . . . It's a rewarding trip to join.

David Hill, NZ Listener
This is a book that guides and hurts and heals and makes whole from things that have no business being whole at all, from slippery worlds of dream and fright, to the ongoing search for a Maori place in a colonised world, where all our selves are held up to the light where they glow. I thank you for it.

essa may ranapiri, The Spinoff
This book was a revelation to me, not just the actual events of coming of age in 60s and 70s New Zealand but the way in which the story was told. In a memoir the expected structure is linear, starting with grandparents, childhood and so forth and progressing in a chronological format. In Native Son we are introduced to a Maori style of storytelling, one that follows a spiral which weaves in and out of mythology, past history and events the writer experienced. We are gently guided into appreciating the importance of tipuna, whanau and the challenges Maori faced at the time. Witi Ihimaera is well placed to tell this story as he entered the Pakehaworld of literature at the age of 28, being published as our first Maori novelist. Native Son is the second book of his memoir following Maori Boy and they both contain shocking and brave revelations that can be hard to read and must have been difficult to write. . . . The insights into the writing and context for these now iconic works is fascinating. Witi Ihimaera is a remarkable writer and this memoir confirms his place as a taonga of Aotearoa.

Josephine Carter, Hastings Leader