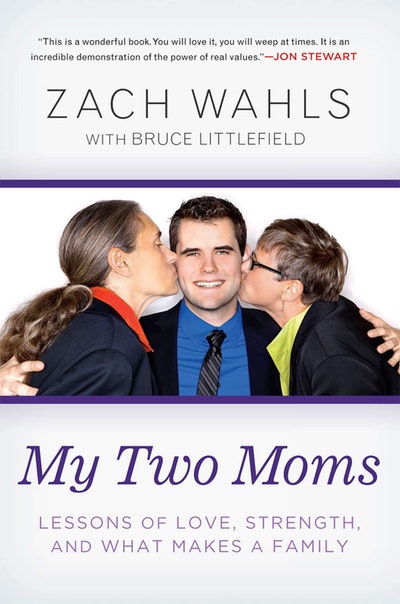 Published:

2 April 2013

ISBN:

9781592407637

Imprint:

Avery

Format:

Paperback

Pages:

272

RRP:

$29.99
My Two Moms
Lessons of Love, Strength, and What Makes a Family
---
---
A resounding testament to the power of family and a reassurance that there is no wrong way to be who you are
It has been almost two years since Zach Wahls (then 19 years old) bravely stood up in front of the Iowa House of Representative and defended gay marriage and his family. Wahls proudly proclaimed, "The sexual orientation of my parents has had zero effect on the content of my character," and his speech instantly went viral and became YouTube's #1 political video of 2011.
In My Two Moms, Zach offers a stirring and brave defense of his family. Raised by two moms in a conservative Midwestern town, Zach's parents instilled in him values that families everywhere can embrace—values driven home by his journey toward becoming an Eagle Scout. Zach's upbringing couldn't have been more mainstream—he played sports, was active in Boy Scouts, and led his high school speech and debate team—yet, growing up with two moms, he knows that it's like to feel different and fear being bullied, or worse.
In the inspirational spirit of It Gets Better edited by Dan Savage and Terry Miller, My Two Moms also delivers a reassuring message to same-sex couples, their kids, and anyone who's ever felt like an outsider: "You are not alone."
Published:

2 April 2013

ISBN:

9781592407637

Imprint:

Avery

Format:

Paperback

Pages:

272

RRP:

$29.99
"This is a wonderful book. You will love it, you will weep at times. It is an incredible demonstration of the power of real values." — Jon Stewart, host of The Daily Show "He lit up the Internet when he delivered a passionate plea to the Iowa House of Representatives in support of gay marriage. Take a look at him… a hero." — Ellen DeGeneres, host of Ellen "He takes on every argument against marriage equality and calmly topples them.My Two Moms augurs Zach Wahls' inevitable career in politics. America will be the better for it." — Chronogram "Wahls has a fresh voice." — Publishers Weekly "Wahls writes an inspirational book about the power of family and love, no matter what form it takes. If this kid is any indication of future generations…we are in very good hands." — Modern Tonic "His story is probably one of the most convincing arguments for why gay and lesbian families matter. The movement is lucky to have Wahls – who's both smart and sensitive – as one of its newest role models." — Philadelphia Magazine's "G Philly" Blog "This is a wonderful book. You will love it, you will weep at times. It is an incredible demonstration of the power of real values." — Jon Stewart, during an interview on The Daily Show "He lit up the Internet when he delivered a passionate plea to the Iowa House of Representatives in support of gay marriage. Take a look at him… a hero." — Ellen DeGeneres, host of Ellen "He takes on every argument against marriage equality and calmly topples them.My Two Moms augurs Zach Wahls' inevitable career in politics. America will be the better for it." — Chronogram "Wahls has a fresh voice." — Publishers Weekly "Wahls writes an inspirational book about the power of family and love, no matter what form it takes. If this kid is any indication of future generations…we are in very good hands." — Modern Tonic "His story is probably one of the most convincing arguments for why gay and lesbian families matter. The movement is lucky to have Wahls – who's both smart and sensitive – as one of its newest role models." — Philadelphia Magazine's "G Philly" Blog