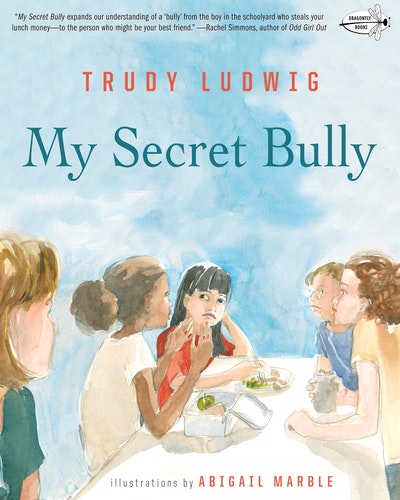 Published:

1 May 2015

ISBN:

9780553509403

Imprint:

RHUS Children's Books

Format:

Trade Paperback

Pages:

32

RRP:

$13.99
My Secret Bully
---
---
---
THE SECRET'S OUT ON BULLYING
Here is the all-too-familiar story of Monica. She and Katie have been friends since kindergarten. Monica loves being around her when she's nice. But there are times when Katie can be just plain mean. And Monica doesn't understand why.
Monica is a target of relational aggression, emotional bullying among friends who will use name-calling and manipulation to humiliate and exclude. But with a little help from a supportive adult—her mother—Monica learns to cope and thrive by facing her fears and reclaiming power from her bully.
Including a foreword by the founder of the The Ophelia Project, as well as helpful tips, discussion questions, and additional resources, My Secret Bully is a vital resource for children, parents, teachers, and counselors.
Published:

1 May 2015

ISBN:

9780553509403

Imprint:

RHUS Children's Books

Format:

Trade Paperback

Pages:

32

RRP:

$13.99
Praise for My Secret Bully
Review, School Library Journal: "This . . . bibliotherapeutic offering tackles the difficult topic of bullying, . . . [L]ibraries may want to purchase it because of the scarcity of material on this very important issue." Rachel Simmons, author of Odd Girl Out: "Too few resources are available to families dealing with girl bullying. MY SECRET BULLY provides an important resource to help parents." Dr. Kathy Masarie, founder and director of FULL ESTEEM AHEAD: "A must-read for any child who has ever been teased, ignored, or excluded by his/her peers. . . . A very useful resource for addressing social cruelty among children." Theresa Markowitz, Ph.D., Clinical Psychology: "...a desperately needed tool to help parents, techers, and other professionals address the growing epidemic of relational aggression (emotional bullying)."