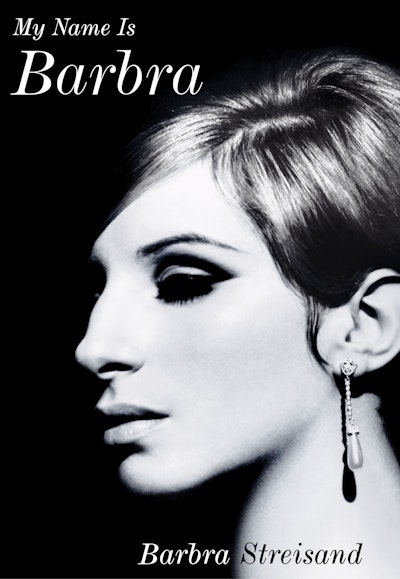 Published:

7 November 2023

ISBN:

9781529160659

Imprint:

Penguin

Format:

EBook

Pages:

992
My Name is Barbra
The Sunday Times Bestselling autobiography of the living legend
---
---
---
The long-awaited memoir by the superstar of stage, screen, recordings, and television
A SUNDAY TIMES BESTSELLER. The exhilarating and startlingly honest autobiography of the living legend.
THE TIMES MUSIC BOOK OF THE YEAR 2023
'Over almost a thousand pages, the diva to end them all documents her rise to the top and the tears and joys that went with it … What really brings this alive is Barbra Streisand's admission of the insecurity that drives her.' The Times
'Exhilarating … leaves blood on the page … My Name Is Barbra is 992 pages of startling honesty and self-reflection, deadpan parenthetical asides, encyclopedic recall of onstage outfits, and rigorous analyses of her films' Vanity Fair

'I have been patiently waiting for Barbra Streisand's autobiography for 54 years….My Name is Barbra is a Streisand obsessive's dream come true. It addresses all the rumours and misrepresentations of her long and extraordinary life, from nearly missing out on A Star is Born to dating Pierre Trudeau, Omar Sharif and Marlon Brando. The wait has been worth every word!' – Richard E Grant, Sunday Times
'The mother of all memoirs' New Yorker
'A brilliant memoir' Hillary Clinton
'Glorious, exuberant, chatty and candid, a 970-page victory lap past all who ever doubted, diminished or dissed her . . . generous dollops of chutzpah … Nobody puts Barbra in the corner' New York Times

'Mystical, messy, bawdy and funny … My Name is Barbra confides her insecurities and a ravening hunger for fame … silent but eloquent and vociferous writing' Peter Conrad, The Observer
'At heart this is a story so bursting with life, fury, unbelievable ambition and food (Streisand loves to eat) that you come away from it exhausted but smiling … hear hear!' The Guardian
'This enormous, poignant memoir from the ultimate showbusiness trouper shows that you can never have it all (even if you're Barbra). The writing is great and the likeable formidable personality shines through . . . deeper than the average celebrity memoir' The Times
'A glorious doorstopper… the sheer ambition of this intricately woven memoir makes it a fascinating read. The delicate pages bring to mind a Russian novel or, perhaps more appropriately for the many who view Streisand as akin to a deity, a bible. And yet, Streisand writes relatively succinctly, with warmth and wit. Behind the sequins, beneath the wigs and through the glass of the recording studio, there's just a woman who dreamed of being famous and make it happen, on her terms. It's an accomplished and entrancing walk through a life well lived' Evening Standard
'No less than a living legend … Streisand's story is truly inspirational and it's one that you'll want to pick up again and again' Glamour
Barbra Streisand is by any account a living legend, a woman who in a career spanning six decades has excelled in every area of entertainment. She is among the handful of EGOT winners (Emmy, Grammy, Oscar, and Tony) and has one of the greatest and most recognisable voices in popular music. She has been nominated for a Grammy 46 times, and with Yentl she became the first woman to write, produce, direct, and star in a major motion picture. In My Name Is Barbra, she tells her own story about her life and extraordinary career, from growing up in Brooklyn to her first star-making appearances in New York nightclubs to her breakout performance in Funny Girl (musical and film) to the long string of successes in every medium in the years that followed. She recounts her early struggles to become an actress, eventually turning to singing to earn a living; the recording of some of her acclaimed albums; the years of effort involved in making Yentl; her direction of The Prince of Tides; her friendships with figures ranging from Marlon Brando to Madeleine Albright; her political advocacy; and the fulfillment she's found in her marriage to James Brolin. No entertainer's memoir has been more anticipated than Barbra Streisand's, and this engrossing book will be eagerly welcomed by her millions of fans.
ST Bestseller, November 2024
Published:

7 November 2023

ISBN:

9781529160659

Imprint:

Penguin

Format:

EBook

Pages:

992
Praise for My Name is Barbra
'Mystical, messy, bawdy and funny … My Name is Barbra confides her insecurities and a ravening hunger for fame…silent but eloquent and vociferous writing'

Peter Conrad, The Observer
'Mystical, messy, bawdy and funny … My Name is Barbra confides her insecurities and a ravening hunger for fame…silent but eloquent and vociferous writing'

Peter Conrad, The Observer
'Mystical, messy, bawdy and funny … My Name is Barbra confides her insecurities and a ravening hunger for fame…silent but eloquent and vociferous writing'

Peter Conrad, The Observer
'Mystical, messy, bawdy and funny … My Name is Barbra confides her insecurities and a ravening hunger for fame…silent but eloquent and vociferous writing'

Peter Conrad, The Observer
…there are plenty of disclosures. As comes with the sort of fame Streisand enjoys, there is high-level celebrity tittle-tattle: back massages from Robert De Niro, bonhomie with the Clintons; a funny meeting with President John F Kennedy and a flirty relationship with King Charles…

I Paper
…there are plenty of disclosures. As comes with the sort of fame Streisand enjoys, there is high-level celebrity tittle-tattle: back massages from Robert De Niro, bonhomie with the Clintons; a funny meeting with President John F Kennedy and a flirty relationship with King Charles…

I Paper
…there are plenty of disclosures. As comes with the sort of fame Streisand enjoys, there is high-level celebrity tittle-tattle: back massages from Robert De Niro, bonhomie with the Clintons; a funny meeting with President John F Kennedy and a flirty relationship with King Charles…

I Paper
…there are plenty of disclosures. As comes with the sort of fame Streisand enjoys, there is high-level celebrity tittle-tattle: back massages from Robert De Niro, bonhomie with the Clintons; a funny meeting with President John F Kennedy and a flirty relationship with King Charles…

I Paper
A brilliant memoir

Hillary Clinton
A brilliant memoir

Hillary Clinton
A brilliant memoir

Hillary Clinton
A brilliant memoir

Hillary Clinton
A glorious doorstopper… the sheer ambition of this intricately woven memoir makes it a fascinating read. The delicate pages bring to mind a Russian novel or, perhaps more appropriately for the many who view Streisand as akin to a deity, a bible. And yet, Streisand writes relatively succinctly, with warmth and wit. Behind the sequins, beneath the wigs and through the glass of the recording studio, there's just a woman who dreamed of being famous and make it happen, on her terms. It's an accomplished and entrancing walk through a life well lived

Evening Standard
A glorious doorstopper… the sheer ambition of this intricately woven memoir makes it a fascinating read. The delicate pages bring to mind a Russian novel or, perhaps more appropriately for the many who view Streisand as akin to a deity, a bible. And yet, Streisand writes relatively succinctly, with warmth and wit. Behind the sequins, beneath the wigs and through the glass of the recording studio, there's just a woman who dreamed of being famous and make it happen, on her terms. It's an accomplished and entrancing walk through a life well lived

Evening Standard
A glorious doorstopper… the sheer ambition of this intricately woven memoir makes it a fascinating read. The delicate pages bring to mind a Russian novel or, perhaps more appropriately for the many who view Streisand as akin to a deity, a bible. And yet, Streisand writes relatively succinctly, with warmth and wit. Behind the sequins, beneath the wigs and through the glass of the recording studio, there's just a woman who dreamed of being famous and make it happen, on her terms. It's an accomplished and entrancing walk through a life well lived

Evening Standard
A glorious doorstopper… the sheer ambition of this intricately woven memoir makes it a fascinating read. The delicate pages bring to mind a Russian novel or, perhaps more appropriately for the many who view Streisand as akin to a deity, a bible. And yet, Streisand writes relatively succinctly, with warmth and wit. Behind the sequins, beneath the wigs and through the glass of the recording studio, there's just a woman who dreamed of being famous and make it happen, on her terms. It's an accomplished and entrancing walk through a life well lived

Evening Standard
An extraordinary life – you couldn't make it up

The Guardian
An extraordinary life – you couldn't make it up

The Guardian
An extraordinary life – you couldn't make it up

The Guardian
An extraordinary life – you couldn't make it up

The Guardian
Chatty, candid, a 970-page victory lap past all who ever doubted, diminished or dissed her, with lingering high fives for the many supporters . . . generous dollops of chutzpah … Nobody put Barbra in the corner. There are just so many scintillating Streisands to contemplate over so many years: singer, actress, director, producer, philanthropist, activist, lover, mother, wife, friend, autobiographer. . . There's something exuberant and glorious about Streisand's photo dump of self-portraits and party pics. Indeed about this whole dragged-out banquet of a book. You might not have the appetite to linger for the whole thing, but you'll find something worth a nosh

New York Times
Chatty, candid, a 970-page victory lap past all who ever doubted, diminished or dissed her, with lingering high fives for the many supporters . . . generous dollops of chutzpah … Nobody put Barbra in the corner. There are just so many scintillating Streisands to contemplate over so many years: singer, actress, director, producer, philanthropist, activist, lover, mother, wife, friend, autobiographer. . . There's something exuberant and glorious about Streisand's photo dump of self-portraits and party pics. Indeed about this whole dragged-out banquet of a book. You might not have the appetite to linger for the whole thing, but you'll find something worth a nosh

New York Times
At heart this is a story so bursting with life, fury, unbelievable ambition and food (Streisand loves to eat) that you come away from it exhausted but smiling. "I was always an odd duck," writes Streisand. "And I wanted to make it on my own terms. I didn't want to change and pretend to be someone else." She hardly needs more praise at this point, but hear hear!

The Guardian
At heart this is a story so bursting with life, fury, unbelievable ambition and food (Streisand loves to eat) that you come away from it exhausted but smiling. "I was always an odd duck," writes Streisand. "And I wanted to make it on my own terms. I didn't want to change and pretend to be someone else." She hardly needs more praise at this point, but hear hear!

The Guardian
Exhilarating … leaves blood on the page … My Name Is Barbra is 992 pages of startling honesty and self-reflection, deadpan parenthetical asides (including a running bit about how much she loves going to the dentist), encyclopedic recall of onstage outfits, and rigorous analyses of her films

Vanity Fair
Exhilarating … leaves blood on the page … My Name Is Barbra is 992 pages of startling honesty and self-reflection, deadpan parenthetical asides (including a running bit about how much she loves going to the dentist), encyclopedic recall of onstage outfits, and rigorous analyses of her films

Vanity Fair
Chatty, candid, a 970-page victory lap past all who ever doubted, diminished or dissed her, with lingering high fives for the many supporters . . . generous dollops of chutzpah … Nobody put Barbra in the corner. There are just so many scintillating Streisands to contemplate over so many years: singer, actress, director, producer, philanthropist, activist, lover, mother, wife, friend, autobiographer. . . There's something exuberant and glorious about Streisand's photo dump of self-portraits and party pics. Indeed about this whole dragged-out banquet of a book. You might not have the appetite to linger for the whole thing, but you'll find something worth a nosh

New York Times
At heart this is a story so bursting with life, fury, unbelievable ambition and food (Streisand loves to eat) that you come away from it exhausted but smiling. "I was always an odd duck," writes Streisand. "And I wanted to make it on my own terms. I didn't want to change and pretend to be someone else." She hardly needs more praise at this point, but hear hear!

Emma Brockes, The Guardian
Fans will no doubt love this first-hand, 992-page insight into the life of one of the biggest stars of our time. It would make the perfect Christmas gift, too

Luxury London
Fans will no doubt love this first-hand, 992-page insight into the life of one of the biggest stars of our time. It would make the perfect Christmas gift, too

Luxury London
Exhilarating … leaves blood on the page … My Name Is Barbra is 992 pages of startling honesty and self-reflection, deadpan parenthetical asides (including a running bit about how much she loves going to the dentist), encyclopedic recall of onstage outfits, and rigorous analyses of her films

Vanity Fair
Chatty, candid, a 970-page victory lap past all who ever doubted, diminished or dissed her, with lingering high fives for the many supporters . . . generous dollops of chutzpah … Nobody put Barbra in the corner. There are just so many scintillating Streisands to contemplate over so many years: singer, actress, director, producer, philanthropist, activist, lover, mother, wife, friend, autobiographer. . . There's something exuberant and glorious about Streisand's photo dump of self-portraits and party pics. Indeed about this whole dragged-out banquet of a book. You might not have the appetite to linger for the whole thing, but you'll find something worth a nosh

New York Times
'I have been patiently waiting for Barbra Streisand's autobiography for 54 years….My Name is Barbra is a Streisand obsessive's dream come true. It addresses all the rumours and misrepresentations of her long and extraordinary life, from nearly missing out on A Star is Born to dating Pierre Trudeau, Omar Sharif and Marlon Brando. The wait has been worth every word!'

Richard E Grant, Sunday Times
'I have been patiently waiting for Barbra Streisand's autobiography for 54 years….My Name is Barbra is a Streisand obsessive's dream come true. It addresses all the rumours and misrepresentations of her long and extraordinary life, from nearly missing out on A Star is Born to dating Pierre Trudeau, Omar Sharif and Marlon Brando. The wait has been worth every word!'

Richard E Grant, Sunday Times
Fans will no doubt love this first-hand, 992-page insight into the life of one of the biggest stars of our time. It would make the perfect Christmas gift, too

Luxury London
Exhilarating … leaves blood on the page … My Name Is Barbra is 992 pages of startling honesty and self-reflection, deadpan parenthetical asides (including a running bit about how much she loves going to the dentist), encyclopedic recall of onstage outfits, and rigorous analyses of her films

Vanity Fair
In Streisand's book, though, there's more than just talent; we are shown graft, intelligence, a winning, rare curiosity. Even for a celebrity memoir, this is a star-studded affair: pages are dedicated to encounters with US presidents (Bill Clinton and a fondly remembered JFK), kings (Charles III and Elvis Presley), and, of course, her Hollywood contemporaries. She remembers chatting about gardens with future friend (and future king) Charles, and getting Kennedy to sign an autograph to her mother (prompting her to remark, 'You're a doll' to the sitting president.... 'Frankly, it just slipped out.')… For diehard fans, it's illuminating

Independent
In Streisand's book, though, there's more than just talent; we are shown graft, intelligence, a winning, rare curiosity. Even for a celebrity memoir, this is a star-studded affair: pages are dedicated to encounters with US presidents (Bill Clinton and a fondly remembered JFK), kings (Charles III and Elvis Presley), and, of course, her Hollywood contemporaries. She remembers chatting about gardens with future friend (and future king) Charles, and getting Kennedy to sign an autograph to her mother (prompting her to remark, 'You're a doll' to the sitting president.... 'Frankly, it just slipped out.')… For diehard fans, it's illuminating

Independent
'I have been patiently waiting for Barbra Streisand's autobiography for 54 years….My Name is Barbra is a Streisand obsessive's dream come true. It addresses all the rumours and misrepresentations of her long and extraordinary life, from nearly missing out on A Star is Born to dating Pierre Trudeau, Omar Sharif and Marlon Brando. The wait has been worth every word!'

Richard E Grant, Sunday Times
Fans will no doubt love this first-hand, 992-page insight into the life of one of the biggest stars of our time. It would make the perfect Christmas gift, too

Luxury London
Streisand is no less than a living legend, one of a handful of EGOT winners (Emmy, Grammy, Oscar, and Tony) and now, she's taking us all back to where it began. Streisand's story is truly inspirational and it's one that you'll want to pick up again and again

Glamour
Over almost a thousand pages, the diva to end them all documents her rise to the top and the tears and joys that went with it: growing up in a one-bedroom apartment in Brooklyn; hitting it big with Funny Girl at 21; calling up Apple's Tim Cook to demand that Siri pronounce her name right (it's Strei-sand). What really brings this alive is Barbra Streisand's admission of the insecurity that drives her. With a mother from hell who belittled her at every turn, no amount of fame and success could ever fill the hole in her heart

The Times
In Streisand's book, though, there's more than just talent; we are shown graft, intelligence, a winning, rare curiosity. Even for a celebrity memoir, this is a star-studded affair: pages are dedicated to encounters with US presidents (Bill Clinton and a fondly remembered JFK), kings (Charles III and Elvis Presley), and, of course, her Hollywood contemporaries. She remembers chatting about gardens with future friend (and future king) Charles, and getting Kennedy to sign an autograph to her mother (prompting her to remark, 'You're a doll' to the sitting president.... 'Frankly, it just slipped out.')… For diehard fans, it's illuminating

Independent
'I have been patiently waiting for Barbra Streisand's autobiography for 54 years….My Name is Barbra is a Streisand obsessive's dream come true. It addresses all the rumours and misrepresentations of her long and extraordinary life, from nearly missing out on A Star is Born to dating Pierre Trudeau, Omar Sharif and Marlon Brando. The wait has been worth every word!'

Richard E Grant, Sunday Times
The book is crammed with delicious details of backstage arguments, bewildered suitors and at least one incident of falling off a London bus

BBC
Streisand is no less than a living legend, one of a handful of EGOT winners (Emmy, Grammy, Oscar, and Tony) and now, she's taking us all back to where it began. Streisand's story is truly inspirational and it's one that you'll want to pick up again and again

Glamour
Over almost a thousand pages, the diva to end them all documents her rise to the top and the tears and joys that went with it: growing up in a one-bedroom apartment in Brooklyn; hitting it big with Funny Girl at 21; calling up Apple's Tim Cook to demand that Siri pronounce her name right (it's Strei-sand). What really brings this alive is Barbra Streisand's admission of the insecurity that drives her. With a mother from hell who belittled her at every turn, no amount of fame and success could ever fill the hole in her heart

The Times
In Streisand's book, though, there's more than just talent; we are shown graft, intelligence, a winning, rare curiosity. Even for a celebrity memoir, this is a star-studded affair: pages are dedicated to encounters with US presidents (Bill Clinton and a fondly remembered JFK), kings (Charles III and Elvis Presley), and, of course, her Hollywood contemporaries. She remembers chatting about gardens with future friend (and future king) Charles, and getting Kennedy to sign an autograph to her mother (prompting her to remark, 'You're a doll' to the sitting president.... 'Frankly, it just slipped out.')… For diehard fans, it's illuminating

Independent
This enormous, poignant memoir from the ultimate showbusiness trouper shows that you can never have it all (even if you're Barbra). The writing is great and the likeable formidable personality shines through . . . deeper than the average celebrity memoir

The Times
The book is crammed with delicious details of backstage arguments, bewildered suitors and at least one incident of falling off a London bus

BBC
Streisand is no less than a living legend, one of a handful of EGOT winners (Emmy, Grammy, Oscar, and Tony) and now, she's taking us all back to where it began. Streisand's story is truly inspirational and it's one that you'll want to pick up again and again

Glamour
Over almost a thousand pages, the diva to end them all documents her rise to the top and the tears and joys that went with it: growing up in a one-bedroom apartment in Brooklyn; hitting it big with Funny Girl at 21; calling up Apple's Tim Cook to demand that Siri pronounce her name right (it's Strei-sand). What really brings this alive is Barbra Streisand's admission of the insecurity that drives her. With a mother from hell who belittled her at every turn, no amount of fame and success could ever fill the hole in her heart

The Times
This enormous, poignant memoir from the ultimate showbusiness trouper shows that you can never have it all (even if you're Barbra). The writing is great and the likeable formidable personality shines through . . . deeper than the average celebrity memoir

The Times
The book is crammed with delicious details of backstage arguments, bewildered suitors and at least one incident of falling off a London bus

BBC
Streisand is no less than a living legend, one of a handful of EGOT winners (Emmy, Grammy, Oscar, and Tony) and now, she's taking us all back to where it began. Streisand's story is truly inspirational and it's one that you'll want to pick up again and again

Glamour
This enormous, poignant memoir from the ultimate showbusiness trouper shows that you can never have it all (even if you're Barbra). The writing is great and the likeable formidable personality shines through . . . deeper than the average celebrity memoir

The Times
The book is crammed with delicious details of backstage arguments, bewildered suitors and at least one incident of falling off a London bus

BBC
This enormous, poignant memoir from the ultimate showbusiness trouper shows that you can never have it all (even if you're Barbra). The writing is great and the likeable formidable personality shines through . . . deeper than the average celebrity memoir

The Times