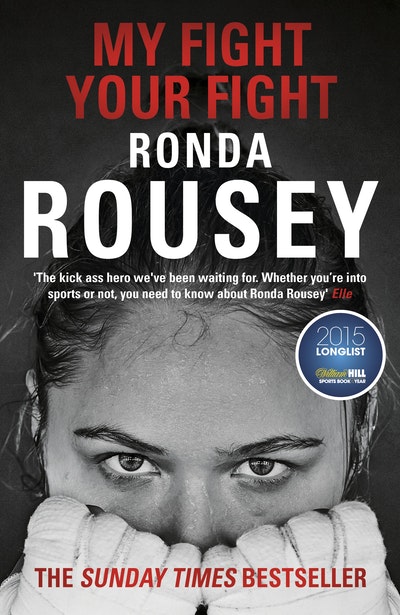 Published:

1 March 2016

ISBN:

9781784753122

Imprint:

Arrow

Format:

Paperback

Pages:

400

RRP:

$22.99
My Fight Your Fight
The Official Ronda Rousey autobiography
---
---
---
The inspirational memoir from the world's most dominant athlete
*WINNER British Sports Book Awards SPORTS BOOK OF THE YEAR*
'I have this one term for the kind of woman my mother raised me not to be, and I call it a 'Do-Nothing B-tch'. It's the kind of chick that just tries to be pretty and be taken care of by somebody else. That's why I think it's hilarious when people say that my body looks masculine or something. Just because my body was developed for a purpose other than f-cking millionaires, doesn't mean it's masculine. I think it's femininely badass as f-ck because there isn't a single muscle on my body that doesn't have a purpose because I'm not a 'Do-Nothing B-tch.'
When Ronda Rousey made this speech she inspired women everywhere. Beyoncé even played a recording on-stage and it went viral. But Rousey has been inspiring others her whole career.
The journey to the top for the most dominant mixed-martial-arts fighter in history has been filled with challenges. From a childhood marked by speech problems to the painful loss of her father, she grew up repeatedly pushing her mind and body to the limit in order to win. She battled prejudice to become the first female fighter in UFC. Now she is the biggest name in the sport, breaking attendance levels and re-writing the history books with her astonishing knockout victories, most in under a minute. She has also forged a successful Hollywood career as an actor.
In this honest and inspiring book, Rousey relives her greatest fights and shares her secrets for success and mental toughness. She reveals how we can all be at our best, even on our worst days, and how we can turn our limitations into opportunities. It will leave you ready to face your own challenges in life, whatever they may be.
Published:

1 March 2016

ISBN:

9781784753122

Imprint:

Arrow

Format:

Paperback

Pages:

400

RRP:

$22.99
Praise for My Fight Your Fight
The fact is, Ronda Rousey could punch you in the face any time she wanted, and she has completely created her own life and she's having an incredible career that most of us could only dream of and she doesn't give a s**t what you think. And that point of view is really, really threatening to certain people, especially when it comes in the form of a woman, because to a man, a woman not caring what you think means that all your power is gone. You can't control her anymore.

Lena Dunham
The kick ass hero we've been waiting for. Whether you're into sports or not, you need to know about Ronda Rousey

Elle
The world's most dominant athlete

Sports Illustrated
Ronda Rousey might kick my ass

Mike Tyson
[Ronda Rousey's] fights, 3 amateur and 11 pro, with not a single loss among them, tend to end in less than 60 seconds. At the age of 28, she has in 4 years become the most dominant mixed-martial-arts fighter in the sport's history and was recently named "the most dominant athlete alive," beating out names like LeBron and Mayweather. On the fight scene, there's never, ever really been anyone quite like her

Rolling Stone