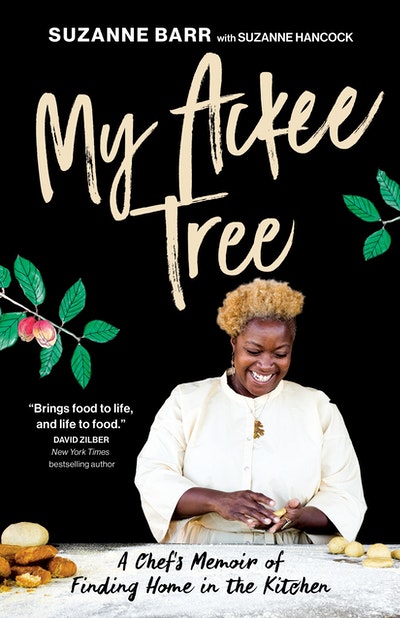 Published:

3 May 2022

ISBN:

9780735239500

Imprint:

Penguin Canada

Format:

Hardback

Pages:

248

RRP:

$44.99
My Ackee Tree
A Chef's Memoir of Finding Home in the Kitchen
---
---
For fans of The Measure of My Powers and Notes from a Young Black Chef, a memoir about food, family, and the recipes that brought one woman home when she needed it the most.

Suzanne Barr's journey to become a chef started when she was 30. Her mother was diagnosed with cancer and she moved home to Florida to take care of her. Suzanne escorted her mother to doctor's appointments, bathed her, and kept her company, but the hardest part of the experience was that she didn't know how to cook for her. She didn't even know where to begin.
Fast-forward to the summer of 2017 when Suzanne became the inaugural Chef-in-Residence at the Gladstone Hotel in Toronto. She wanted to create a menu that represented who she was as a chef and it emerged as a love letter to her mother. Her Rite of Passage Menu, as she called it, changed her. It started her on a journey that has brought her closer to her mother, to her ancestors, and to her Jamaican heritage.
But a lot has happened before and since.
My Ackee Tree tells the story of a woman who is always on the move, always seeking; who battles the stereotypes of being a Black female cook to become a culinary star in an industry beset by dated practices and landlords with too much power. From the ackee tree in front of her childhood home, through New York City, Atlanta, Hawaii, the Hamptons, and France, Suzanne takes us on her unpredictable journey, and at every turn, she finds light and comfort in the kitchen. Told in a voice as fresh and honest as her cooking, My Ackee Tree is a celebration of creativity, soul searching, and motherhood that asks, "How can I keep the things I love?"

Published:

3 May 2022

ISBN:

9780735239500

Imprint:

Penguin Canada

Format:

Hardback

Pages:

248

RRP:

$44.99