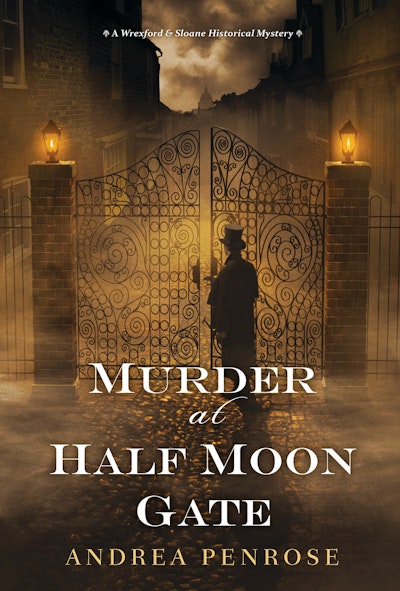 Published:

30 July 2019

ISBN:

9781496722416

Imprint:

Kensington

Format:

Paperback

Pages:

368

RRP:

$26.99
Murder at Half Moon Gate
---
---
Nothing is as it seems in Regency London, especially when the Earl of Wrexford and Charlotte Sloane join forces to solve a shocking murder.

When Lord Wrexford discovers the body of a gifted inventor in a dark London alley, he promptly alerts the watchman and lets the authorities handle the matter. But Wrexford soon finds himself drawn into the investigation when the inventor's widow begs for his assistance. It seems her husband's designs for a revolutionary steam-powered engine went missing the night of his death. The plans could be worth a fortune . . . and very dangerous in the wrong hands.
Joining Wrexford in his investigation is Charlotte Sloane, who uses the pseudonym A. J. Quill to publish her scathing political cartoons. She doesn't mind tapping her extensive network of informants critical to her work to track down an elusive killer. With danger lurking at every turn, the potent combination of Wrexford's analytical mind and Sloane's exacting intuition begins to unravel the twisted motivations behind the inventor's death. But they are up against a killer ready to strike again before they can recover the inventor's priceless designs . . .
"Penrose deftly combines a Regency romance with a tricky mystery that delves into social unrest and the darker side of this storied period."—Kirkus Reviews
"Its complex story line and authentic historical details bring the early days of the Industrial Revolution vividly to life. Bound to fascinate readers of C.S. Harris and even fans of Victorian mysteries." —Library Journal,Starred Review
Published:

30 July 2019

ISBN:

9781496722416

Imprint:

Kensington

Format:

Paperback

Pages:

368

RRP:

$26.99