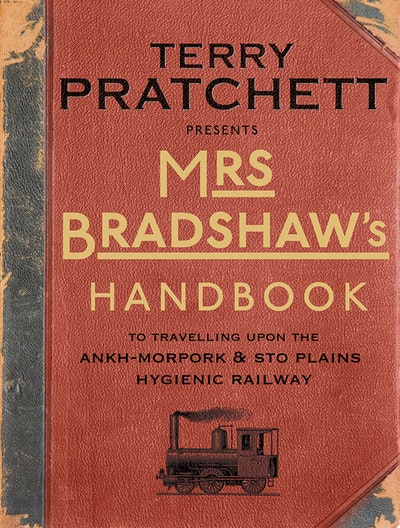 Published:

9 October 2014

ISBN:

9781473509849

Imprint:

Transworld Digital

Format:

EBook

Pages:

144
Mrs Bradshaw's Handbook
the essential travel guide for anyone wanting to discover the sights and sounds of Sir Terry Pratchett's amazing Discworld
---
---
---
A Discworld artefact - Georgina Bradshaw's guide to the railways of Raising Steam.
The ultimate Discworld artefact - Mrs Bradshaw's Handbook is the complete guide to the railways of Sir Terry Pratchett's number one bestseller Raising Steam

What fans are saying...
'A must have for any Discworld fan' - ***** Reader review
'No Discworld fan should have this missing from their collection' - ***** Reader review
'An absolute gem with all the wit and sarcasm we expect from a Terry Pratchett book' - ***** Reader review
'What a cracking read' - ***** Reader review
'Just brilliant!! Typically what you would expect from Terry Pratchett - couldn't put it down' - ***** Reader review
*********************************************************************
Authorised by Mr Lipwig of the Ankh-Morpork and Sto Plains Hygienic Railway himself, Mrs Georgina Bradshaw's invaluable guide to the destinations and diversions of the railway deserves a place in the luggage of any traveller, or indeed armchair traveller, upon the Disc.
Mrs Bradshaw offers useful insights into...
* Edifying sights along the route: from the twine walk of Great Slack to the souks of Zemphis:
* Essential hints on the practicalities of travel: ticketing, nostrums and transporting your swamp dragon
* Elegant resorts and quaint inns: respectable and sanitary lodgings for all species and heights.
* Diverting trivia: a full overview of the crafts, foods and brassica traditions of the many industrious people for whom the railway is now a vital link to the Century of the Anchovy
Fully illustrated and replete with useful titbits, Mrs Bradshaw's Handbook offers a view of the Sto Plains like no other.
A must- purchase for any fan of the legendary Sir Terry Pratchett.
Published:

9 October 2014

ISBN:

9781473509849

Imprint:

Transworld Digital

Format:

EBook

Pages:

144