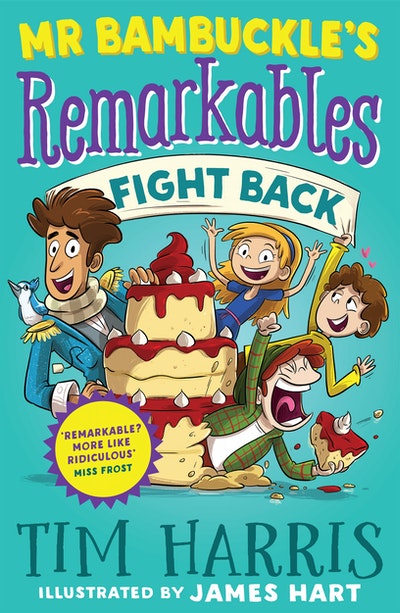 Published:

2 March 2021

ISBN:

9781761042669

Imprint:

Puffin

Format:

Paperback

Pages:

240

RRP:

$14.99
Mr Bambuckle's Remarkables Fight Back
Extract
Miss Frost
Miss Frost's first day at Blue Valley School was a remarkably horrible day. The fifteen students of room 12B entered the classroom after the bell to find their new teacher listing rules on the board. Although her handwriting was stylish, the message in her perfectly shaped words was anything but pleasant. Dreadful warnings such as 'no speaking', 'don't be lazy' and 'there will be severe punishments' quickly filled the board.
As the students took their seats, the briefest smile flickered across Miss Frost's face before she dumped eleven pages of handwriting exercises on each of their desks.
The students looked from the writing sheets to Miss Frost with hesitation and mistrust. Her teaching methods, it appeared, were without comparison to the class's previous teacher. In his short time in room 12B, Mr Bambuckle had completely and utterly charmed the students with his surprising tricks and fantastical lessons.
Despite her icy disposition, Miss Frost – in her smart, wintry ensemble – was beautiful to look at. Her long silver hair was brushed neatly into a high bun that she secured with a diamond bobby pin. The diamond glinted and glimmered in the light. Her eyes were deep grey-blue, and the students soon discovered that a single stare from their new teacher would send frightful shivers down one's spine. They feared her from the get-go.
'Hey, new teacher – what's your name?' said Vex Vron, a dark-haired boy who dared to poke danger with a stick.
Miss Frost paced silently to the back of the room where Vex sat and tapped a fingernail on his desk. 'You speak with such little respect . . . I pity your type.' Her voice was nothing more than a whisper, though very much in command.
Vex scowled. 'Whatever.'
Miss Frost lingered briefly at Vex's desk, her icy stare forcing him to look away. 'Such a troubled child,' she sniffed. She walked back to the front of the room and picked up a marker, adding another rule to the board.
Any student who speaks out of place from this point on will write two hundred lines at lunch.
Discipline is the new order.
Miss Frost
Overcome by fear, the students in room 12B began working on their handwriting sheets in silence. The only sound was Evie Nightingale chewing her fingernails. Evie was a small girl, and today she was feeling even smaller.
Miss Frost moved stealthily around the students as they wrote.
'What a ghastly "K".'
'Have you not heard of sharpening your pencil?'
'Your "Gs" are atrocious.'
'You pencil grip is as poor as your attitude.'
'Do that beastly "W" again seventy-five times.'
Miss Frost stopped at the desk of Victoria Goldenhorn, a girl whose handwriting was as immaculate as her long blonde hair. The teacher's lips twitched as she inspected Victoria's work. She couldn't fault it, and she didn't like the feeling of not being able to criticise. She tightened her lips and moved on to the next desk.
'Who sits here?' said Miss Frost, pointing to an empty chair.
Not one of the students was willing to risk an answer for fear of saying something wrong.
Miss Frost repeated the question, her whisper putting goosebumps on Evie Nightingale's arms. 'I expect an answer – where is this student?'
The room was silent.
'If you lot had a brain between you, you would know when to speak and when not to.'
Nobody spoke.
'You, there.' She pointed to an orange-haired boy on the other side of the classroom.
'Who is missing today?'
'Peter Strayer,' said Carrot Grigson, owner of the orange hair. In an attempt to soften the mood, he added, 'I like your bobby pin.'
Miss Frost glared at Carrot. She raised a hand and gently touched the sparkling diamond with her fingertips. For a moment, she looked as though she was lost in thought, but she soon snapped out of it. 'You will never, ever, under any circumstance, mention my bobby pin. Not today, not tomorrow, not ever.'
Carrot gulped.
Miss Frost lowered her hand and stared fiercely at Carrot. 'To ensure you get the message, see me at lunch for detention.'
Carrot gulped again. Louder this time.
'Let that be a warning to all of you,' said the teacher. 'Anyone who mentions my bobby pin – or shows any disrespect for that matter – can join me at lunch.'
Damon Dunst, who had a keen sense of humour and wanted nothing more than to impress Victoria Goldenhorn, longed to say, 'Miss Frost, will you pay for my meal if I join you for a lunch date?' Though he thought better of it and kept quiet.
With the students in room 12B frightened into submission, Miss Frost went back to prowling in search of a handwriting error.
'Sit up straighter or you'll become a hunchback.'
'Rewrite that "Z" until it is perfect.'
'Your capital letters are disgraceful.'
It was not until five minutes before morning tea that one of the students dared to put their hand up and speak. It was Victoria Goldenhorn.
'What could you possibly want, child?' said the teacher.
Victoria smiled and politely held up her work for inspection. 'Do you think my handwriting deserves a sticker?'
Miss Frost moved closer to examine the work. 'A sticker?'
 'Yes, please, Miss Frost. Or a stamp. If it's okay with you, of course.'
The teacher whisked the work out of Victoria's hands and scanned it carefully, her lips twitching irritably. 'I know students like you,' she said. 'You think you are so much better than everybody else.'
Damon Dunst sensed an attack on his sweetheart. While fear had silenced him all morning, his obsession with Victoria was enough to prise open his mouth. 'That's not very nice!'
Miss Frost's cold eyes shot arrows at Damon. Though they weren't the sort of arrows Cupid might shoot. These were arrows meant to cause pain.
Damon's face turned white.
'You insolent child,' Miss Frost said quietly. 'I'll show you "not very nice".'
She held Victoria's work up for everyone to see and then, ever so slowly, she tore it in two. Then she tore the halves in two. She continued tearing until the handwriting sheets resembled confetti. But there would be no celebration today. The relationship between teacher and students could not be worse.
Victoria's usual positivity dissolved as a single tear streaked down her cheek. She had taken a great deal of care on her handwriting.
'Like I was saying,' said Miss Frost. 'I know students like you, and you need to be brought down a peg or two.'
'She was only asking for a sticker,' said Damon quietly.
'Silence!' snapped the teacher. It was the first time she had raised her voice.
Evie Nightingale started shaking with fear.
'As for the stickers and stamps,' said Miss Frost, lowering her voice back to a frightful whisper, 'where can I find the treacherous things?'
Victoria pointed feebly to the desk where Mr Bambuckle had kept them.
Miss Frost left the shredded paper on Victoria's table and walked to the front of the room. 'No morning tea until you've done the whole lot again – more neatly this time.'
Victoria, who had never before been so cruelly treated, sobbed silently as the teacher rummaged through the drawers of Mr Bambuckle's desk.
'These stickers are sickening,' said Miss Frost. 'Who would write such ridiculous things?'
The students tried not to remember back to the time when Mr Bambuckle had asked them to design new stickers. They tried not to remember the trust he had put in them. They tried not to remember the fun they had shared. Thinking about such things would only make them more upset.
Miss Frost tossed the stickers and stamps into the bin and turned to the class. 'These hideous things are never to be spoken of again. Discipline is the new order.'
With that, she lowered a match into the steel bin and set the stickers alight.
The new teacher was quickly making her mark in room 12B, and not even the heat from the fire could warm the mood of the students.
All the while, Vex Vron watched on from his seat at the back of the room, his mind churning with thoughts and ideas. He was determined to ensure the return of Mr Bambuckle, and it was time to put his plan into action.
---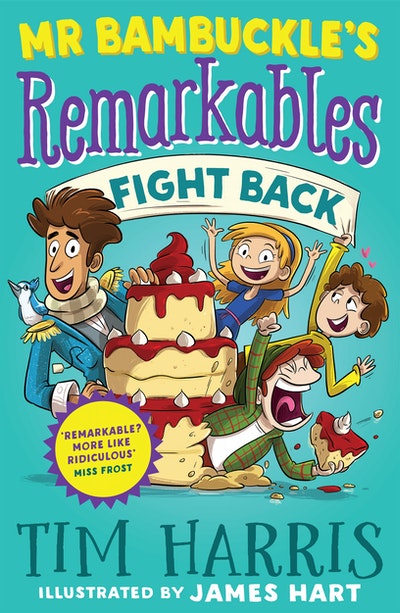 Australia's funniest new author for kids is back with a fresh batch of stories about the mysterious Mr Bambuckle and the class of room 12B.
Buy now
Buy now
---