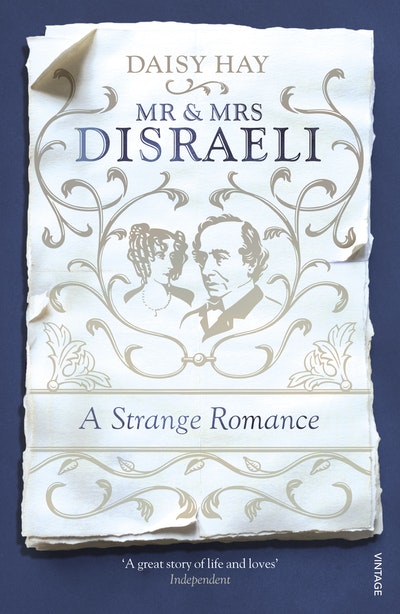 Published:

8 January 2015

ISBN:

9781473511071

Imprint:

Vintage Digital

Format:

EBook

Pages:

336
Mr and Mrs Disraeli
A Strange Romance
---
---
---
An engaging portrait of the surprisingly unconventional marriage between Benjamin and Mary Anne Disraeli from one of our best young non-fiction writers.
He was a debt-ridden dandy, a mid-ranking novelist armed with enormous political ambition.
She was a moneyed widow twelve years older than her new husband, always overdressed for society dinners and never one to hold her tongue.
From the outset, Mary Anne and Benjamin Disraeli made an unlikely match, yet they rose to the very pinnacle of Victorian society.
Drawing on the couple's love letters and Mary Anne's own formidable archives, Daisy Hay reveals the heady mix of romance and power that fuelled their influence - and chronicles how the Disraelis crafted their unconventional marriage into an enduring love story.
Published:

8 January 2015

ISBN:

9781473511071

Imprint:

Vintage Digital

Format:

EBook

Pages:

336
Praise for Mr and Mrs Disraeli
A tour de force, written with intelligence and compassion

The Times
Thorough and engaging... A warm and rounded portrait

Daily Telegraph
A fabulous book, as if Jane Austen were writing for a modern newspaper... Full of wonderfully observed detail... A great story of life and loves in a time when making the right marriage really mattered

Independent
All marriages have their mysteries, political marriages more than most. The marriage of Mr and Mrs Disraeli was stranger than fiction, but every bit as compelling

Robert McCrum, The Observer
A beguiling account of a very unusual marriage

Daisy Goodwin, Sunday Times
As with all the best biographers, Hay makes her readers drag their feet towards the end, reluctant to part company with people she has made us know and feel for. Her book has turned the Disraelis' uneven romance into a real love story. How pleased they would have been

Guardian
One to watch in 2015

Independent
One to watch in 2015

Rachel Cooke, The Observer
It is a great story of life and loves in a time when making the right marriage really mattered

John Rentoul, Independent
Much colour and entertainment

Leslie Mitchell, Literary Review
A beguiling account of a very unusual marriage

Sunday Times
Above all, the Disraelis' is a love story, and it is this unusual but most human of tales that gives this book its raison d'être

Tim Bouverie, Weekly Telegraph
What Hay does is ask us to think more subtly about a marriage that, no matter how peculiar to onlookers, facilitated one of the greatest parliamentary careers of modern times

Kathryn Hughes, 4 stars, Mail on Sunday
[An] excellent book

Good Book Guide
Intriguing

Mail on Sunday
Daisy hay paints a picture of a strange yet real romance between Bejamin and Mary Anne Disraeli

Katie Lazell, Public Service Magazine
Reminds us, yet again, how much more complex and intriguing the Victorians were than we might think

Robert McCrum, Observer
Hay brings alive an unusual marriage with skill and imagination.

Daisy Goodwin, Sunday Times
The story is well known, but Hay's lively retelling only makes you want to applaud again the two clever commoners who outplayed the ruling elite and changed the course of British history.

Marcus Field
This detailed and wonderful book shows how the couple defined one another and paints a fascinating picture of a loving and supportive partnership.

Julia Richardson, Daily Mail
Daisy Hay's dual biography offers a vivid portrait of a marriage that confounded their friends but proved to be happy and enduring.

Paula Byrne, The Times
Touching story, which [Hay] tells with an exhilarating combination of pace and erudition… A real love story.

Rosemary Hill, Guardian