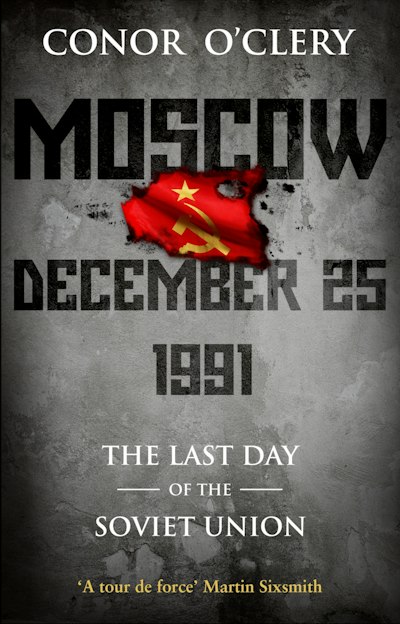 Published:

1 October 2011

ISBN:

9781446486917

Imprint:

Transworld Digital

Format:

EBook

Pages:

560
Moscow, December 25, 1991
The Last Day Of The Soviet Union
---
---
---
A fascinating, dramatic account of the last day of the Soviet Union and the intense rivalry between Gorbachev and Yeltsin
"Above all, we should acknowledge that the collapse of the Soviet Union was a major geopolitical disaster of the century." – Vladimir Putin
History always comes down to the details. And when it comes to the fall of the Soviet Union, the details are crucial, especially when such an era-defining event hinged on the bitter personal relationship between two powerful men, Mikhail Gorbachev and Boris Yeltsin.
On the twentieth anniversary of the end of the Cold War, Conor O'Clery has built his compelling and brilliantly reconstructed narrative of the last days of the Soviet Union around one day, December 25, 1991, the day Gorbachev resigned and the USSR was effectively dissolved. From there, O'Clery looks back over the events of the previous six years that culminated in that remarkable day: Gorbachev's policies of glasnost and perestroika; Yeltsin's ignominious fall and then rise to the top; the declarations of sovereignty by most of the Soviet republics; the failed August coup by the hardliners; and the events that swiftly followed.
The result is an intricately detailed, thoroughly researched book, based on interviews with many of the key figures in the Shakespearean-style drama, contemporary reportage, personal memoirs of the key political figures and official documents. The book is written at a breathtaking, dramatic pace, drawing the reader in as it focuses equally on the personal and historical stories.
Moscow, December 25, 1991 is set to become the defining book on the fall of the Soviet Union.
Published:

1 October 2011

ISBN:

9781446486917

Imprint:

Transworld Digital

Format:

EBook

Pages:

560
Praise for Moscow, December 25, 1991
Conor O'Clery's book is a tour de force. It tells the story of one of the most momentous days of recent history with insight, passion and precision. Full of new material and fascinating stories, it is a must read for anyone interested in the fate of democracy in the modern world.

Martin Sixsmith