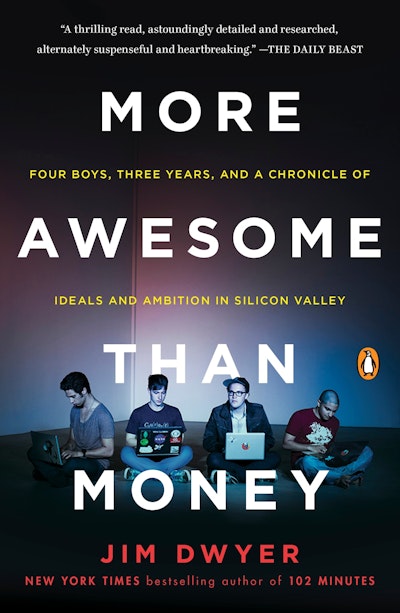 Published:

1 May 2016

ISBN:

9780143127895

Imprint:

Penguin

Format:

Paperback

Pages:

384

RRP:

$29.99
More Awesome Than Money: Four Boys, Three Years, and a Chronicle of Ideals and Ambition in Silicon Valley
---
---
The true story of four computer nerds who tried to build a revolutionary online network based on privacy & control; a David v Goliath startup effort that ended not in a billion dollar buy-out but in personal tragedy.
Their proposition sounded so simple that it took a few minutes to grasp its audacity. The four NYU undergrads—classic computer nerds—wanted to build a social network that would allow users to control the information they shared about themselves, instead of surrendering their privacy (and personal data) to big businesses like Facebook. They were hoping to raise $10,000 in 30 days, enough to keep them in ramen and pizza for the summer in a basement in San Francisco while they coded. Their project was called "Diaspora." Apparently, the world had been waiting. Their 2010 Kickstarter campaign ended the first day with three backers. Before long they had raised $200,000. In a matter of days, the Diaspora Four had received a global commission to re-bottle the genie of personal privacy.
The ambitions of the Diaspora Four were underwritten by that heroic mix of optimism and naïvete you only seem to have when you're twenty, egged on by the elite of the digital community. But as the months wore on and the money wore out, they couldn't get there—coding failures, bad business decisions, over-reach and under-organization, and the inevitable conflicts of personality and goals. When Ilya committed suicide in the fall of 2011, they found out how much they had all been on their own all along.
Published:

1 May 2016

ISBN:

9780143127895

Imprint:

Penguin

Format:

Paperback

Pages:

384

RRP:

$29.99