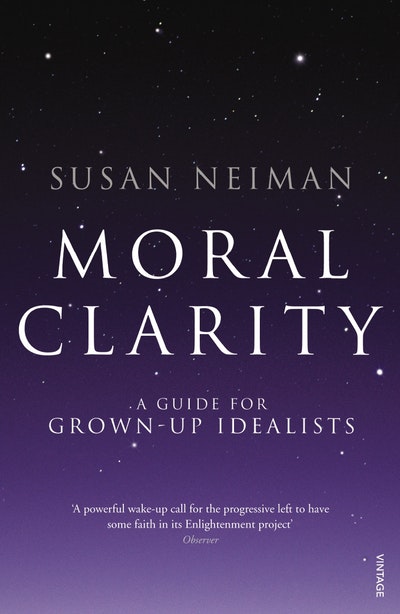 Published:

15 November 2011

ISBN:

9780099526278

Imprint:

Vintage

Format:

Paperback

Pages:

480

RRP:

$30.00
Moral Clarity
A Guide for Grown-up Idealists
---
---
---
Distinguished scholar, Susan Neiman, argues for a commitment to a more just world that is rationally grounded, implacable and insatiable.
In Moral Clarity, Susan Neiman shows how the philosophical resources of the eighteenth-century Englightenment can help us to construct a politics that does not repeat the mistakes of Marxism or succumb to the temptation of a cynicism that masquerade as realism.
Through her commitment to the claims of reason and the facts of the world, her shrewd and generous readings of the Western canon, and above all through her conviction that politics is a moral endeavour, Neiman issues an irresistible invitation to make the world more just.
Published:

15 November 2011

ISBN:

9780099526278

Imprint:

Vintage

Format:

Paperback

Pages:

480

RRP:

$30.00
With passion, wit, and high intelligence, Susan Neiman invites us to be moral grown-ups. Morally and politically compelling - and a delight to read.

Michael Walzer
Susan Neiman's profound wisdom and courage give us a public conception of goodness and a reinvigorated progressive vision....She is a beacon of light and hope in our morally debased times.

Cornel West
The Enlightenment project of constructing a rational morality--pronounced dead by commentators on the left and right--has found a champion determined to resurrect it for the twenty-first century.

Booklist
Susan Neiman is a masterly storyteller; her new book Moral Clarity offers retellings of the Odyssey and the Book of Job that are themselves worth the price of admission. But she also has stories about the origins of her own position that place her in both larger intellectual narratives and more local political ones...Her project can be seen as a progressive alternative to (Allan Bloom's) The Closing of the American Mind.

Anthony Appiah
In Moral Clarity Susan Neilman criticises the philosophical ideas that dominate contemporary culture and politics on a grand scale. She is well equipped to do this.

Onora O'Neill
Fresh and exhilarating, inspiring optimism rather than recrimination...a rallying cry to return to Enlightenment values - not as heritage kitsch but as a process we are still undergoing, a demand we have yet to answer

Jane O'Grady, The Guardian
Forget the Man Booker long list. Susan Neiman's superb new book should be at the top of beach reads this summer. For what Neiman beautifully chronicles is how in all sorts of policy areas the left has let slip its Enlightenment bearings and is no longer able to act on moral impulses.... Now is the time to turn to Neiman and re-inject some morality into progressive politics - for the good of everyone

Tristram Hunt, Guardian online
A lucid new tome on why politics is a moral pursuit, and why we need a second Enlightenment. Where was the voice of academia in our political and financial crisis? This firebrand turned head of the Einstein Forum brings a refreshing conviction of the possibility of a deliberative public life

Hugh Roberts, Guardian online
A tour de force: a witty, profound, and powerful successor to her breakthrough book, Evil in Modern Thought.

Tom Gitlin