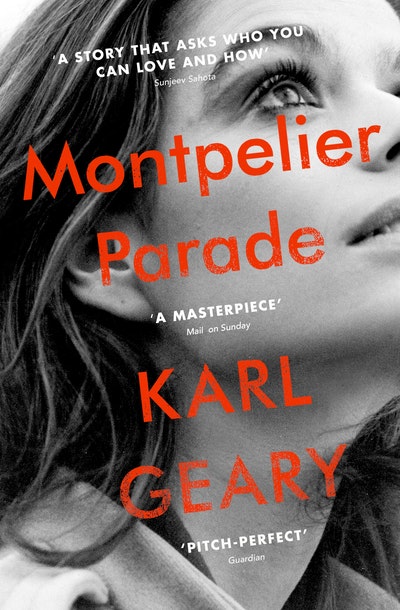 Published:

30 October 2017

ISBN:

9781784705664

Imprint:

Vintage

Format:

Paperback

Pages:

240

RRP:

$19.99
Montpelier Parade
---
---
---
SHORTLISTED FOR THE COSTA FIRST NOVEL AWARD 2017
Vera is beautiful and unknowable; Sonny is young and hungry for the world. Their connection changes everything.
Selected as a Book of the Year in 2017 in the Irish Times and The TimesSHORTLISTED FOR THE COSTA FIRST NOVEL AWARD 2017 'A delicate, crystalline, hugely impressive novel… He's yet another masterful younger writer coming through… Wonderful' - Sebastian Barry
Her house is on Montpelier Parade – just across town, but it might as well be a different world. Sonny is fixing a crumbling wall in the garden when he sees her for the first time, coming down the path towards him. Vera.
Vera is older, wealthier, sophisticated, but chance meetings quickly become shy arrangements, and soon Sonny is in love for the first time. But there is something unsettling that Vera is keeping from him. Unfolding in the sea-bright Dublin of early spring, Montpelier Parade is an indelible novel about the things that remain unspoken between lovers. It is about how deeply we can connect with one another, and the choices we must make alone.Longlisted for the Desmond Elliott Prize 2017
Published:

30 October 2017

ISBN:

9781784705664

Imprint:

Vintage

Format:

Paperback

Pages:

240

RRP:

$19.99
Praise for Montpelier Parade
A delicate, crystalline, hugely impressive novel by Karl Geary. He's yet another masterful younger writer coming through. But these writers aren't just promising, they are arriving fully fledged, like a bunch of Hemingways and Waughs. (A pride of Hemingways?) This is language on the side of life, suggesting life, giving life. Wonderful.

Sebastian Barry
Intensely powerful.

Sunday Mirror
Luminous…brilliantly paced, full of tension and tenderness.

Irish Times
Few novelists debut with a masterpiece, but Geary has done just that. Stunning.

Mail on Sunday
Montpelier Parade is haunting – a portrayal of loneliness that is eerily beautiful and desperately moving

Lisa McInerney, author of The Glorious Heresies
Luminous and moving. A story that asks who you can love and how, and a novel that gets to the heart of things; it certainly got to the heart of me.

Sunjeev Sahota
A genuine talent.

Daily Mail
The precision in his prose bellies his training as a scriptwriter; the plot unfolds with self-assured ease, and the dialogue lives on the page… He trusts his reader, and the novel has compulsive power because of it. An astonishing debut.

Calen O'Hanlon, Skinny
A groundbreaking debut. Montpelier Parade is a taut, riveting, beautifully sparse coming of age tale from a fearless new talent

Téa Obreht, National Book Award Finalist & New York Times bestselling author of The Tiger's Wife
I hope that someone will give me an advance copy… I've heard it's lyrical, brave and inventive – everything I look for in a novel.

Maggie O'Farrell, Observer, Book of the Year
A bittersweet love story… An unusually vivid novel, which presents life how it is, rather than how Hollywood script writers might like it to be.

Press Association
Karl's depiction of his home-town is so visceral you can almost feel the dreich air seeping into your bones as you read…. Karl's acute observations perfectly capture the essence of boyhood bewilderment and bravado. This is an unusually vivid novel that presents life how it is.

Kate Whiting, UK Press Syndication
A tender, real tale of love…a captivating debut from the Dublin-born author… A luminous, moving story that is full of heart.

Image
Hypnotic and involving.

Sunday Express S Magazine
I adored this unconventional love story. It's tender, with luminous language, and should catapult the author to literary fame.

Irish Examiner
Beautiful and tender…a wonderful read whose tender story will stay with you long after turning the last page.

RTE
[A] luminous debut novel… The rich, clear prose of Donal Ryan and his affinity for his marginalised characters comes to mind when reading Geary's novel… Geary's vivid writing gets to the heart of the matter, but he also knows what should be left unsaid… the reflective and heartfelt voice of Sonny renders this classic but dark romance story utterly memorable'

Sarah Gilmartin, Irish Times
Geary is the latest player in a recent resurgence of Irish literary talent… In Montpelier Parade, he delivers an unforgettable love story in writing that is often exceptional.

Peter Carty, Financial Times
Montpelier Parade is a beautiful, cinematic novel about desire, longing, grief, hope and the things that remain unspoken.

Olaf Tyaransen, Hot Press
This powerful debut novel is tender and raw and heartfelt – and one you'll immediately want others to read.

The Pool
Luminous, moody writing make Geary an author to watch.

Foyles Online, 2017 Books of the Year
A compelling read… Charged with mystery and intimacy in equal abundance.

Anothermag.com
Reflective, poignant and intriguing, Montpelier Parade is a bittersweet love story that will stay with you for a long time.

Sharmaine Lovegrove, Elle
Unfolding in the sea-bright, rain-soaked Dublin of early spring, Montpelier Parade is a beautiful, cinematic novel about desire, longing, grief, hope and the things that remain unspoken

Irish World Newspaper
An extremely good short novel about a teenage boy from Dublin… This is really very good indeed.

William Leith, Evening Standard
Their love affair, across divisions of class and age, is brilliantly, painfully told. Although Montpelier Parade is – amazingly – Geary's debut novel, he already knows how to play with the reader's feelings like a pro. He's one to watch.

James Marriott, The Times
It's written throughout in the second person, a device that sounds tricksy and ought to jar, but Geary's deft way with words makes it work. Staggeringly good.

Simon Shaw, Mail on Sunday
Wow, for a debut book, this blew me away. It is a beautiful, lyrical, almost poetic story of first love, the passion and heartbreak of loss and finding out who you are… The writing just made me sigh (in a good way) and I cannot wait to read Karl's next book. As this is only a slim book, it will haunt the reader, and for me, it will always have a place in my heart. It is a book to treasure and to tell your friends and family about. It's one to keep and one to reread, just because.

Angie Rhodes, Nudge
It's a sensitively told love story and an evocative picture of rainy, gritty 1980s Dublin. Geary is a writer to keep an eye on.

James Marriott, The Times
Geary's use of the second person is unfaltering and brilliantly sustained, it creates an intimacy and intensity that is utterly absorbing.

Claire Allfree, Daily Mail
A quietly moving story of two lost souls in 1980s Dublin.

Sarah Gilmartin, Irish Times