Try this free recipe from Mix & Bake by Belinda Jeffery.
With the best intentions in the world, I never seem to get my Christmas cake made when I hope to (being a cook and food writer I probably shouldn't confess to this!). Every year, come September, I have great plans to get all my Christmas shopping and baking well underway, however, by mid-December little seems to have happened. Last year, having finally accepted that this is just the way things are, I decided a little lateral thinking was in order and started experimenting with all sorts of cakes. The result is this rich, dense fruitcake – it tastes mellow and rounded, just like it's been baked months ahead, and has an irresistible, spicy flavour.
You needn't use exactly the same dried fruits that I mention – I often put in whatever happens to be in the pantry; as long as the quantities are the same, it doesn't matter. However, I always try to include currants as they add a deep wine-y richness to the mixture. As a personal quirk, I never, ever add mixed peel as its one of the best ways I know of to spoil a perfectly delicious cake.
LAST MINUTE CHRISTMAS CAKE
Serves 16-20
Ingredients 
300 g unsalted butter
420 g raw sugar
2 1/4 cups (380 g) raisins
180 g pitted prunes
1 cup (160 g) sultanas
90 g dried currants
90 g pitted dates
2 teaspoons bicarbonate of soda
1/2 cup (125 ml) brandy or overproof (dark) rum
1 1/2 cups (375 ml) cool water
2 teaspoons freshly grated or ground nutmeg
2 teaspoons ground cinnamon
4 eggs, lightly beaten
2 1/2 cups (375 g) stone-ground wholemeal plain flour
150 g pecan halves and 120 g whole almond kernels, for decorating
1/2 quantity Apricot Glaze (see page 246), (optional)
Method
Melt the butter over medium heat in a saucepan large enough to eventually hold all the cake ingredients. Add the sugar and stir to partially dissolve it so it's wet and slushy. Tip in all the dried fruit, the bicarbonate of soda, brandy and water. Increase the heat to high and keep stirring until the sugar has dissolved. Once it has, stop stirring and bring the mixture to the boil, then reduce the heat to low and let it simmer for 4 minutes. You need to keep an eye on it and adjust the heat as it froths up considerably because of the bicarbonate of soda. When it's ready, turn off the heat and leave it to cool in the pan. I often make this in the evening and leave it to cool overnight. However, if you do this, cover it well; I once left the lid slightly askew and woke to find an army of very inebriated ants weaving their way to and from the pan!
Preheat your oven to 150°C. Butter a 23 cm springform cake tin and line the base and sides with two layers of buttered baking paper. Set aside.
Add the nutmeg, cinnamon and eggs to the dried fruit mixture and stir them in well. Mix in the flour, then leave the batter to sit for a few minutes. Scrape the batter into the prepared tin and give it a gentle shake to level the top.
Now comes one of the most enjoyable things to do – decorating the top of the cake. I love doing this; you can create all sorts of different patterns by marching alternating bands of pecans and almonds across the top, either curving them into waves or creating rings of concentric circles.
Bake for 2 1/4 – 2 1/2 hours or until the cake feels quite firm in the centre when pressed and a fine skewer inserted in the middle comes out clean. After an hour or so of cooking, it's a good idea to check the top; if it's a good rich brown then cover it loosely with a sheet of foil to stop it getting darker.
Leave the cake to cool completely in the tin on a wire rack. When it's cool, remove it from the tin, wrap it tightly in plastic film or foil and store it in the fridge, where it will keep for up to 6 weeks. For a light sheen, brush the top with a little warm Apricot Glaze before serving.
---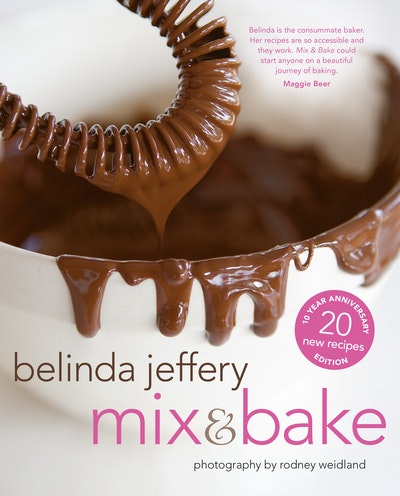 This revised paperback edition celebrates ten years since this absolute classic baking bible was published and includes 20 new delicious recipes. As baker Nadine Ingram says 'If you only own one baking book in your life, make it this one!'
Buy now
Buy now
---