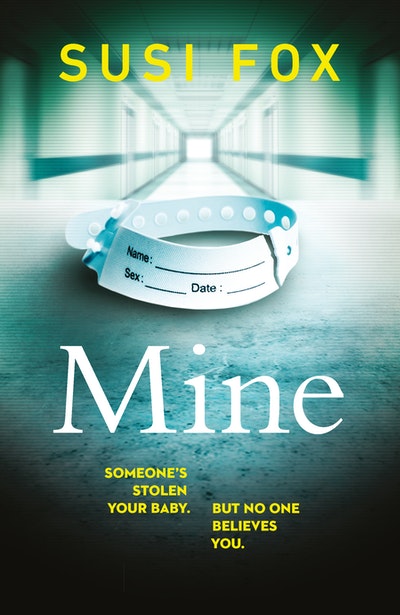 Published:

2 April 2018

ISBN:

9781760143848

Imprint:

Penguin eBooks

Format:

EBook

Pages:

352
Mine
---
---
---
Someone's stolen your baby. But no one believes you.
You wake up alone after an emergency caesarean, desperate to see your child. And when you are shown the small infant in the nursery, a terrible thought takes root: this baby is not your baby.
No one believes you. Not the nurses, your father or even your own husband. They say you're confused and delusional. Dangerous.
But you're a doctor – you know how easily mistakes can be made. It's up to you to find your real child, your miracle baby, before it's too late.
With everyone against you, is it safe to trust your instincts? Or are memories from your past clouding your judgement? This can't all be in your head . . . can it?
Published:

2 April 2018

ISBN:

9781760143848

Imprint:

Penguin eBooks

Format:

EBook

Pages:

352
Digs deep to examine the dark side of motherhood - mental illness, failure, violent thoughts - and refuses to look away. Mine throws into question the sanity of the narrator, the trustworthiness of doctors and the reader's understanding of right and wrong

The Guardian
An original, brave new voice

Australian Women's Weekly
By turns compelling, confounding, frightening and heartbreaking - a riveting tale

The Courier Mail
A rewarding read - a top pick for book clubs

Herald Sun
Gripping, creepy and nail-biting, Mine is a heartbreaking psychological thriller that haunted me long after the final page

Toni Jordan, author of ADDITION and OUR TINY, USELESS HEARTS
Powerful, insightful and all too believable. Not knowing what is real and what isn't is the most frightening experience of all

Inga Simpson, author of NEST and WHERE THE TREES WERE
Utterly compelling and brilliantly confounding. A novel where all possible explanations are suspect — even your own

Wendy James, author of THE GOLDEN CHILD
Fascinating and frightening – a white-knuckle ride through every parent's worst nightmare to the edge of madness

Kylie Ladd, author of MOTHERS AND DAUGHTERS
Mine is compelling, dark and claustrophobic. From the first page Susi Fox's protagonist draws you into her murky world of seeming paranoia. The setting is oppressive – a hospital that is the stuff of nightmares – and Fox's medical background lends credibility and fascinating detail that renders it all the more unsettling. Recommended for all fans of psychological suspense. I couldn't sleep until I finished it . . . and then I couldn't sleep at all

Dervla McTiernan, author of the THE RUIN
Davitt Awards
Shortlisted • 2019 • Adult crime novels
Davitt Awards
Shortlisted • 2019 • Debut books
Article
Article
Mine book club notes
Discover Susi Fox's themes of maternal instinct, mental health and trust with your book club.