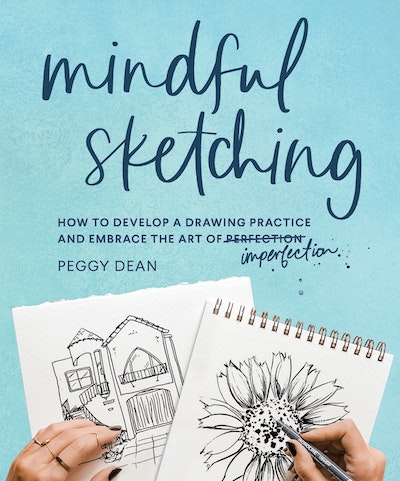 Published:

3 May 2022

ISBN:

9781632174192

Imprint:

Sasquatch

Format:

Paperback

Pages:

176

RRP:

$34.99
Mindful Sketching
How to Develop a Sketching Practice and Embrace the Art of Imperfection
---
---
Develop a visual mindfulness practice—and enjoy the mental health benefits of mindful drawing!
Embrace imperfection and express your own unique creativity by learning how to stay in the moment as you draw with this how-to guide to mindful sketching.
Mindful sketching is a life-changing drawing practice that offers the benefits of being in the moment while developing a mindfulness habit that draws on your own creativity:

• Combine the mental health benefits of mindfulness with the joy of sketching with this how-to guidebook by beloved art teacher Peggy Dean that walks you through the basics of staying present while you draw—and teaches you how to enjoy your work without self-criticism.
• Peggy leads readers through the basics of why and how to begin mindful sketching with instruction on materials, techniques, and working with different subject matter and locations; plus offers step-by-step exercises to guide you through the learning process, and fun sketching prompts.
• Learn how to stay in the moment while you're working, draw what you see around you, and embrace the results. Enjoy the mental state of calmness, flow, and non-judgmental self-expression that is mindfulness.
• Great for fans of Samantha Dion Baker, James Richards, Jen Russell-Smith, Mark Kistler, Flora Waycott, Danny Gregory, and Marc Taro Holmes.
Grab your sketchbook and get started—yes, you can draw!
Published:

3 May 2022

ISBN:

9781632174192

Imprint:

Sasquatch

Format:

Paperback

Pages:

176

RRP:

$34.99