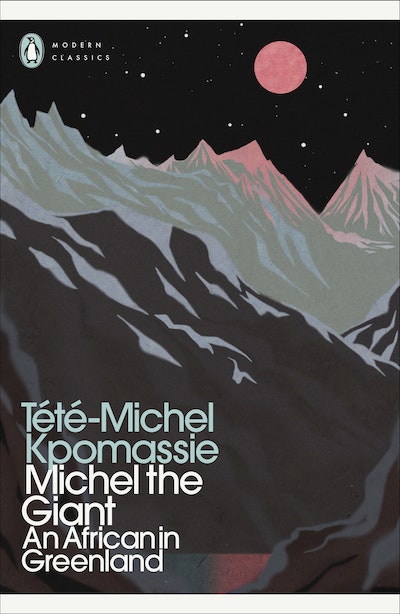 Published:

17 May 2022

ISBN:

9780241554531

Imprint:

Penguin Classics

Format:

Paperback

Pages:

336

RRP:

$22.99
Michel the Giant
An African in Greenland
---
---
---
The gripping true story of one man's ten-year expedition from a village in West Africa to the Arctic Circle - a rare gem of travel writing which has inspired a generation
'The play of moonlight on the icebergs was indescribably strange, and its magnificent refracted shimmers were brighter than day. One night, fooled by its brilliance, I got up at three in the morning.'
Scorching heat, rich, fertile soil and treacherous snakes marked the landscape in which Kpomassie grew up in 1950s Togo, West Africa. When, as a teenager, he discovered a book on Greenland, this distant land of snow and ice became an instant obsession and he embarked on the adventure of a lifetime.
In this work of rich, immersive travel writing Kpomassie invites the reader to join him on his audacious journey as he makes his way from the Equator to the bitter cold of the Arctic and settles into life with the Inuit peoples, adapting to their foods and customs. Part memoir, part anthropological observation, this warm, captivating narrative teems with nuanced observations on community, belonging and colonization.
Originally published in 1981, this critically acclaimed work has been translated into nine languages and is a rare example of travel writing from a West African perspective that highlights unexpected connection between cultures despite their contrasting landscapes.
This translation by James Kirkup has previously been published with the title An African in Greenland

Published:

17 May 2022

ISBN:

9780241554531

Imprint:

Penguin Classics

Format:

Paperback

Pages:

336

RRP:

$22.99
Praise for Michel the Giant
It is a long way in miles, but even longer in resilience, adventurous persistence and uncanny charm. . . . Kpomassie's book contains a catalogue of his impressions, combined with striking passages of fine writing. The result is the curious double perspective of a naïve visitor, combined with the controlled distance of a writer

Paul Zweig, The New York Times Book Review
Beautiful, compassionate, insightful . . . inner and outer landscapes both richly and honestly detailed . . . the furthest a book has taken me . . . Astonishing

Johny Pitts, author of Afropean
A fascinating snapshot of Inuit culture and a reminder of the common threads that bind us all . . . a first-rate storyteller to the whole world

Noo Saro-Wiwa, The Times
Warm, witty and joyful

Ann Morgan, Financial Times
Pioneering and unforgettable

Mr Porter
Remarkable . . . skilful storytelling . . . intrepidly adventurous and unconventional . . . couldn't be more relevant. The kinship he felt with the Inuit on that first visit saw the publication of a literary work that was well ahead of its time.

Michael Segalov, Observer
Surprising . . . this beautifully written, page-turning piece of unjudgmental anthropological reportage by a black man finding his soul through seeking the soul of the Inuit recognises an important lesson for today.

Sue Prideaux, The Times
An ebullient snapshot of a vanished age

John Self, Observer New Review
Fearless reverse ethnology . . . gorgeous descriptions . . . an eye for absurdity . . . Kpomassie is a writer of enviable and maybe indispensable amiability and serenity . . . With his gaze and his mind continually turned out and facing forward, he is up to every predicament he encounters; he has the mother wit, the equanimity and the self-confidence of the epic hero

London Review of Books, Michael Hofmann